Fiskesuppe – Creamy Norwegian Fish Soup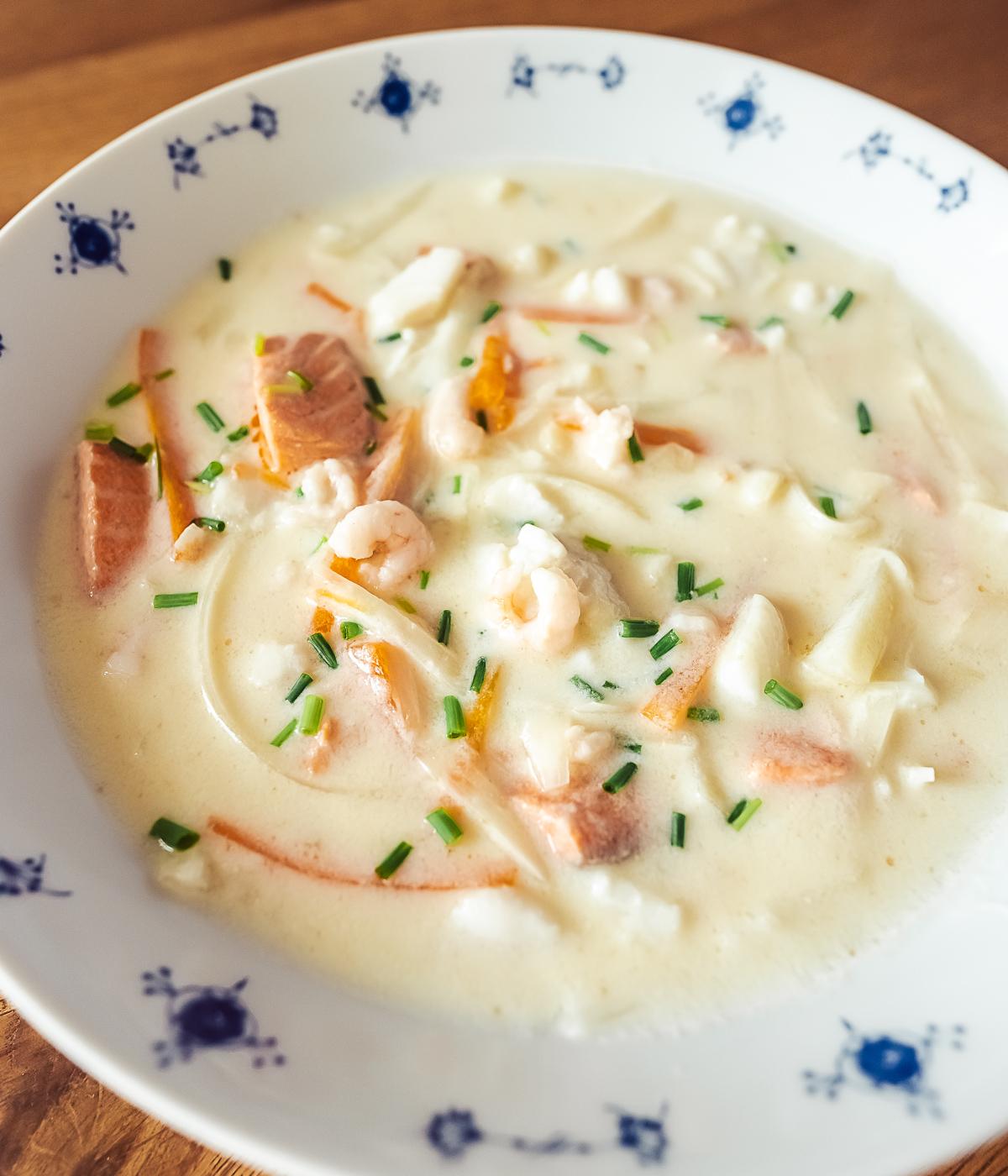 Fish soup is a Norwegian favorite, and there are so many different versions here. Some are quite complex with lots of ingredients (maybe I'll share one of those in the future), but this fish soup is simple and easy to whip up on a random Tuesday night. And of course living in Bergen, Norway fish soup is a weekly staple for me.
For a traditional Norwegian fiskesuppe I turned to Norway's holy grail cookbook: Den Rutetete Kokeboken. This fiskesuppe recipe is based off her "simple Scandinavian fish soup with vegetables" recipe, though I made a few tweaks to make it a bit creamier. And yes, this recipe is easy, but it's still so delicious.
I take a lot of road trips around Norway for work, and this fish soup is one of my favorite meals to make while I'm traveling, if I'm staying somewhere with a kitchen. It's easy to pull together and doesn't require too many ingredients. It's such a cosy meal both in the winter and summer, and I like that you can load it with lots of different vegetables.
If you want a thicker soup, add a bit more flour. You can also use cornstarch instead of flour. Mix it in with the milk instead of butter and pour it into the soup.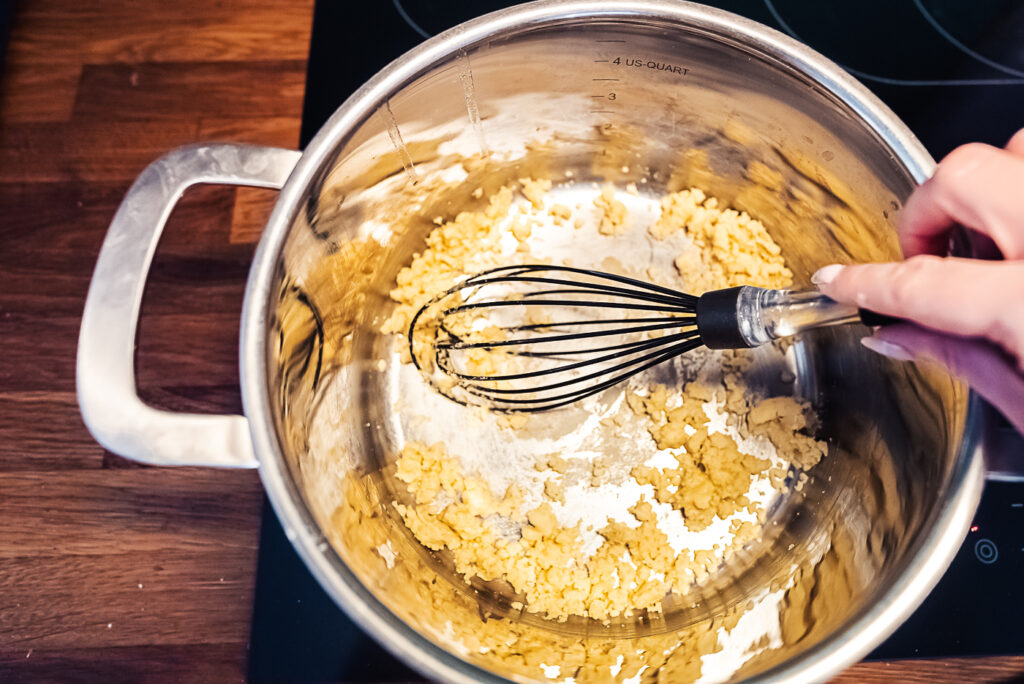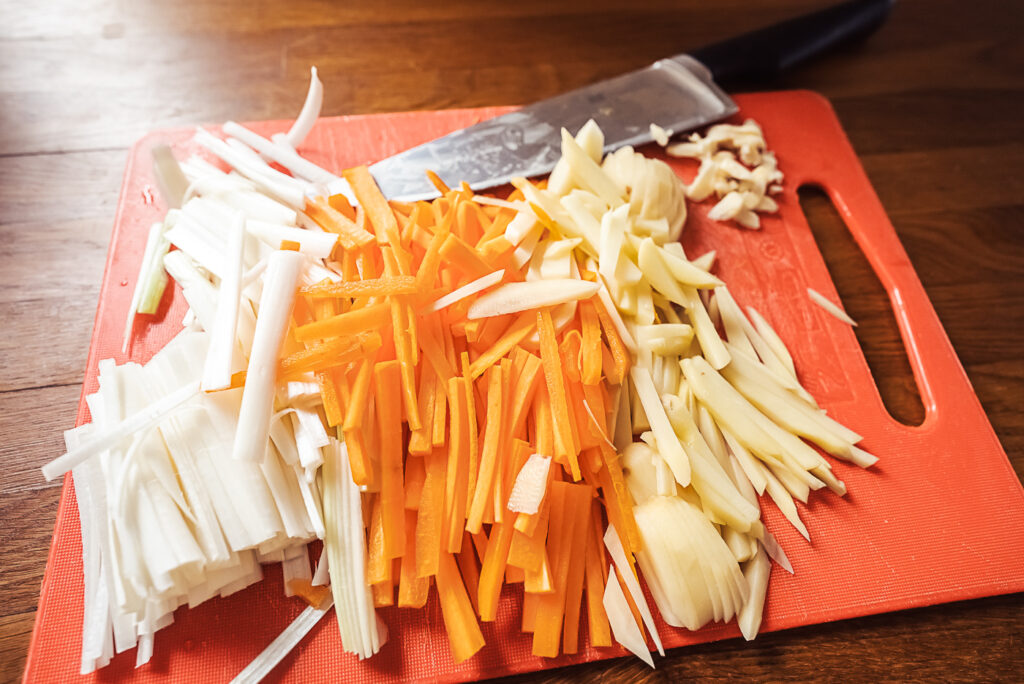 You can use whatever vegetables you like, or happen to have in the fridge. I always include potatoes, carrots, and leek, and then if I have any other vegetables in the fridge I might throw them in as well. Frozen vegetables also work well in this, and you don't have to defrost them first.
You can chop the vegetables into cubes if you prefer, but the typical Norwegian way is to cut them into thin strips. This is really one of the main distinct features of Norwegian fish soup, so it would be a bit strange for me to eat fiskesuppe with cubed vegetables. Plus this means they cook more quickly!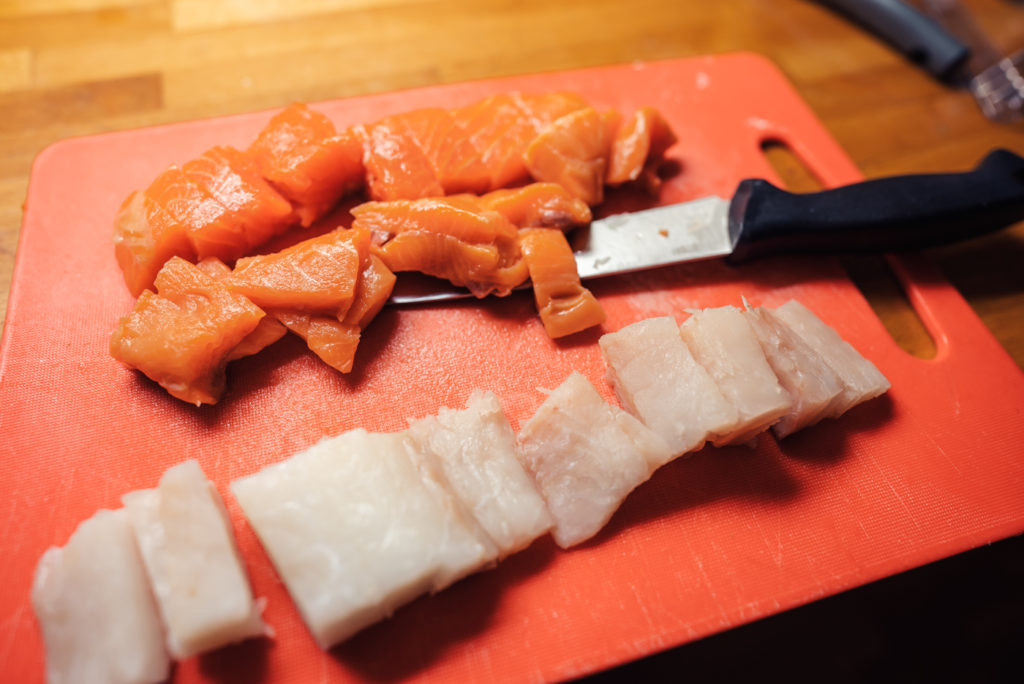 You can make this with any type of fish fillet, except herring. I usually use cod or salmon – or both! Having a couple different types of fish in the fiskesuppe adds more depth to the flavor here.
You can make this with frozen fish, but try to take the time to defrost the fish at least a bit so that it's easier to cut (frozen cod is like a block of ice).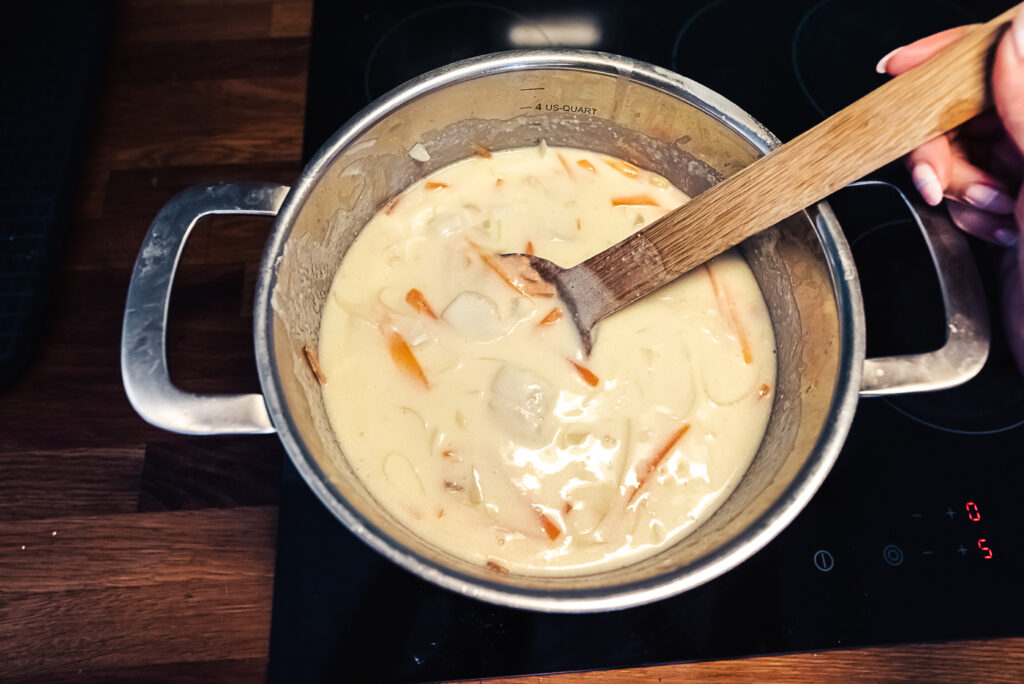 You can use sour cream instead of crème fraîche. You can also skip the crème fraîche altogether, though personally I think it adds a really nice flavor to the soup so I try to always include it.
The same goes for the shrimp – they're totally optional, but I definitely think they enhance the fiskesuppe. If you order fiskesuppe in Norway it will almost always come with shrimp.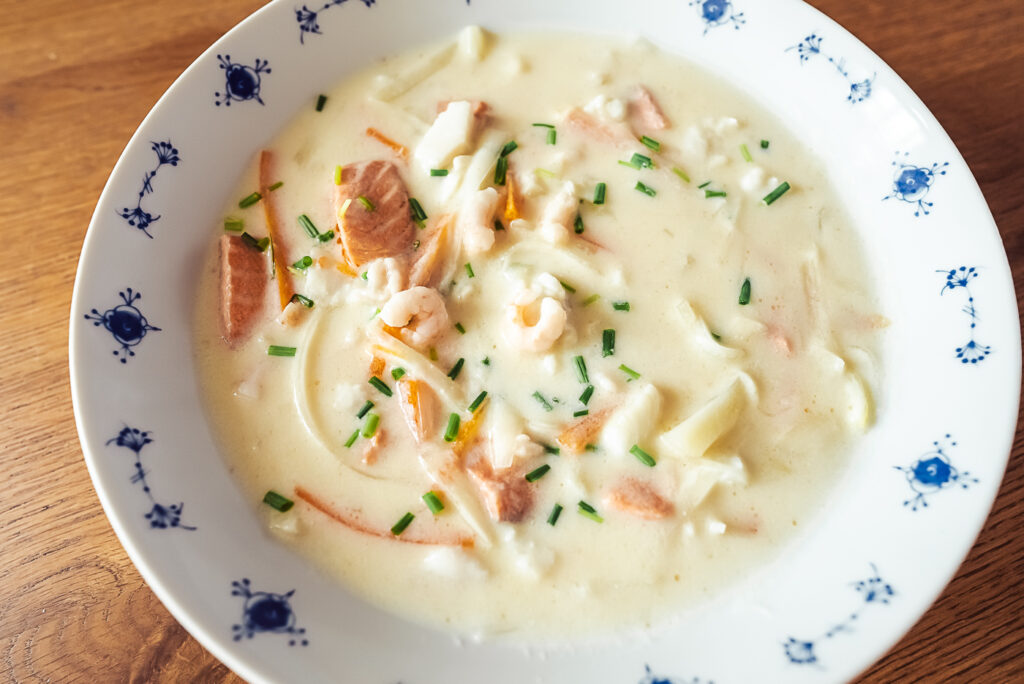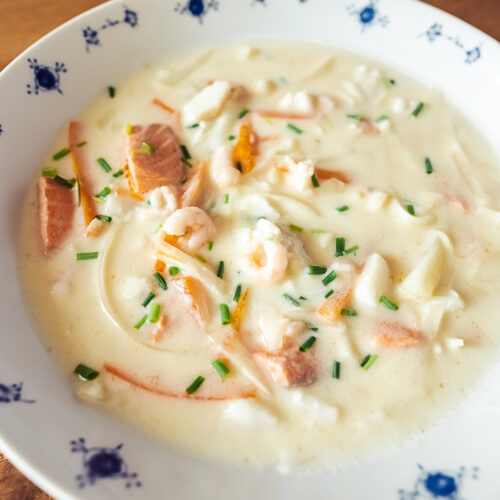 Fiskesuppe (Creamy Norwegian Fish Soup)
This is a simple and delicious creamy Norwegian fish soup. You can use any type of fish except for herring. You can also use whichever vegetables you prefer or have already, including frozen vegetables – I've included my favorites in the recipe.
Print
Pin
Rate
Ingredients
1

pound

fish fillet (fresh or frozen) – eg. half salmon, half cod

1

clove

garlic

2

medium potatoes

2

carrots

1

leek

3

tbsp

butter

5

tbsp

flour

4 and 1/4

cups

fish stock

1

cup

milk

1 and 1/4

cup

crème fraîche

(or sour cream)

1

cup

shrimp, peeled and cooked

(optional)

1

tbsp

chives (or dill or parsley)
Instructions
Cut the fish fillets in cubes or strips. Crush or chop the garlic. Rinse the vegetables and cut into thin strips.

Heat the butter in a pot and add the garlic. Once the garlic starts to turn golden add the flour, whisking well.

Add the fish stock and continue to whisk until there are no lumps.

Add the vegetables and milk and bring to a boil. Cook for about 10 minutes.

Add the crème fraîche (or sour cream). Bring the soup back to a simmer and once the soup begins to bubble again turn off the heat. Keep the soup on the burner and add the fish. Let the fish cook in the hot soup for 5 minutes. If using shrimp, add right before serving.

Sprinkle with chives (or dill or parsley) before serving.
Video