Sarah Bernhardt Cookies with Yellow Cream
Sarah Bernhardt cookies are perhaps my favorite Scandinavian cookies. I love any almond based dessert, and Sarah Bernhardt cookies feature the perfect combination of a soft almond cookie topped with a velvety milk chocolate cream dipped in dark chocolate. Well, it's an almost perfect combination.
I love the history of Sarah Bernhardt cookies – after Sarah Bernhardt visited Copenhagen in 1883. pastry chef Johannes Steen created the Sarah Bernhardt cookie and named it after the actress. The cookies were designed to be as extravagant and decadent as the actress herself. But as much as I love the cookie's history, I might love the modern twist many Norwegians put on the cookie even more.
I've already shared my recipe for traditional chocolate Sarah Bernhardt cookies here, but today I'm sharing a slightly different, and in my opinion even more delicious version.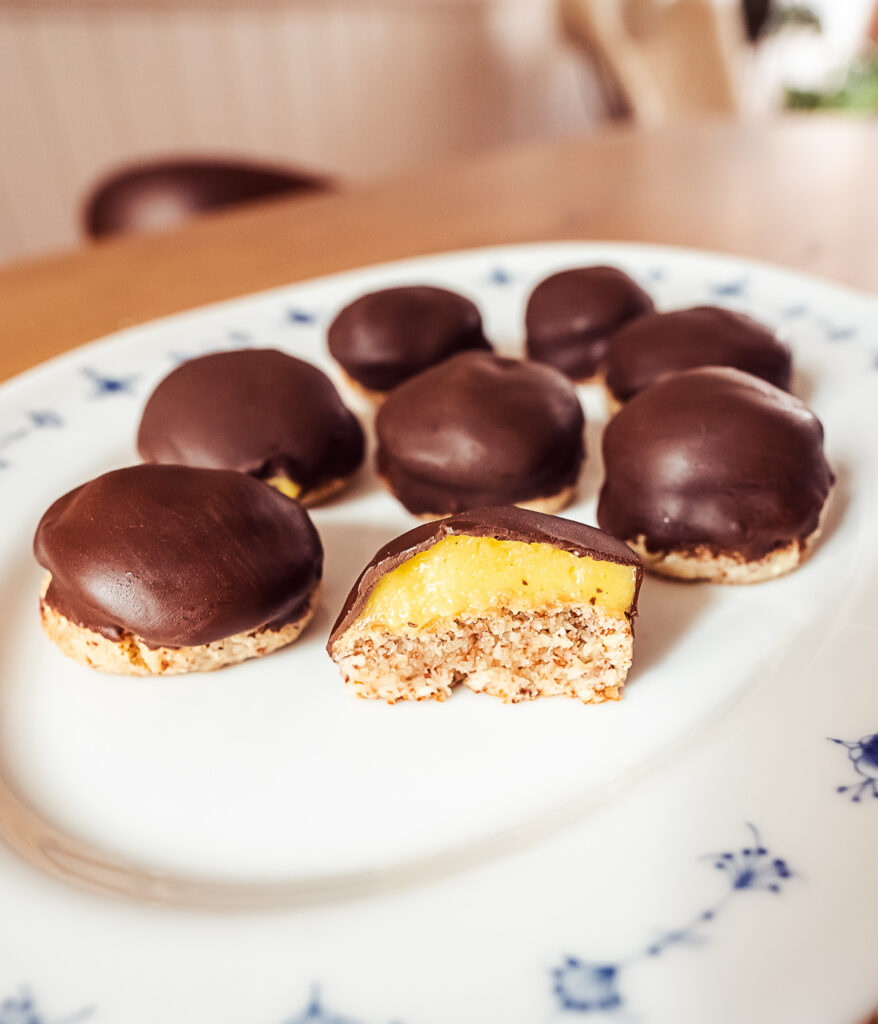 Instead of filling Sarah Bernhardt cookies with chocolate cream, many Norwegians instead fill them with yellow egg cream. The yellow cream is the tiniest bit salty and so perfectly complements the dark chocolate topping and almond base. This is the same cream used in success cake, the beloved almond cake with yellow frosting, so by filling the Sarah Bernhardt cookies with yellow cream it's like each cookie is its own tiny success cake – if you could dip a success cake in dark chocolate.
If Sarah Bernhardt cookies are a touch too sweet for your taste, I think you will love this yellow cream version.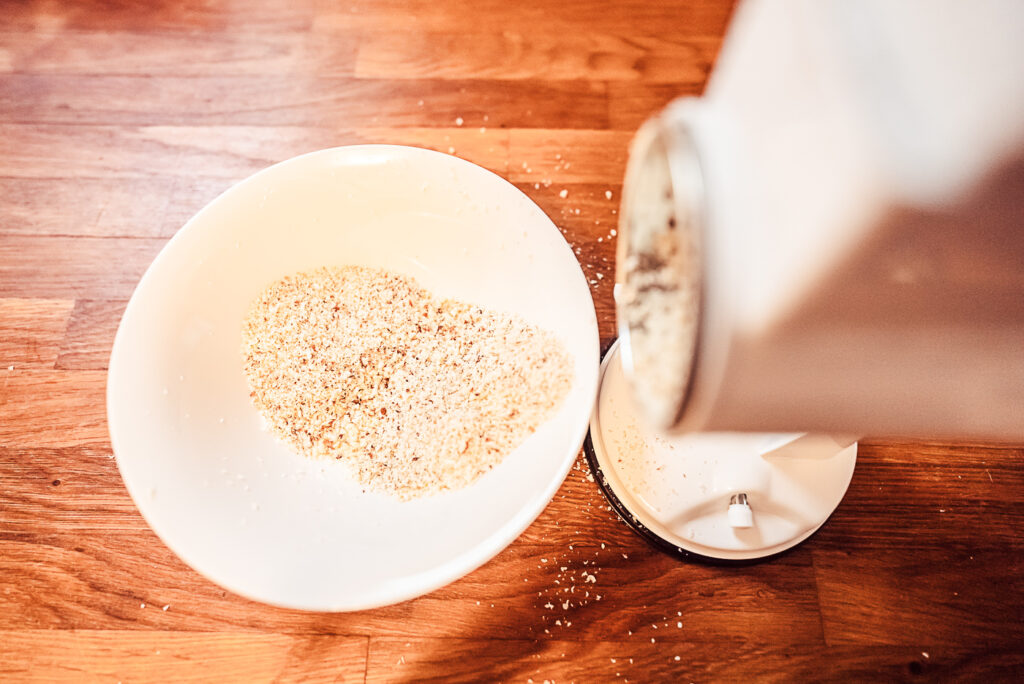 I use an almond grinder to grind the almonds, but you can also grind them in a food processor.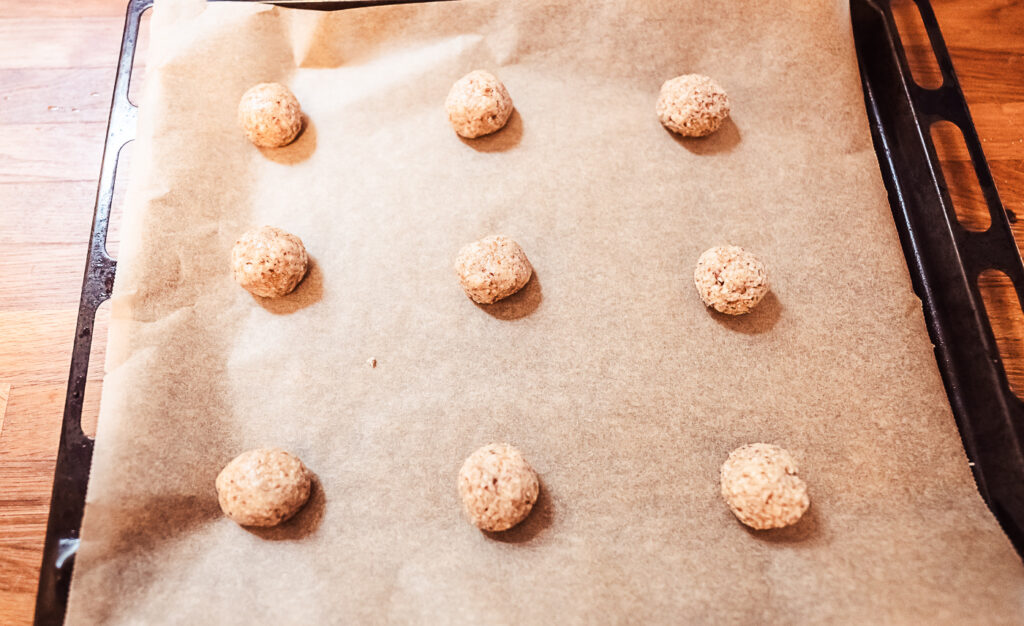 The cookies will flatten a bit in the oven, so I roll the dough into balls and only gently flatten them with my fingers before putting them in the oven. I've found that this always gives me perfectly proportioned cookies, however i yours flatten too much during baking you may need to add some more ground almonds to the dough.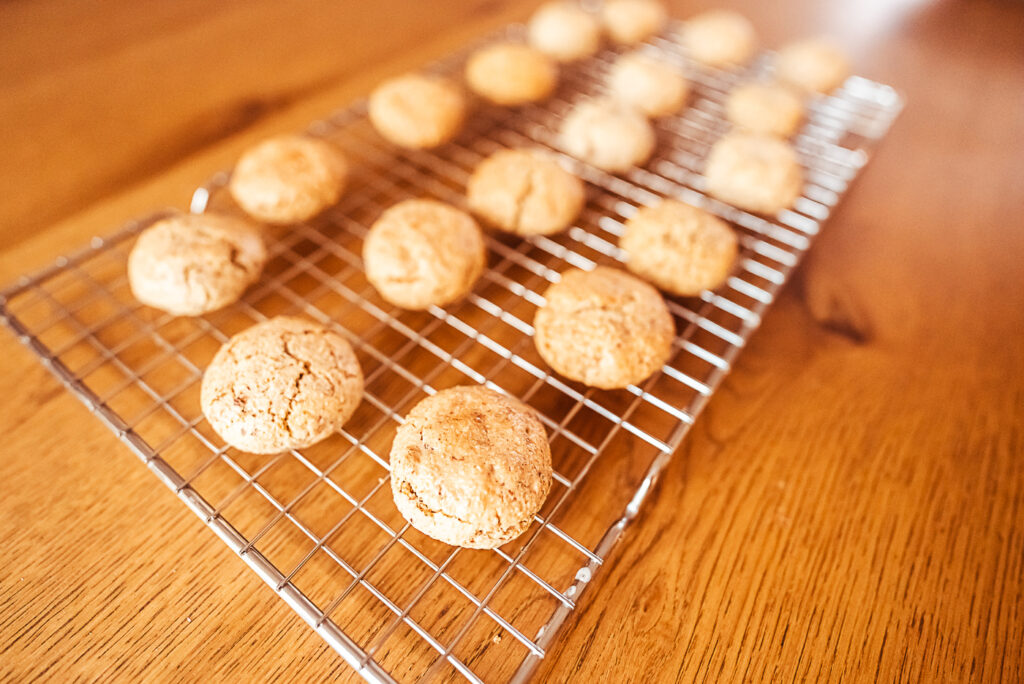 I bake these for 10 to 12 minutes. !0 minutes usually produces a softer cookie, while if you wait until the tops turn golden (about 12 minutes) the cookies will be a bit chewier. I prefer the chewier version, but the soft, slightly under baked cookies are also delicious.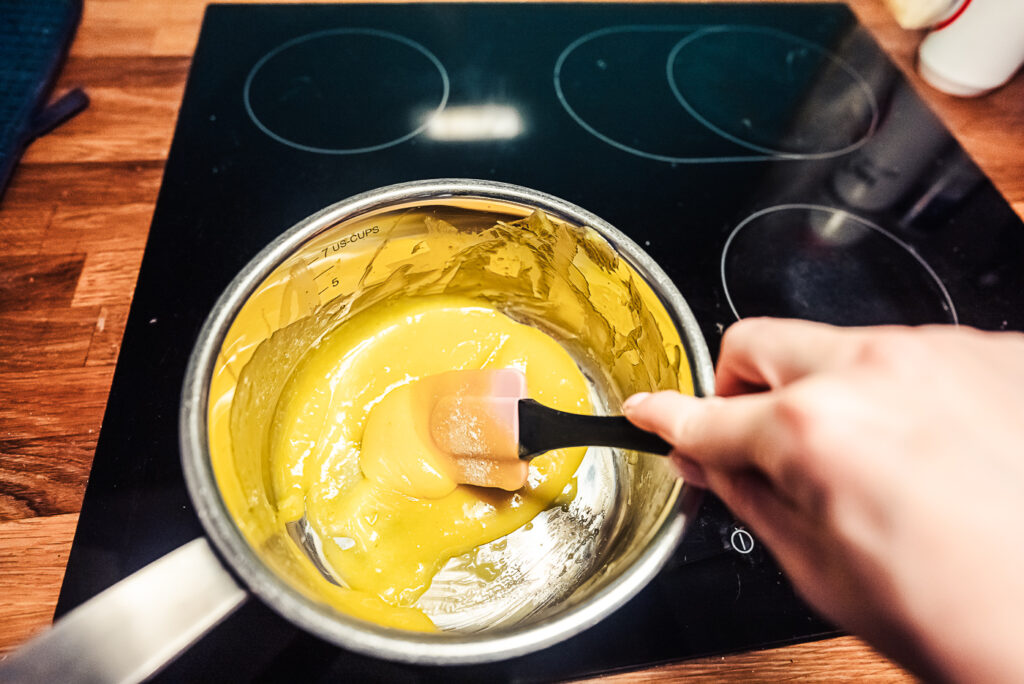 The yellow cream is a bit softer than the chocolate cream, so I find it easiest to pipe the yellow cream when it's cold and just out of the fridge. And if you don't have a piping bag you can just as well add the cream to the cookies with a knife instead – I mostly just use the piping bag because I think it's fun to act like a pastry chef.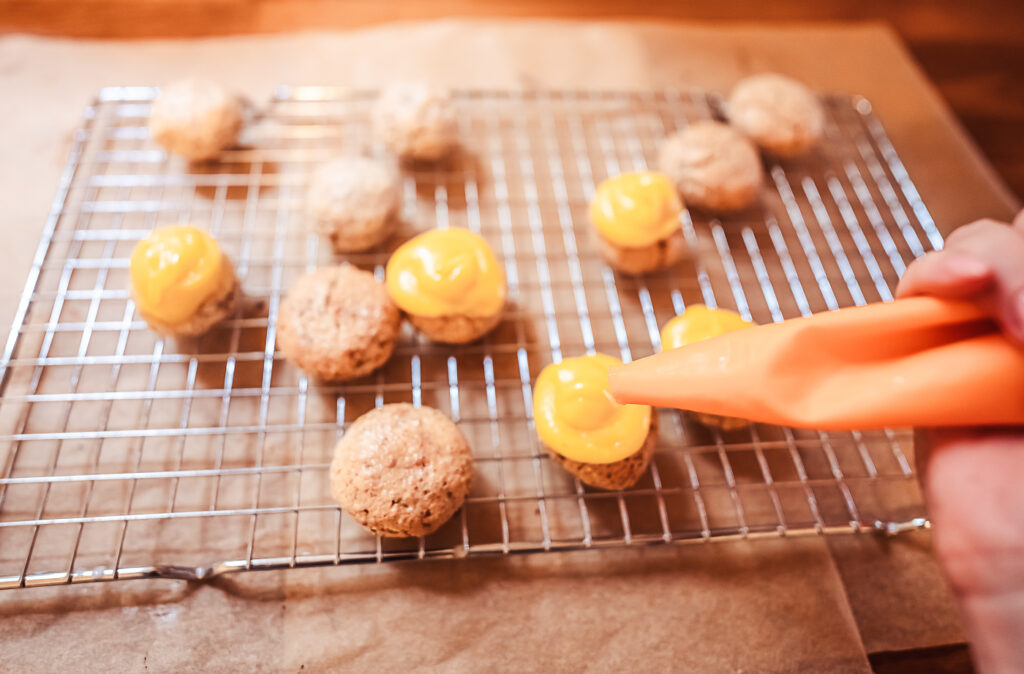 Then I refrigerate the cookies again before dipping them in the chocolate coating. I'll prepare the chocolate coating while the cookies are chilling.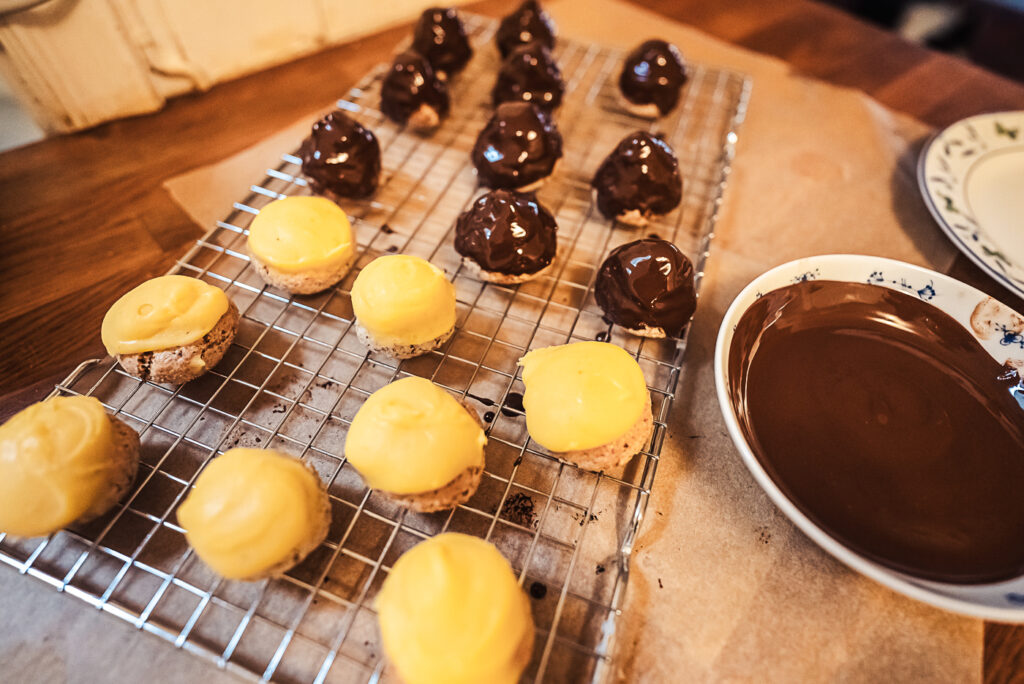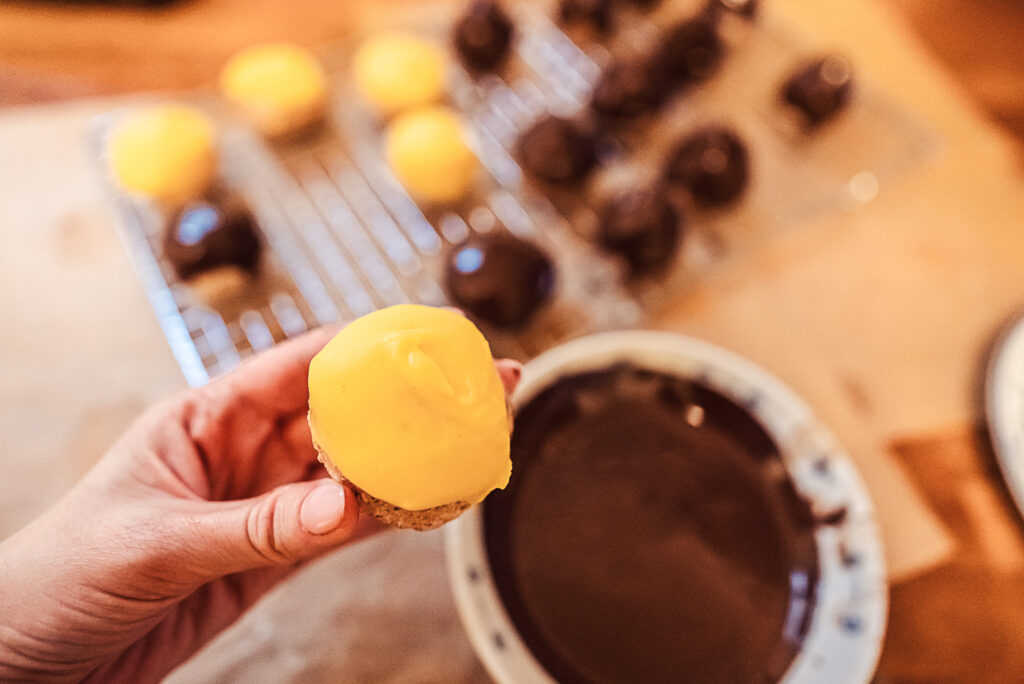 Don't worry too much about your dipping technique here. Sarah Bernhardt cookies are meant to look a bit lopsided – you'll notice even the ones in Scandinavian bakeries look like this.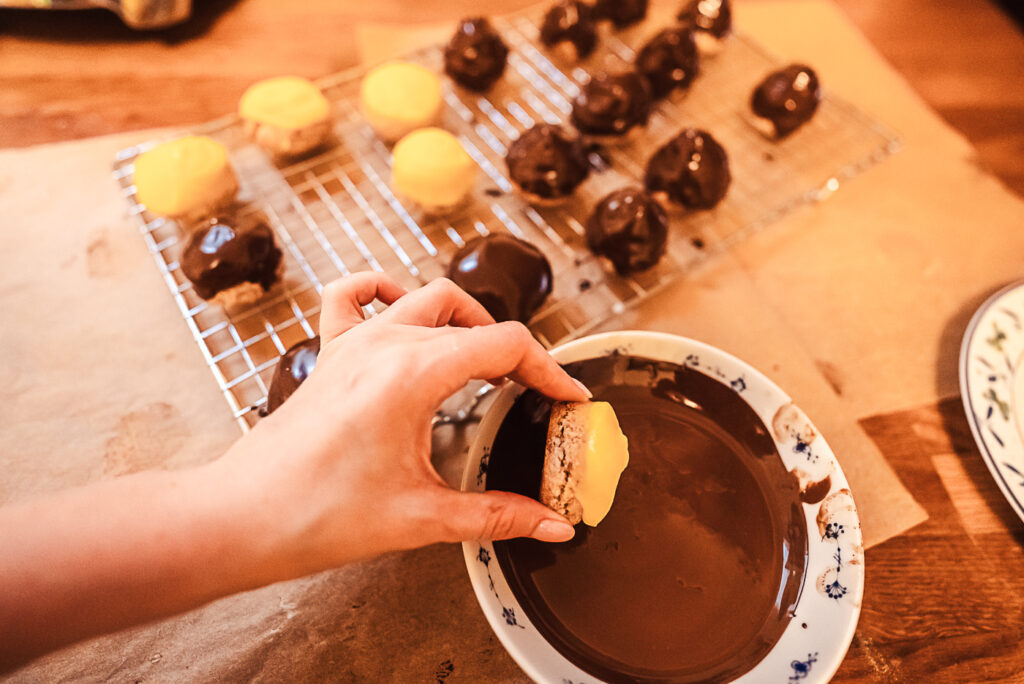 You can store these in the fridge or freezer – they thaw in fifteen minutes.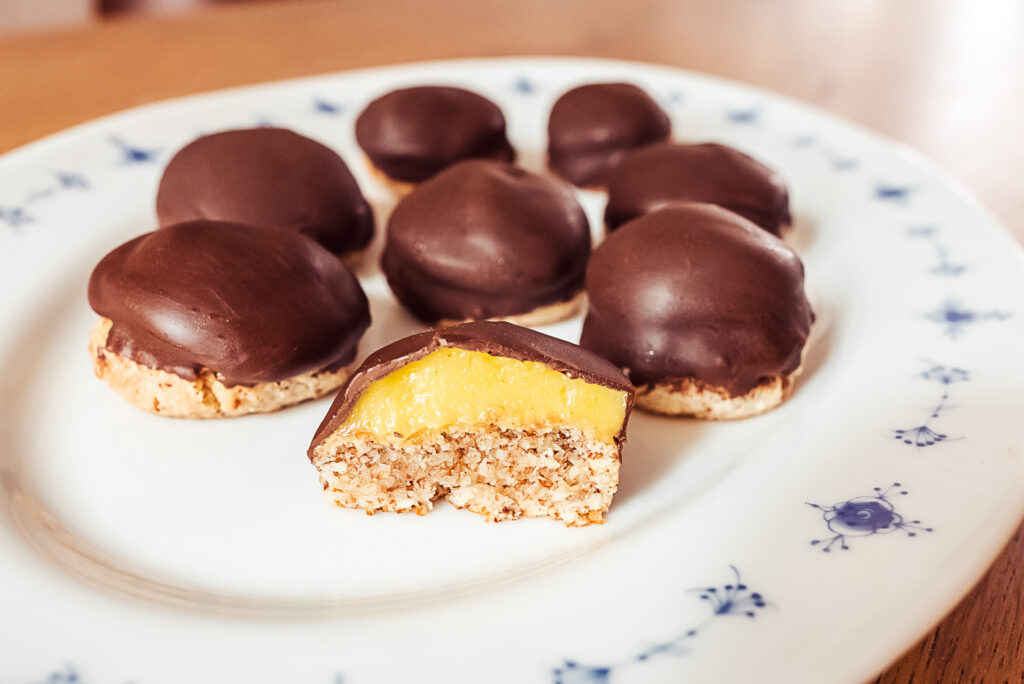 You can switch the recipe from US measurements to metric by clicking from "US Customary" to "Metric" under Ingredients.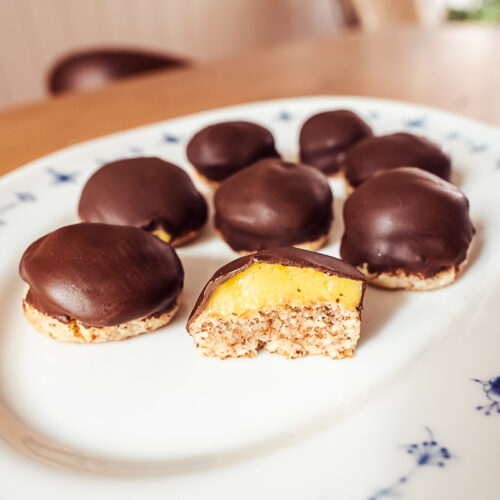 Sarah Bernhardt Cookies with Yellow Cream
This version of Sarah Bernhardt is filled with a yellow egg cream that perfectly complements the soft almond cookie base and dark chocolate coating.
Print
Pin
Rate
Equipment
piping bag for cream filling

(optional)

almond grinder or food processor
Ingredients
Almond base
1 and 2/3

cups

almonds

1 and 1/4

cups

powdered sugar

2

egg whites

(60 grams)
Yellow egg cream
6

egg yolks

3/4

cups

heavy cream

3/4

cups

granulated sugar

2

tsp

vanilla sugar

(or extract)

14

tbsp

salted butter
Chocolate coating
7

oz

dark chocolate

2

tbsp

delfia/coconut fat or shortening
Instructions
Almond base
Preheat oven to 390°F (200°C) and line a baking tray with baking paper.

Grind the almonds in an almond grinder or food processor.

Stir the powdered sugar together with the ground almonds. Stir in the egg whites. It's best if you can weigh out exactly 60 grams of egg whites so that you get the right consistency for baking.  

Roll the dough into small balls and then set them on the baking sheet. Slightly flatten each cookie with your hand.

Bake for 10 – 12 minutes until the tops just start to turn golden. Cool on a wire rack. Chill in fridge before decorating.
Yellow egg cream
Add egg yolks, cream and sugar to a saucepan over medium heat. Cook while constantly stirring until the mixture thickens (about 10 minutes – you'll know when it thickens).

Remove from heat, continuing to stir, and stir in vanilla. Let the cream cool to room temperature and then stir in the butter. You can use an electric mixture to make the cream more fluffy, or you can stir by hand. Refrigerate for about 15 minutes, until cool.
Assembly
Whip the chilled yellow cream gently by hand with a spoon. Put the cream in a piping bag with a large round tip.

Pipe small peaks of yellow cream onto each almond base. You can also use a knife if you don't have a piping bag. Put the cookies in the fridge or freezer for 15 minutes.

For the chocolate coating, melt the delfia fat (coconut fat or shortening) in a saucepan over low heat. Add the chocolate to the fat, stir for a minute and then remove from heat and continue stirring until the chocolate is smooth.

Dip the tops of the chilled cookies in the chocolate, leaving the almond base without chocolate.
Video