Drömmar (Swedish Dream Cookies)
I've mentioned before that my friends gather every Tuesday for a TV night, and it's always the perfect opportunity for me to test new recipes, especially because one of my friends is half Swedish, so she not only grew up with Norwegian baking like the rest of us, but also Swedish baking. So of course I was extra eager to hear what she thought of my Swedish dream cookies, and she said they tasted just like the ones she's had in Sweden.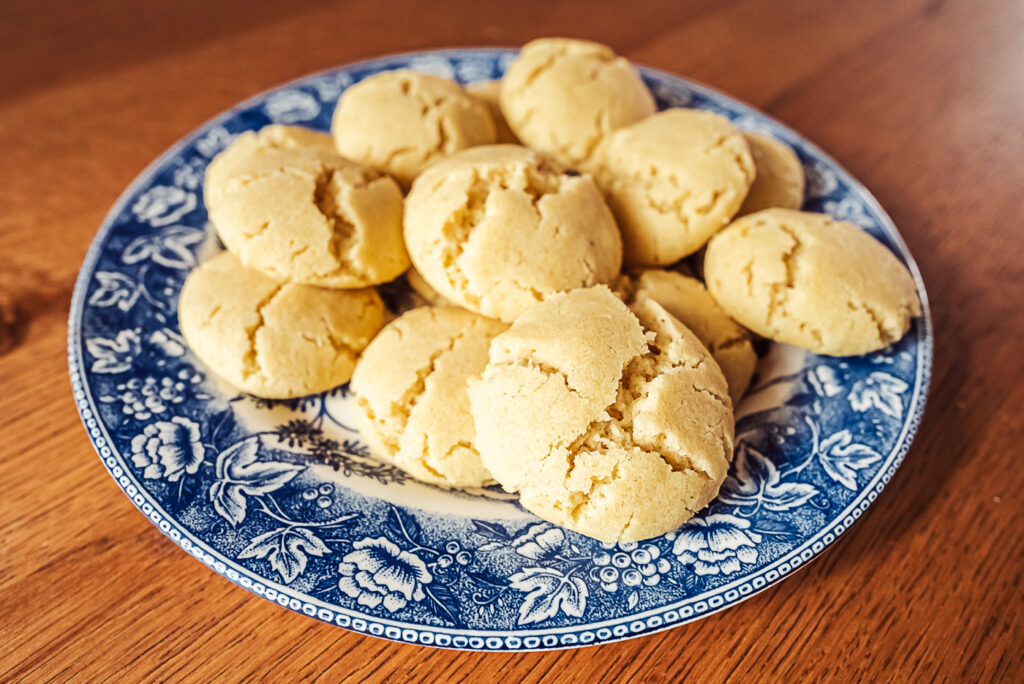 I mean, I used this Swedish recipe to bake the cookies, so I wasn't too surprised. But still pleased! Drömmar, or Swedish dream cookies, are light and airy vanilla sugar cookies that melt in your mouth. Drömmar are popular cookies in Sweden and you can always identify them by their cracked tops. Drömmar are quite different from most other sugar cookies, largely due to one key ingredient: horn salt, or ammonium carbonate (baker's ammonia).
Horn salt (hjorthornssalt in Swedish) is an old fashioned leavening agent that predates baking soda and baking powder, and it's still used in many Scandinavian cookie recipes. You can buy it on Amazon here.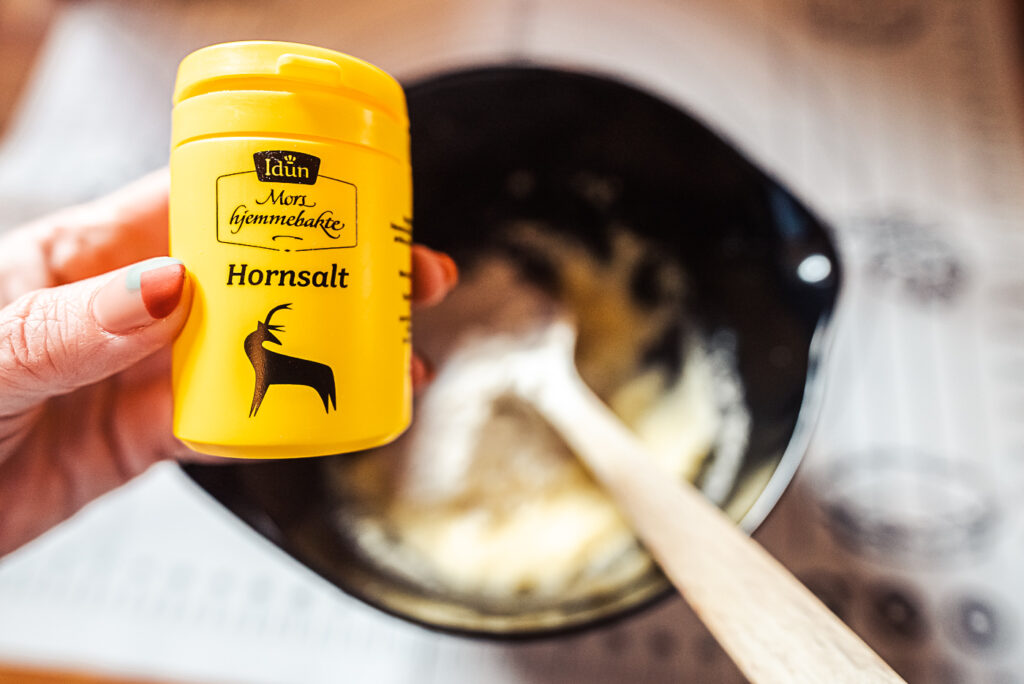 The baker's ammonia makes these cookies super light an airy – they puff up in the oven and look like clouds – while the texture remains crispy. This is also what gives drömmar their distinct cracked tops.
But now I have a warning for you: if you are looking forward to filling your home with the cosy smell of vanilla sugar cookies baking in the oven, um… think again. Remember how these are made with baker's ammonia? As the dream cookies bake they release a lovely vanilla cookie scent, along with some very strong notes of ammonia. Your home won't smell quite like fresh baked cookies – it will smell more like you just cleaned with vanilla scented ammonia. So it's not entirely bad, but not exactly great either. But don't worry, the ammonia smell doesn't linger after the cookies finish baking.
But I do have another warning for you: if you're someone who likes to eat more raw cookie dough than baked cookies (hi, it's me), don't. Horn salt does not delicious cookie dough make. But it does make delicious cookies!
Well, actually I have one final warning: if you can't wait to try these freshly baked drömmar straight from the oven… please wait. As all Scandinavian children quickly learn, cookies made with horn salt have to cool completely before they taste good. It's part of the magic of baking (ammonia)!
I hope all those warnings don't put you off from making these Swedish dream cookies, because they truly are so good. And if you're a fan of Scandinavian baking, baker's ammonia should absolutely have a home in your pantry.
Baking tips
You can use any neutral vegetable oil for these – I use rapeseed oil.
Dream cookie dough is quite fragile, so when forming the cookies you'll need to press each firmly between your hands before gently rolling into a ball. This recipe makes about 16 – 20 cookies, depending on how large you make them. And remember to leave space between them on the baking sheet, as they'll puff out quite a bit in the oven.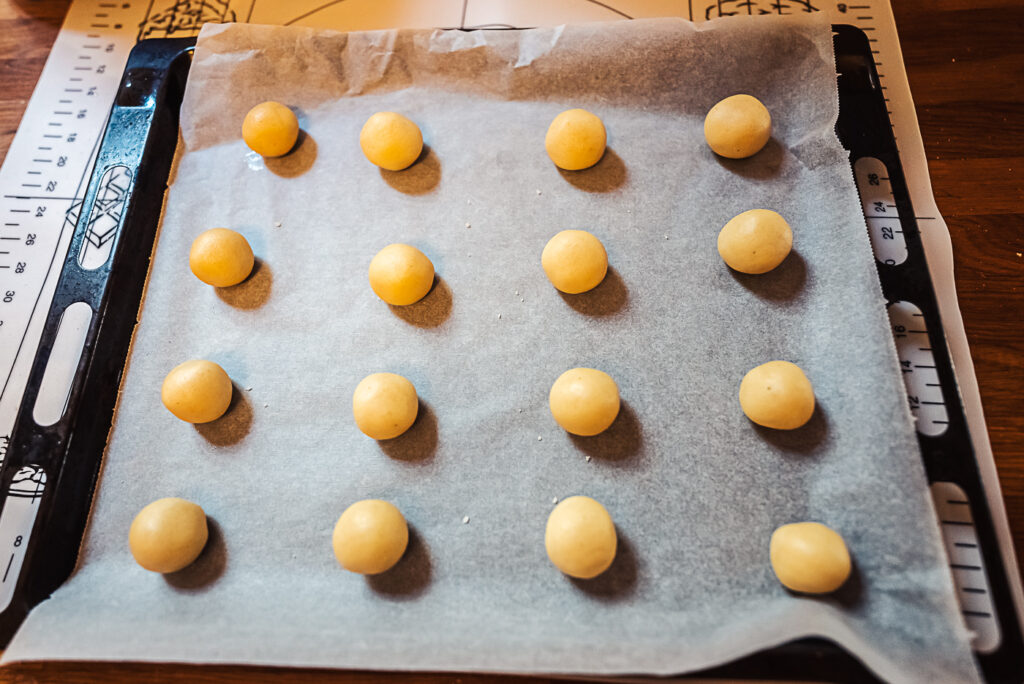 I baked mine for exactly 20 minutes. When they're finished the tops will be cracked. They're still quite fragile when they're warm, so let them cool on the baking sheet for a few minutes before transferring them to a wire rack. Once cool, however, they're hard and crispy – and delicious!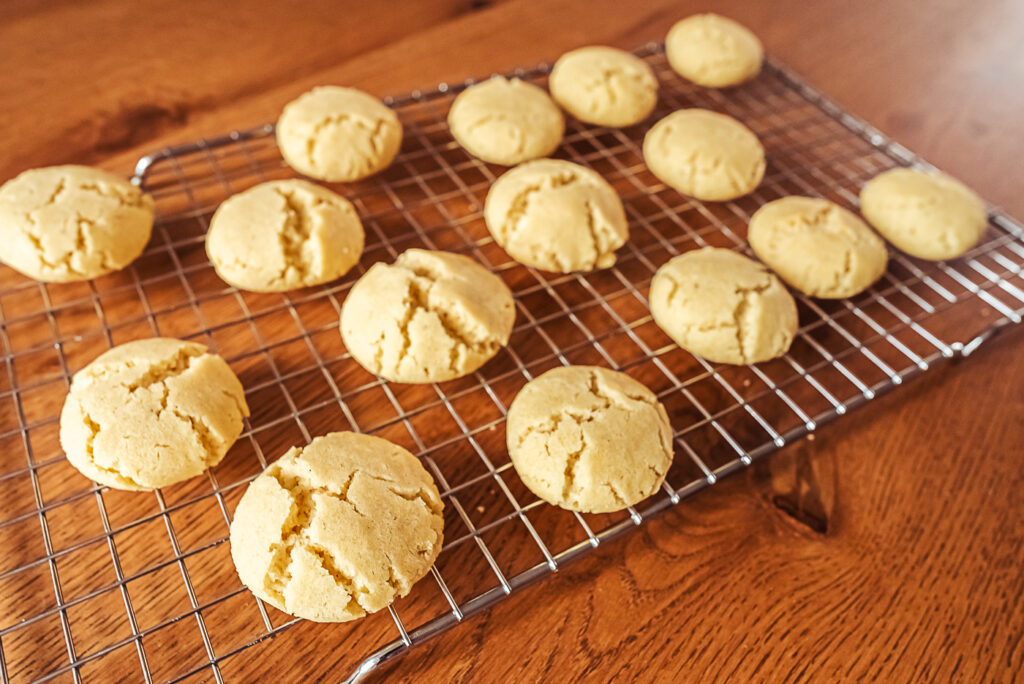 You can switch the recipe from US measurements to metric by clicking from "US Customary" to "Metric" under Ingredients.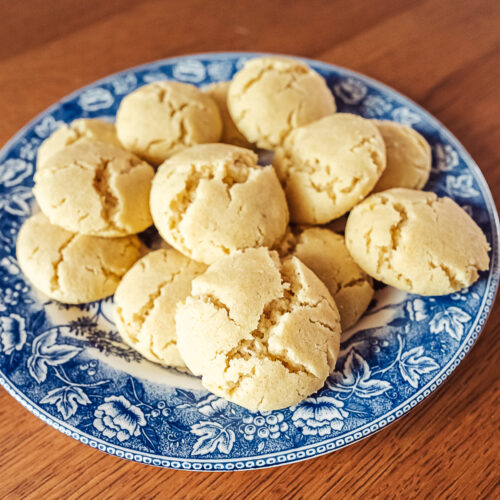 Drömmar (Swedish Dream Cookies)
Drömmar, or Swedish dream cookies, are light and airy vanilla sugar cookies that melt in your mouth.
Print
Pin
Rate
Ingredients
4

tbsp

butter

(room temperature)

3/4

cup

granulated sugar

2

tsp

vanilla sugar

(or extract)

1/4

cup

vegetable oil

3/4

cup

all purpose flour

1/2

tsp

baker's ammonia
Instructions
Preheat oven to 150°C (300°F) and line a baking sheet with baking paper.

Mix the butter, sugar, and vanilla together in a large bowl until smooth. Add the oil, stirring well.

Add half of the flour and all the baker's ammonia and mix the cookie dough until the flour is fully incorporated. Add the rest of the flour and again mix until the dough comes together – it will still be quite crumbly.

Use your hand to form the dough into about 20 small round balls, first pressing the dough together and then gently rolling it into round balls. Place the cookies on the baking sheet well spaced apart.

Bake for 15 – 20 minutes. Cool on the baking sheet for a few minutes before removing to a wire rack. Wait until the cookies are fully cool before eating.
Video