Fårikål (National Dish of Norway)
We've had the most beautiful start to autumn in Bergen this year. The leaves on the trees are turning orange and red and when I walk Alfie each evening I can smell fårikål wafting through Bergen's cobblestone streets.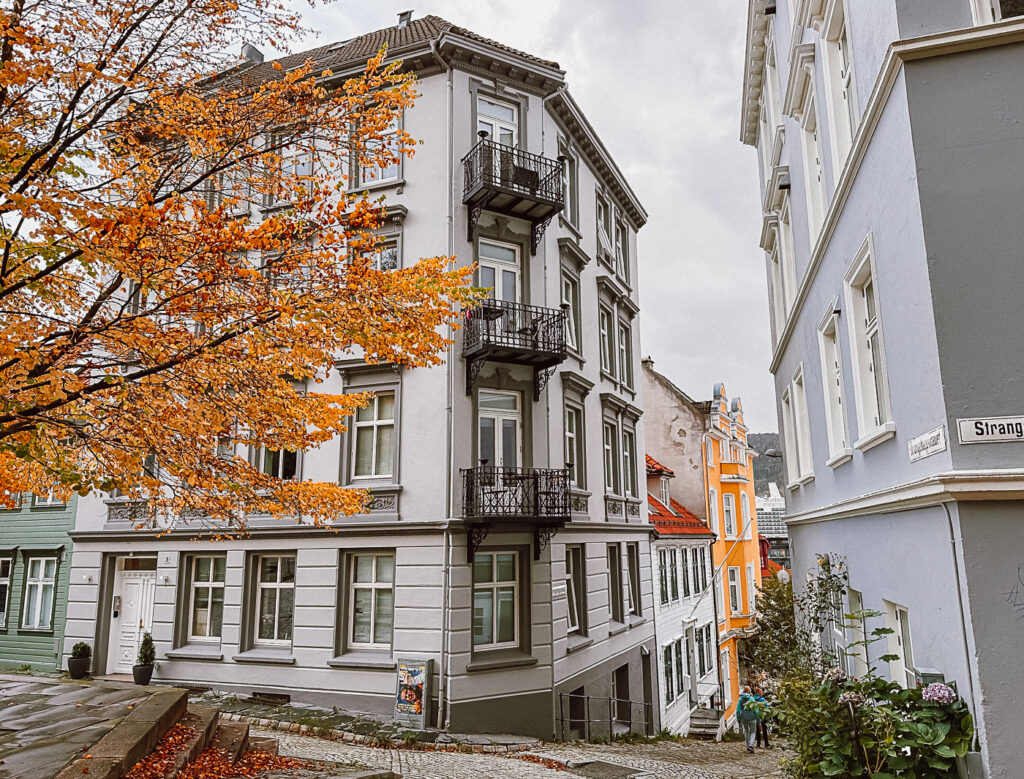 Okay that last bit might be an exaggeration, but I'm sure a lot of Norwegians are cooking fårikål for dinner these days. In fact this past Thursday was Fårikål Feast Day in Norway, celebrated on the last Thursday in September. However since fårikål takes hours to make, most people prefer to make it on the weekend instead of Thursday. Fårikål is also a popular dish to serve to guests in the autumn – I've had it at many people's homes and it's always interesting to see the slight variations on how it's served (eg. some serve it with lots of broth like a stew while others only serve the lamb and cabbage pieces).
Fårikål, literally "mutton in cabbage" is a traditional Norwegian stew made from mutton (or these days often lamb), cabbage, whole black pepper corns, and a bit of salt and water. It's usually served with a side of boiled potatoes, and it tastes even better the next day.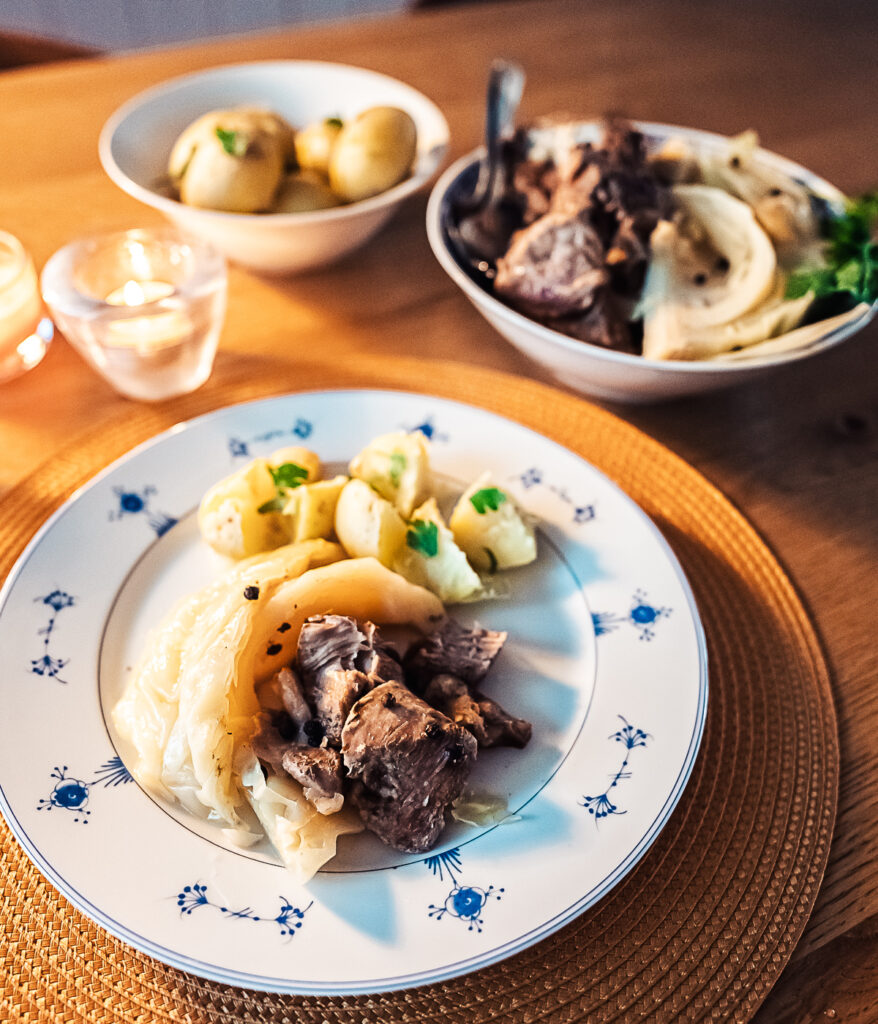 Fårikål was first named the national dish of Norway in 1972, and then again in another national vote in 2014, when fårikål narrowly beat out meatballs with brown sauce. And while admittedly many countries have quite similar versions of this dish, it does feel fitting for Norway's national dish to feature lamb and potatoes, two local products Norwegians are incredibly proud of.
If you've gone hiking in Norway in the summer you've probably come across Norway's sheep and lambs. You might also have had to carefully dodge them while driving in Norway as well. Then in September they are rounded up and we start seeing fårikål meat show up in the supermarkets.
In fact when I worked in a supermarket in Telemark I was astounded by how much fårikål meat we sold each day in the autumn. Fårikål is typically made with the cheapest cuts of the lamb from the neck, shoulder, breast and flank, with plenty of bone and fat. But if you are making fårikål outside of Norway it might be hard to get those cheaper cuts, so you can make fårikål with leg of lamb or whatever else you have access to instead.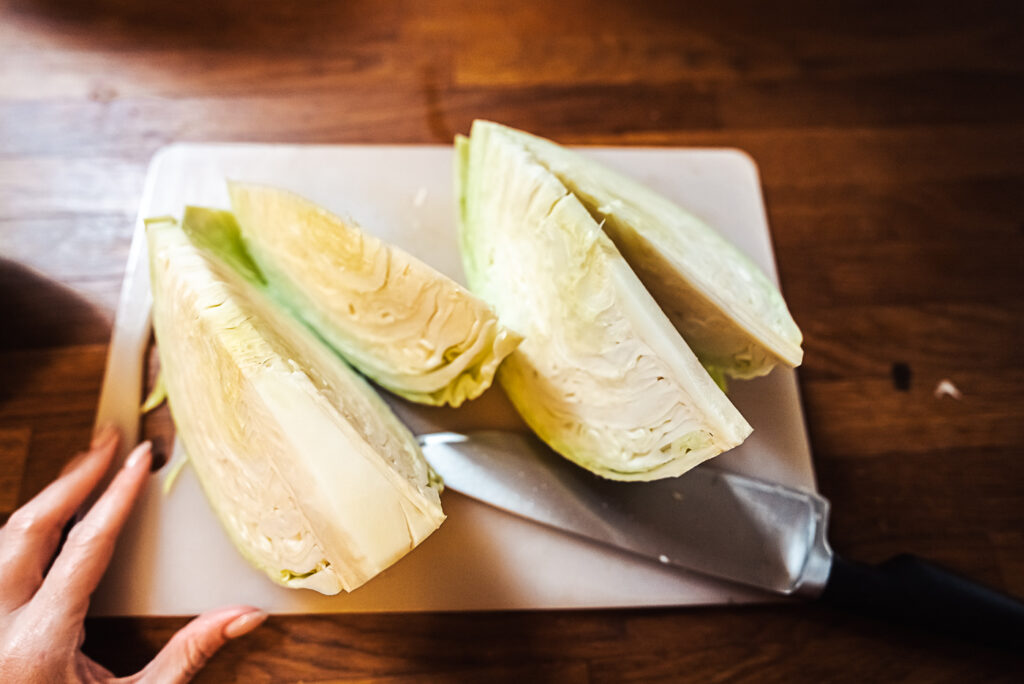 I slice the cabbage into large boats with the core still attached, so they don't totally disintegrate while cooking in the pot.
You can sprinkle some flour over each layer of lamb if you want a thicker stew, but I prefer it without flour.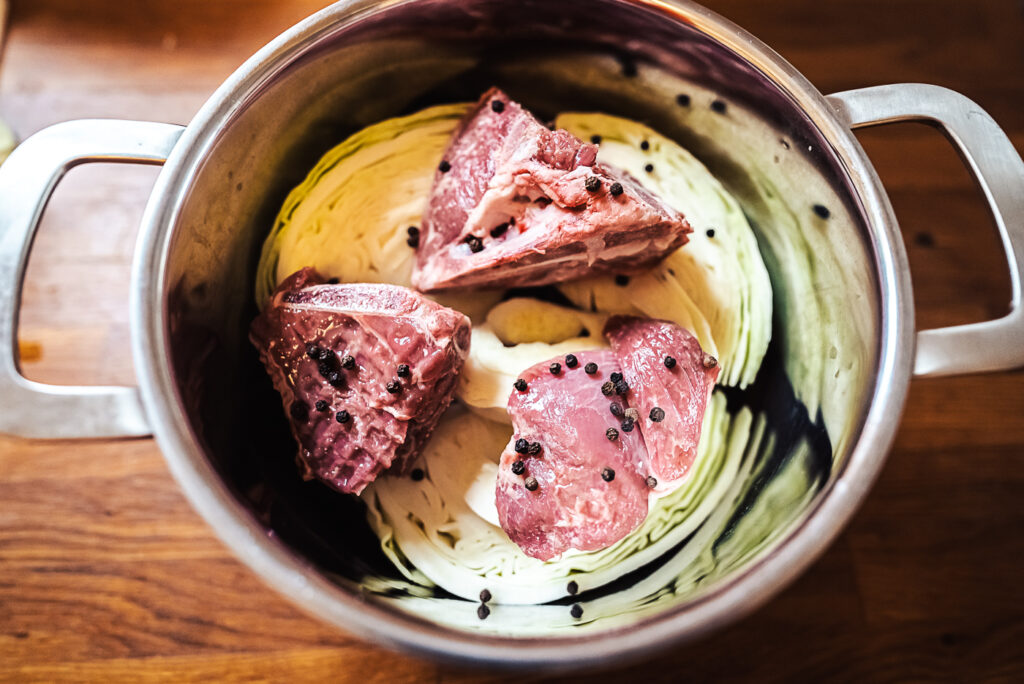 I sprinkle the peppercorns freely over the meat layer, but if you're not a fan of pepper you could gather it in a tea infuser instead so you get some of the flavor without eating the peppercorns.
You don't need much water for fårikål, because the cabbage will release plenty of liquid while cooking. I never end up using the entire head of cabbage for fårikål – use however much fits in your pot.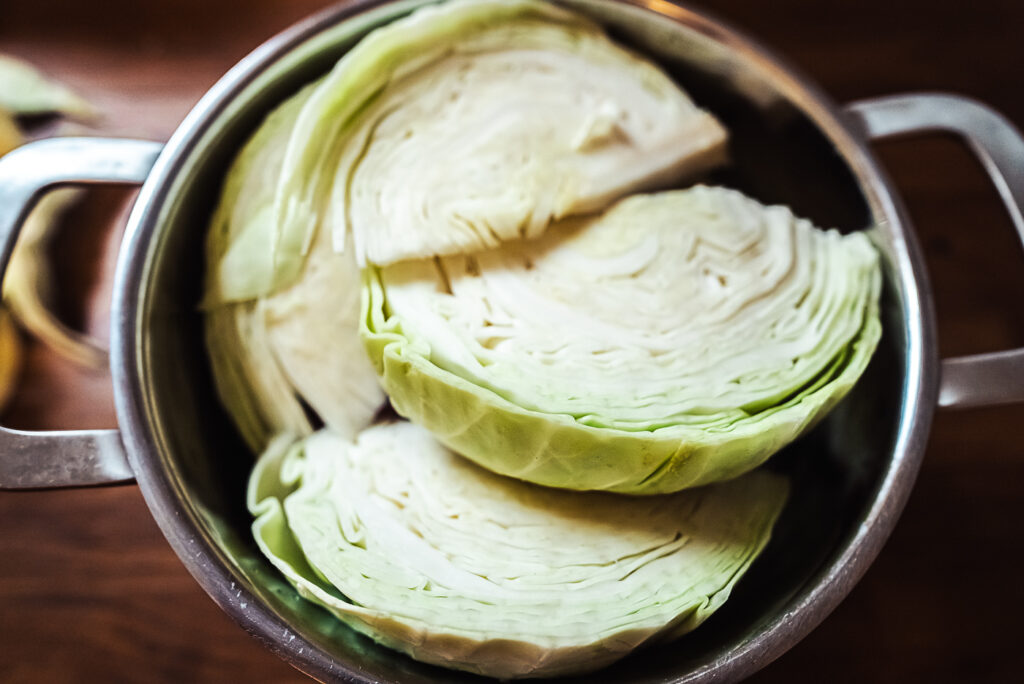 I cook fårikål from 2 to 3 hours (usually depending on when I remember to start boiling the potatoes). You'll know it's done when the meat gently falls away from the bone.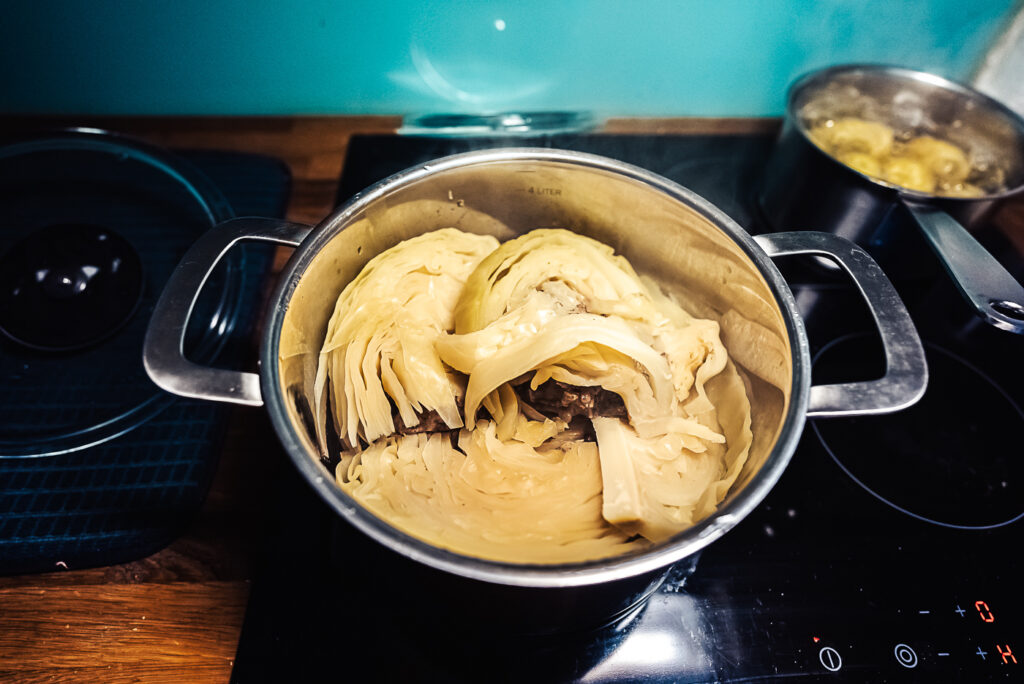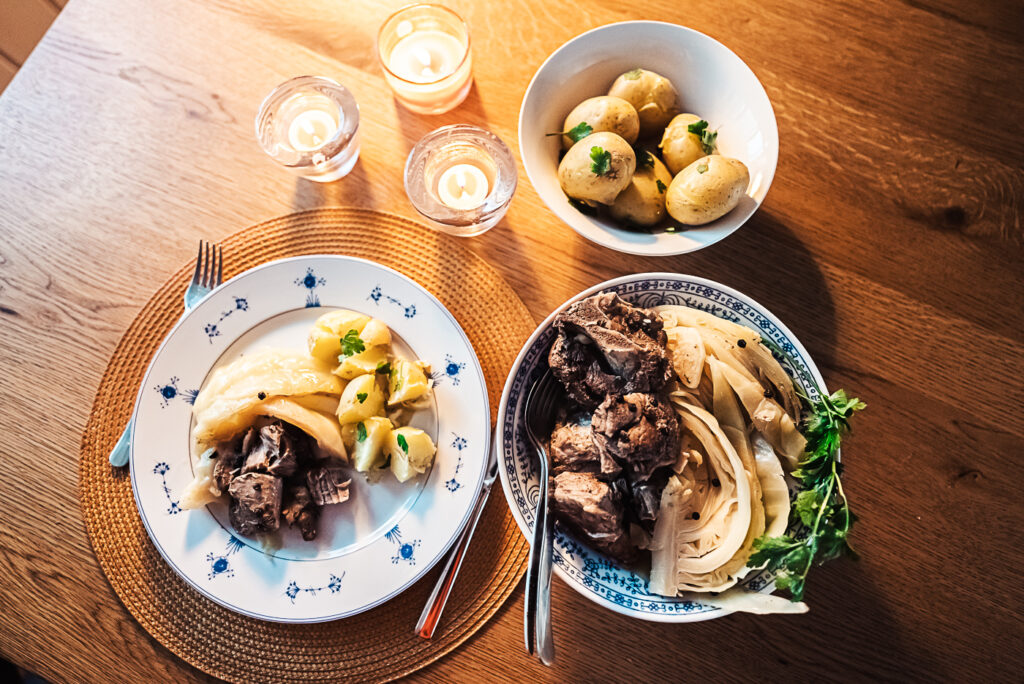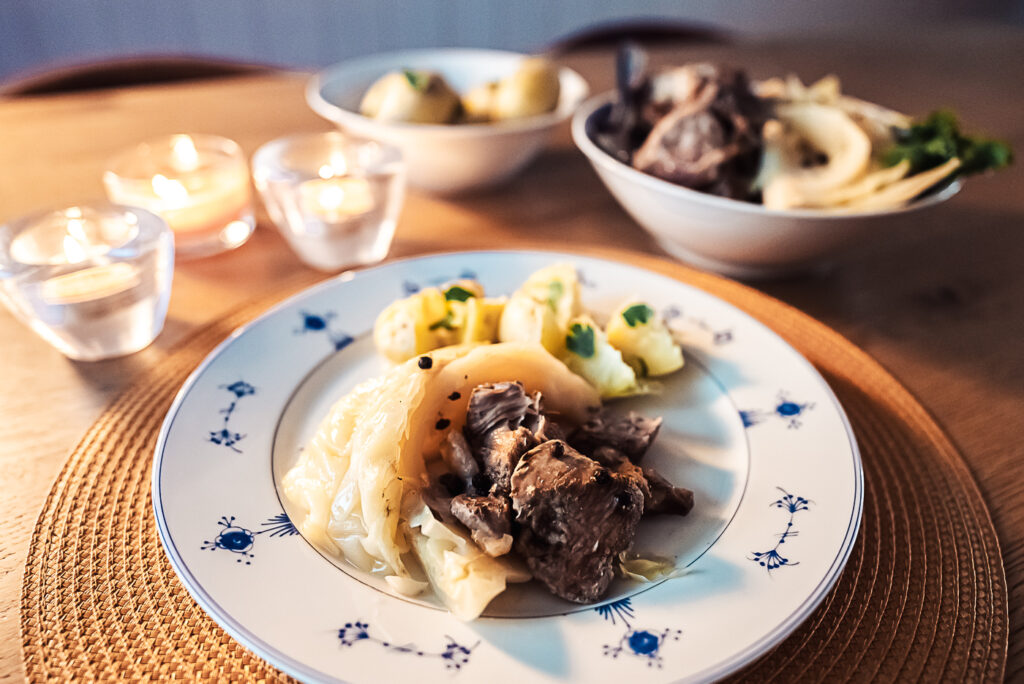 You can switch the recipe from US measurements to metric by clicking from "US Customary" to "Metric" under Ingredients.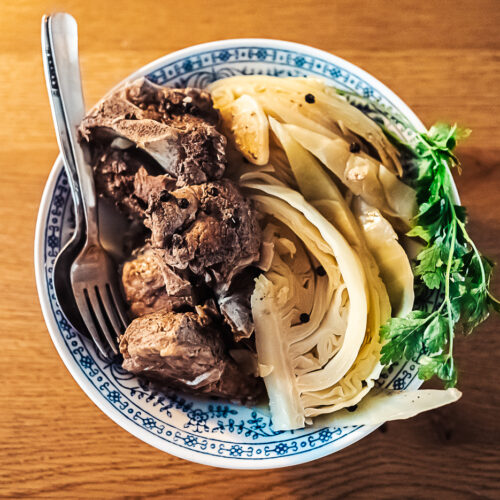 Fårikål (Norwegian National Dish)
Fårikål, Norway's national dish, is a lamb and cabbage stew served with boiled potatoes.
Print
Pin
Rate
Ingredients
3

lb

lamb, cut into pieces

1

head of white cabbage

5

tsp

whole black peppercorns

3

tsp

salt

1 and 1/2

cups

water

4-5

tbsp

flour

(optional)
For serving
boiled potatoes

fresh parsley
Instructions
Cut the lamb into large pieces.

Slice the cabbage into large wedges, keeping the core attached.

Add a layer of lamb pieces to the bottom of a large pot, fatty side down. Sprinkle with peppercorns and salt. Add a layer of cabbage wedges on top. Repeat with more layers of lamb, peppercorns, and cabbage, ending with cabbage on top.

Optional: Sprinkle a couple of tablespoons on top of the lamb for a thicker stew.

Add water to the pot and bring to a boil. Cover and reduce heat. Cook on low heat for 2 – 3 hours, until the lamb gently falls away from the bone.

Serve with boiled potatoes and fresh parsley, covering generously with the fårikål broth.
Video