Vaniljekranse (Danish Butter Cookies)
Temperatures in Bergen have dropped and I am now fully in autumn mode. This means that I've pulled all my wool sweaters out of storage, I'm considering making a fire in my fireplace tonight, and I'm even beginning to think about Christmas baking.
I know it's still a while until Christmas, so over the weekend I baked vaniljekranse cookies, which are popular Danish Christmas cookies (also popular in Norway), but they're also basic enough to bake other times of year as well. In fact these are probably my favorite Scandinavian butter cookies. They're incredibly buttery with the perfect hint of vanilla, and I love the crispy texture. They're a bit similar to serinakaker (Norwegian butter cookies that are also popular for Christmas) but they're crispier and a bit more buttery.
Vaniljekranser are very traditional Christmas cookies in both Denmark and Norway, often showing up in Norwegians' "Christmas seven."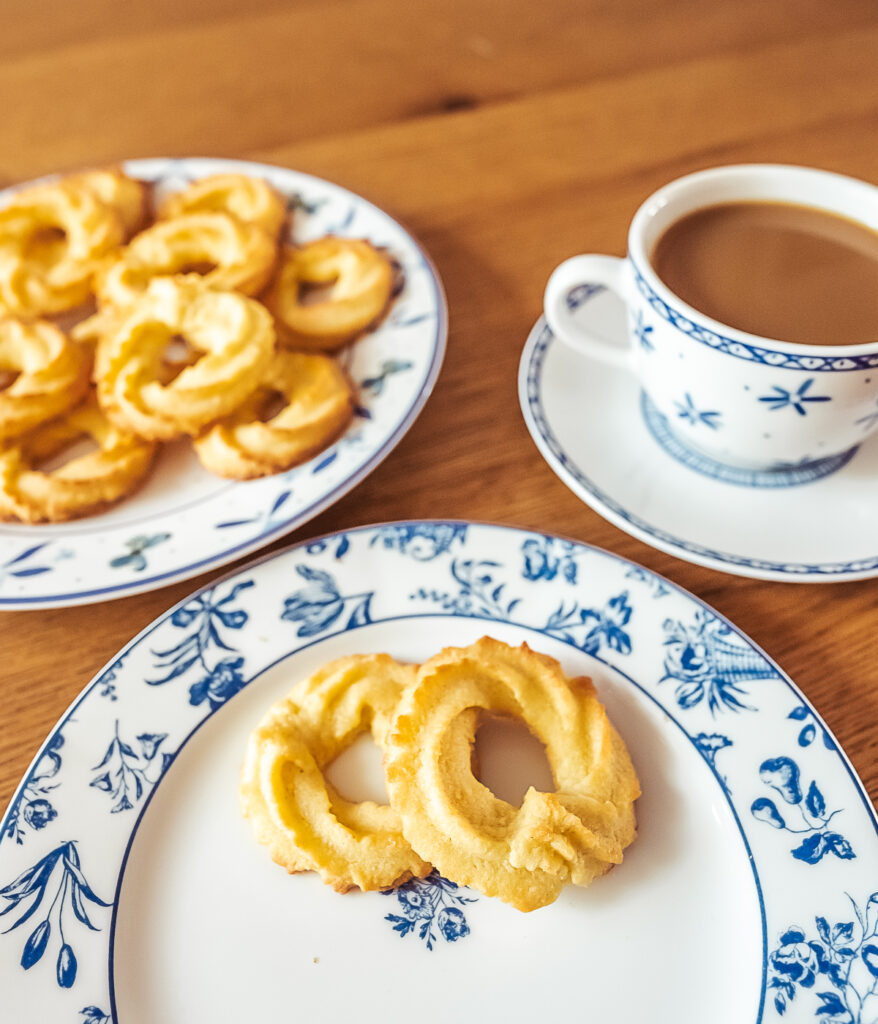 You can find all of my Scandinavian Christmas recipes here.
Vaniljekranser, or "vanilla wreaths," are made with a mixture of all purpose flour and almond flour. The almond flour doesn't make them taste particularly almond-y, but instead it gives these cookies their wonderful texture. If you want more almond flavor, you can use ground almonds instead of almond flour for a more rustic vaniljekranse. Or you can simply add a few drops of almond extract to the cookie dough.
But personally I think this recipe is perfect as is.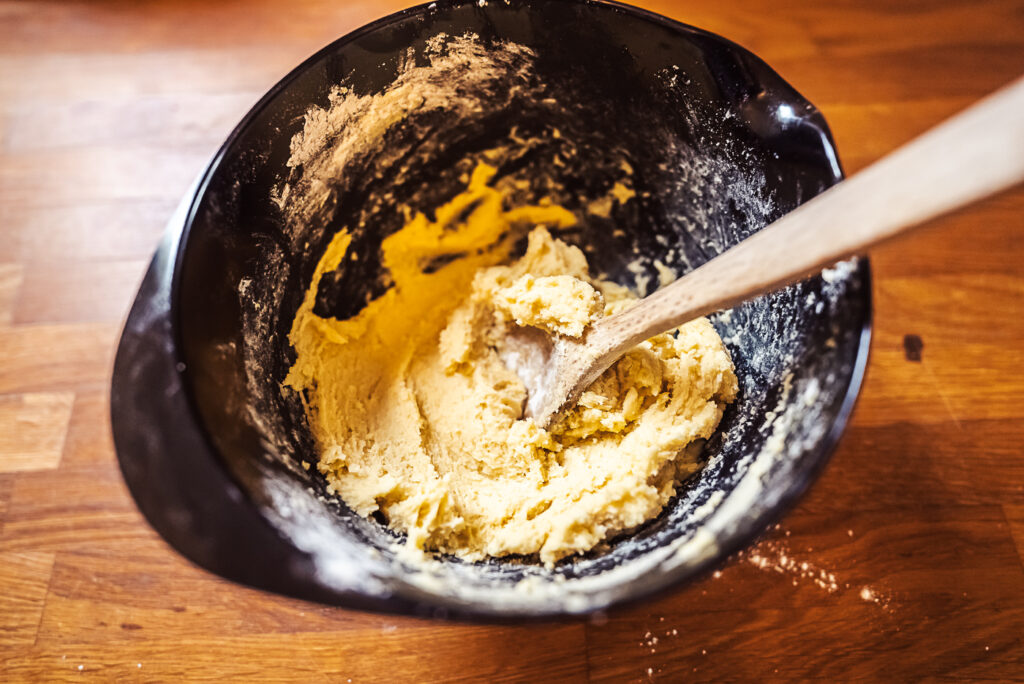 This vaniljekranse recipe is incredibly simple. The trickiest part is piping the dough out into wreaths – it might take a bit of practice to get the hang of it (you can watch how I do it in the video below). If you're really struggling, you can also pipe the dough in a straight line and then form it into a wreath with your hands, though personally I find it easier to pipe them into circles. If you mess them up you can always add them back to the piping bag until you get a shape you like.
The most important thing here is that you must used fully softened butter, otherwise the dough will be too hard to pipe out. You also should use a large piping tip. It will take a bit of muscle to pipe these as the dough is a bit firm, but if the dough is too hard to get out at all, you can try to warm up the piping bag between your hands, or leave it for 15 minutes at room temperature.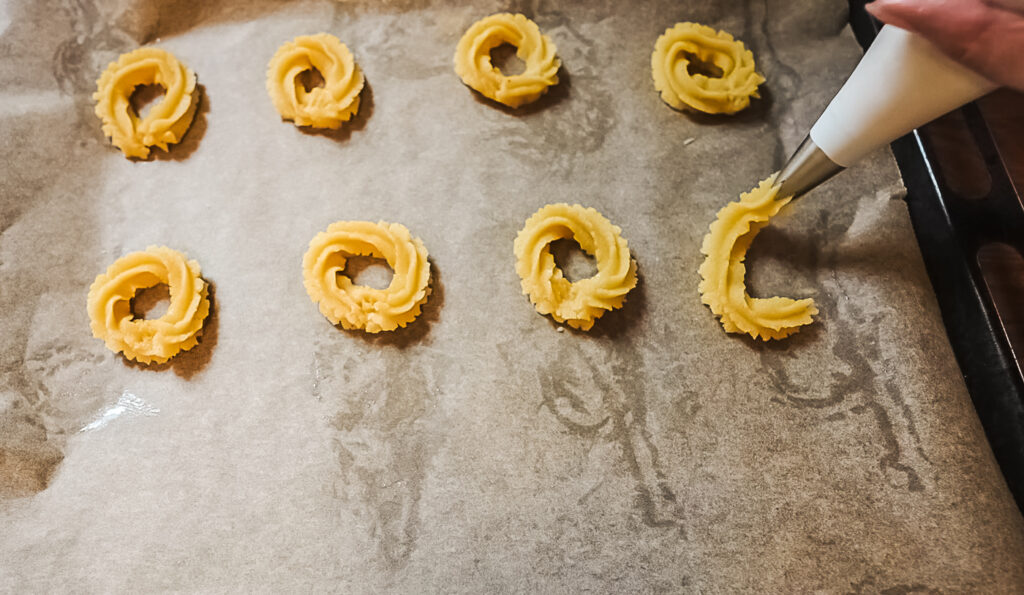 If you don't have a piping bag, you can instead roll the dough into small balls and flatten them with the back of a fork. They won't have the classic vaniljekranse wreath shape, but they will still taste delicious!
Keep an eye on these in the oven, as baking time can vary a bit oven to oven. Mine are usually done in 10 minutes, when the bottoms and edges are just starting to turn golden brown.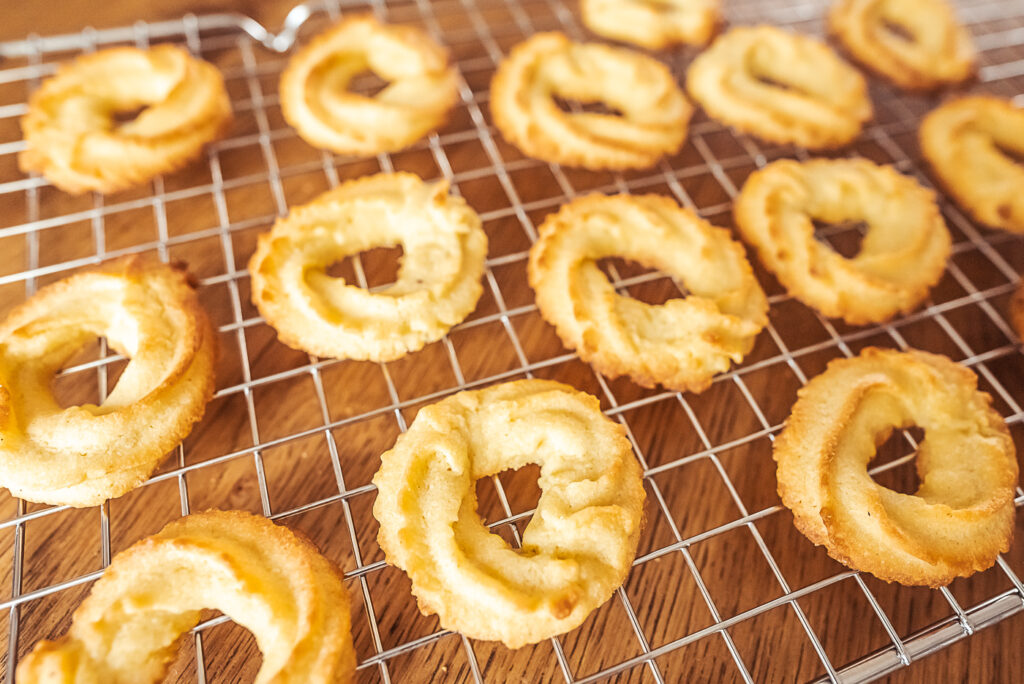 You can store these in an airtight cookie box and they should last for a couple of weeks. Well, in theory they could last that long, but I usually eat them up in a few days.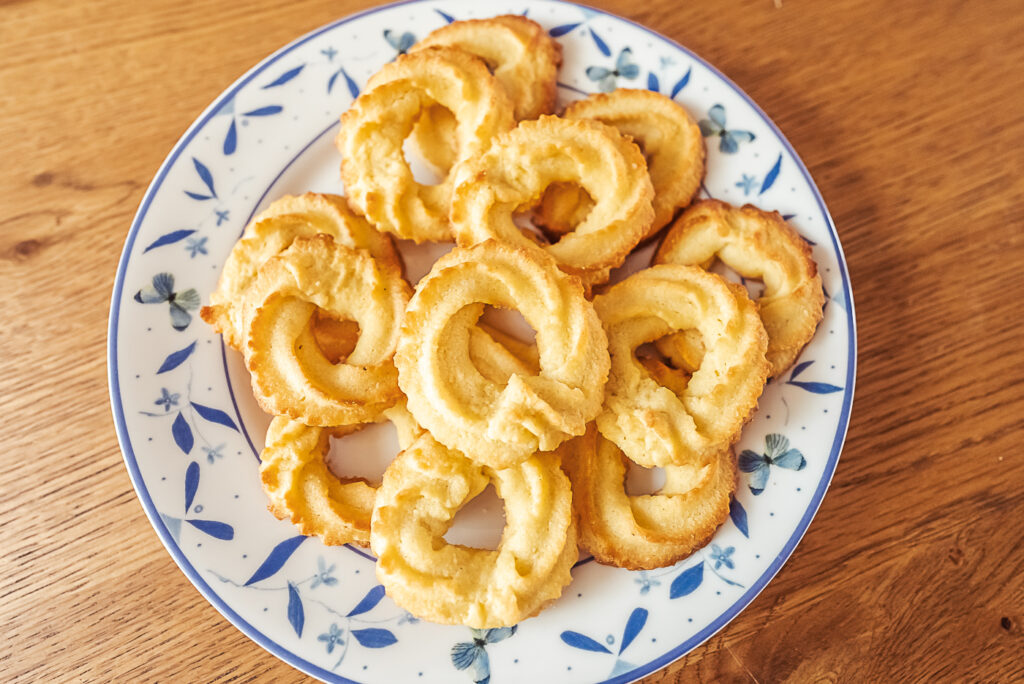 You can switch the recipe from US measurements to metric by clicking from "US Customary" to "Metric" under Ingredients.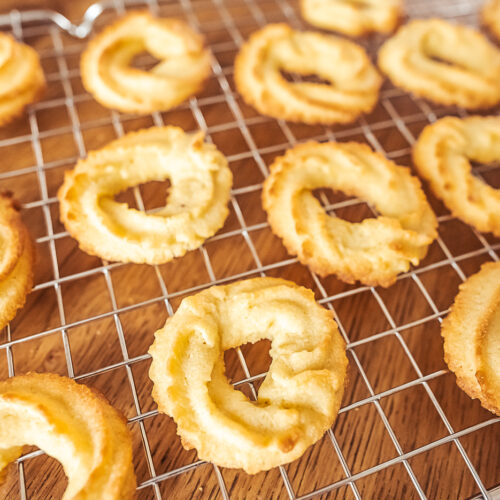 Vaniljekranse (Danish Butter Cookies)
Vaniljekranser are Danish (also Norwegian) vanilla butter cookies that are shaped into wreaths. Vaniljekranser are especially popular as Christmas cookies, but you can find them in Scandinavia year round.
Print
Pin
Rate
Equipment
1 piping bag with large star tip
Ingredients
3/4

cup

granulated sugar

14

tbsp

butter

(softened)

2

tsp

vanilla sugar or extract

1

egg

2

cups

all purpose flour

3/4

cup

almond flour
Instructions
Preheat oven to 200°C (390°F) and line a baking sheet with baking paper.

Cream the sugar, butter, and vanilla in a large mixing bowl until light and fluffy. The butter should be soft enough to cream easily with the sugar.

Add the egg and beat well. Add the flour and almond flour and mix until smooth.

Add the dough to a piping bag (you might need to do half at a time) with a large star tip. Pipe out small round wreaths onto a baking sheet – I do twelve cookies per sheet.

Bake for about 10 minutes, until the edges are golden. Cool cookies on a wire rack.
Video