Lefse (Kling) from Telemark
While I was growing up my family spent every summer visiting my mother's family in Telemark. And every summer I would be so excited to get to indulge in my favorite Norwegian food, including lefse with kling.
Lefse is a traditional soft Norwegian flatbread made with flour and sometimes potatoes, which is filled with butter and sugar to make kling.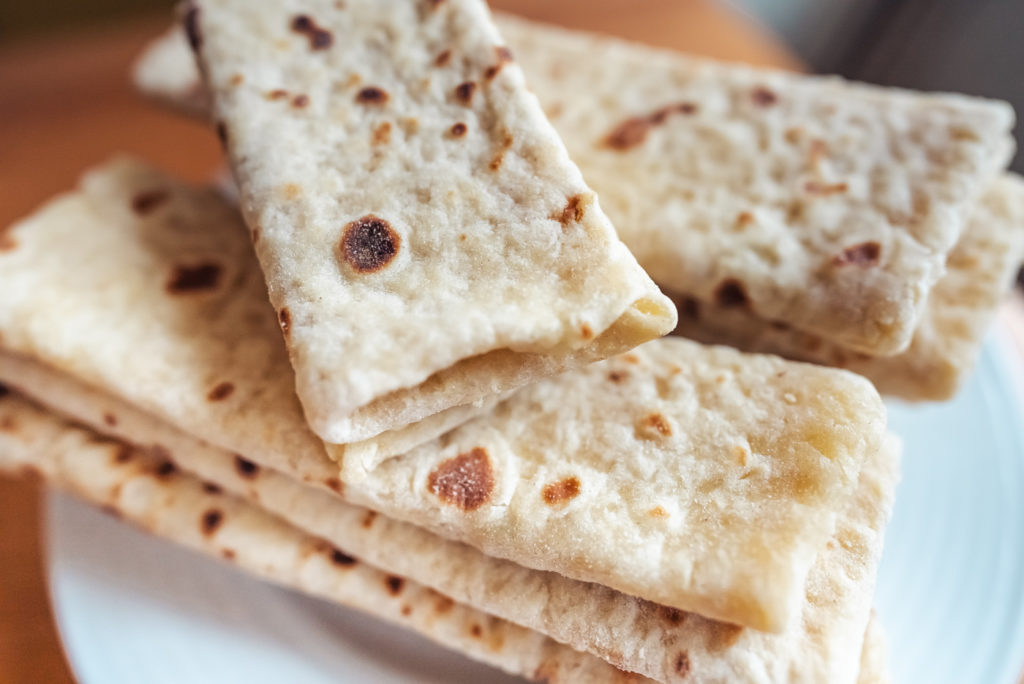 When I moved to Norway in 2015 I was excited to live in the land of lefse and kling, but I soon realized that just as the Norwegian dialects spoken change from valley to valley, so do the Norwegian recipes for lefse and kling. Some versions of lefse are thin and dense while others are thick and fluffy, and the flavor of the lefse changes depending on the ingredients.
So if I wanted the lefse and kling from my childhood, I would have to make it myself! Or I'd have to move to Bø in Telemark.
Lefse is notoriously tricky and time consuming to make, but this recipe is easier because it uses semolina instead of potatoes. Norwegian Americans might be surprised to see a lefse recipe without potatoes, but in Norway it's actually quite common to make lefse without potatoes. And again, it's usually easier, as you won't have to boil and peel several pounds of potatoes.
And while some lefse recipes only use flour, I'm a fan of the semolina lefser because the semolina keeps the lefse nice and tender. Norwegians use semolina in a lot of their desserts as well as the beloved semulegrøt, or semolina porridge. I'll try to share more Norwegian semolina recipes soon!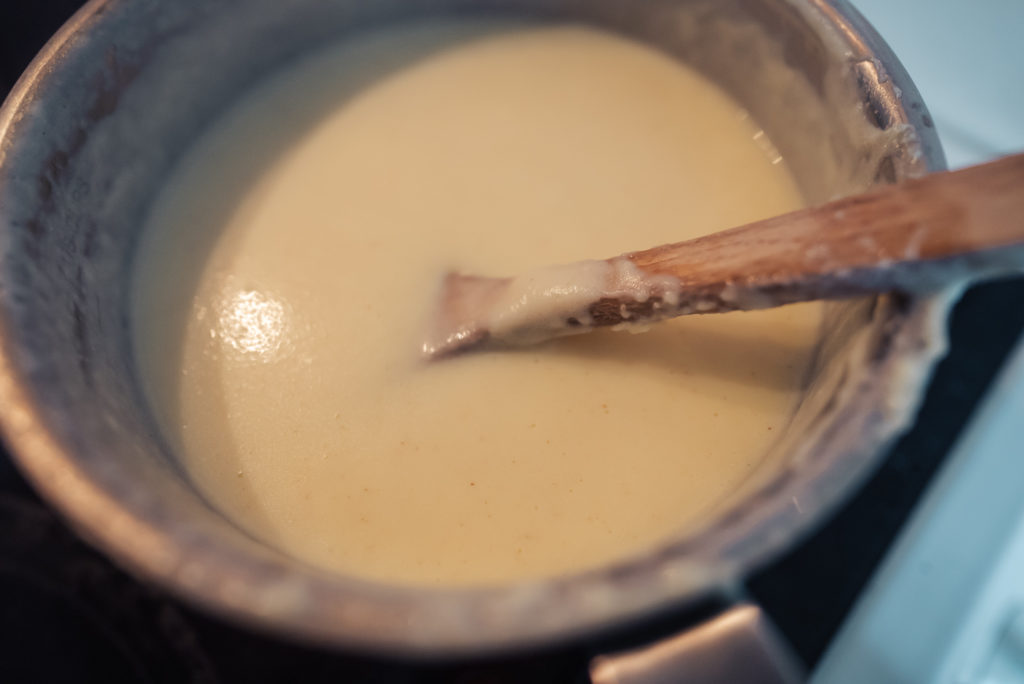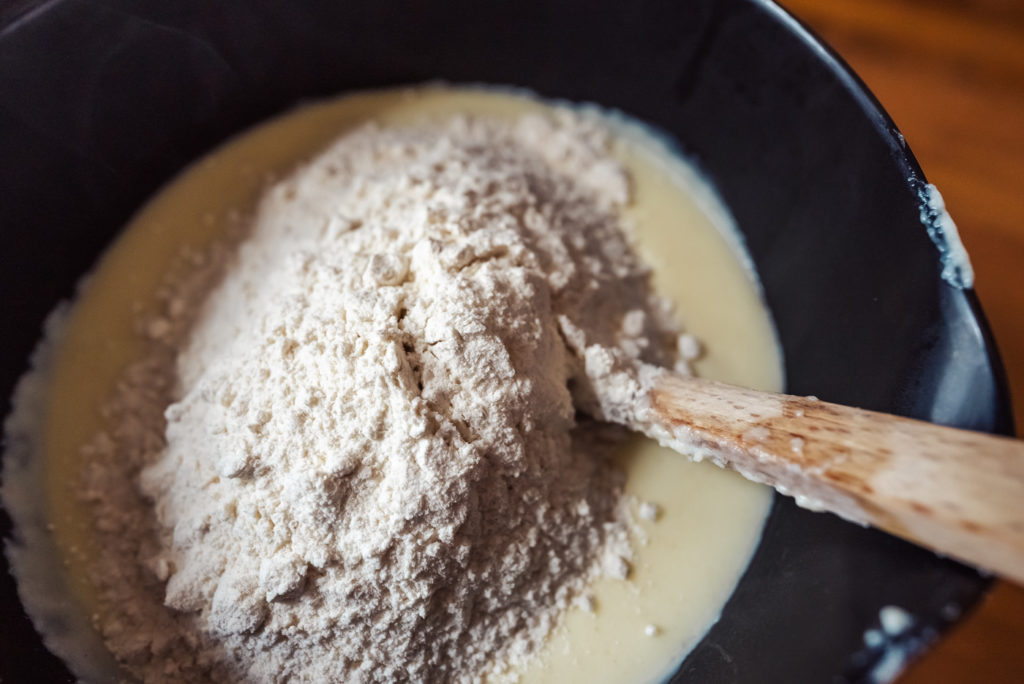 When adding the flour to the semolina porridge the goal is to add as little flour as possible without the dough being too sticky to roll out. I don't add the full amount of flour in the recipe, and instead keep the dough on the slightly sticky side. Then I add more flour as I roll out the lefse.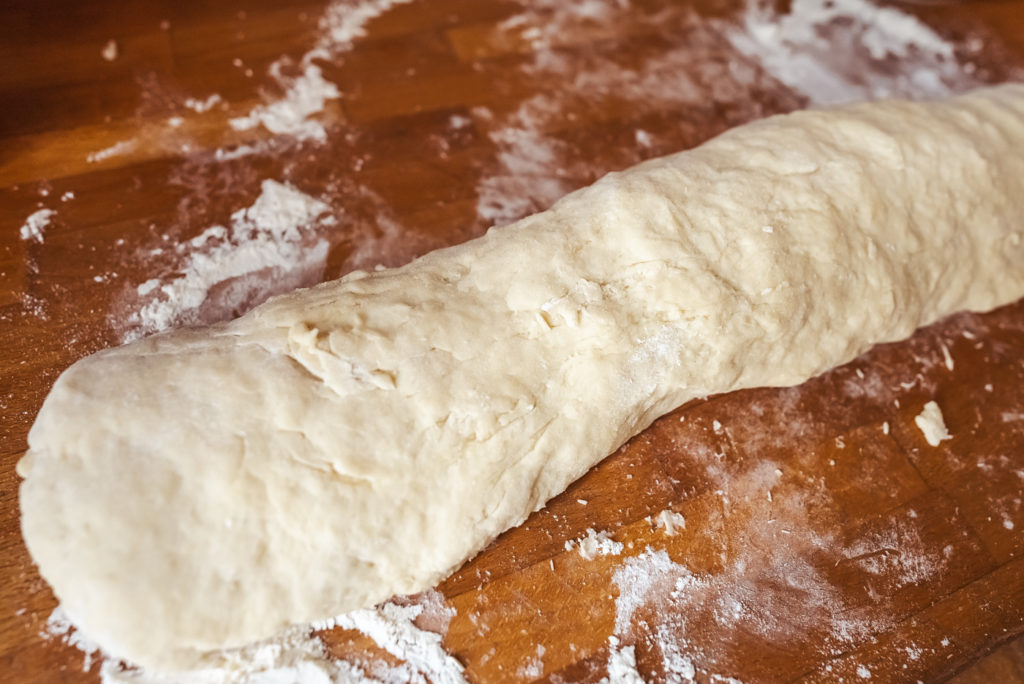 Norwegians usually make their lefser on a large takke, or griddle, but if you make your lefser smaller you can simply cook them in a large frying pan, which is what I do. Smaller lefser are also much easier to roll out and transfer, so you won't need the wooden lefse stick to turn and transfer your lefser.
But if you do want to make large lefser, you can order a 12-inch griddle, 13-inch griddle, or 16-inch griddle, and a lefse stick. Or if you really want to do it right, this lefse starter kit has everything you'll need to make Norwegian lefser.
You can roll out your lefser with a flat rolling pin, but I do recommend getting a corrugated rolling pin if you think you'll be making lefser often. It's much easier to roll out thin lefser with the corrugated rolling pin, as the dough doesn't stick as much. (The lefse starter kit includes the rolling pin as well.)
I like to start rolling the lefse with a regular smooth rolling pin, and then I switch to the corrugated rolling pin as the lefse gets thinner. You can see how I roll out the lefse in the lefse recipe video at the bottom of this page.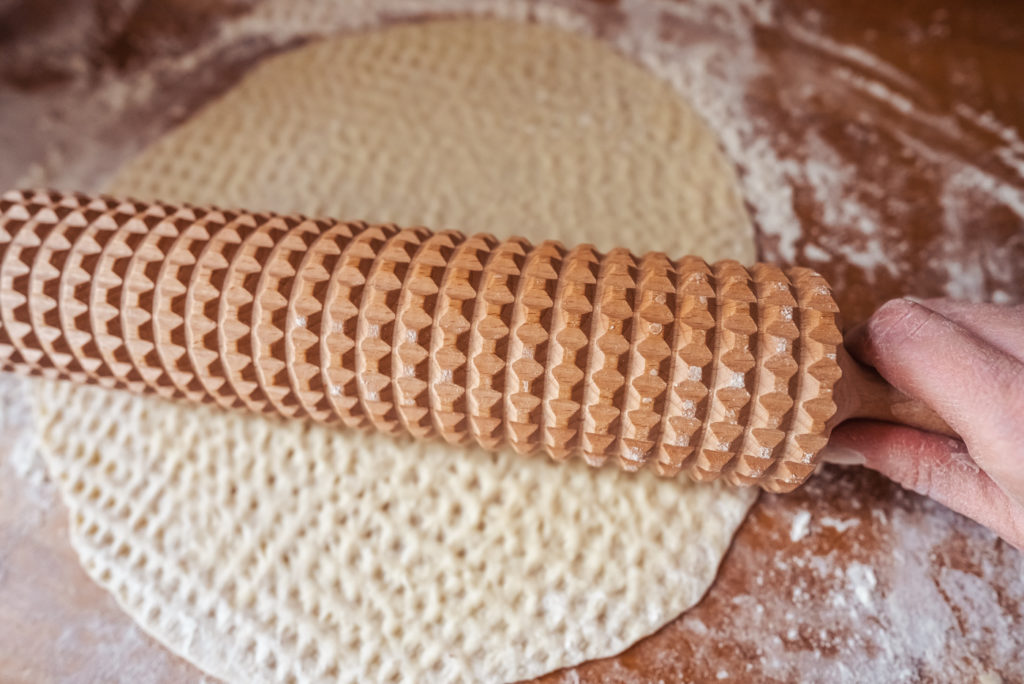 To save time, I roll out a few lefser to start, and then I roll out the rest while the others are cooking.
I roll my small lefser directly on a floured counter or silicone pastry mat, but if you're making larger lefser you can roll them out on a pastry board and cloth (included in the lefse starter kit), or cut the correct size circle out of a cheap vinyl table cloth and roll the lefse on the unwaxed side.
When cooking the lefse you might have to experiment a bit with the heat setting. I cook the lefse on one side until it starts to bubble (about a minute) and then flip. The bubbles should be a nice golden brown. If the bubbles are very dark brown or black, lower the heat.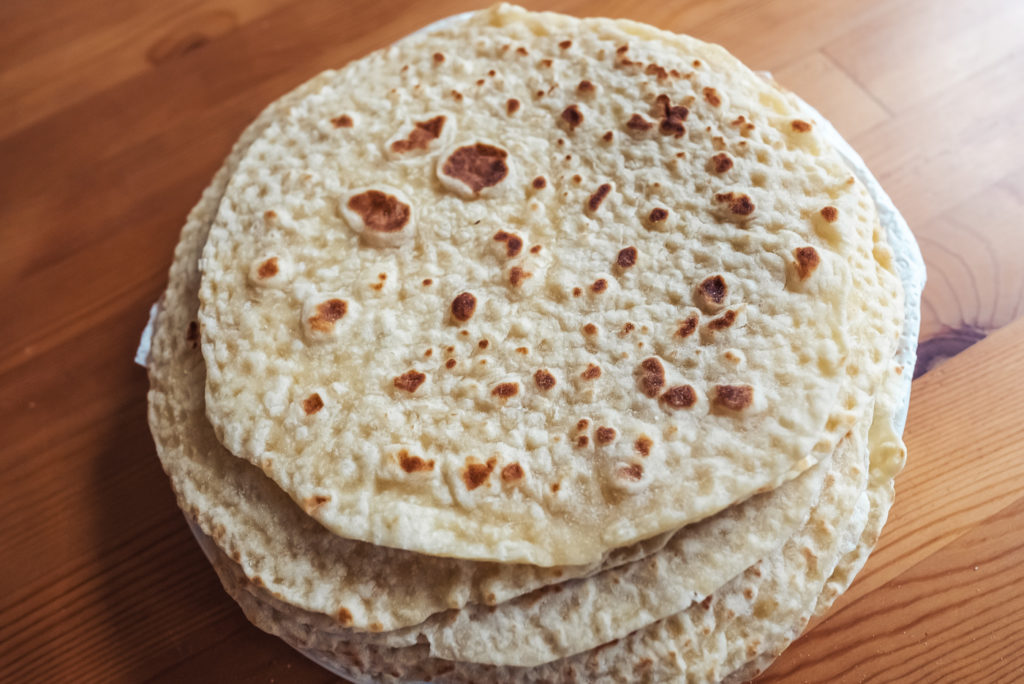 You can eat the lefse on its own or as a side to your meal, or wrap it around a hotdog. Or you can make kling for a sweet snack or dessert.
Kling
To make the kling you'll fold the lefse and spread with a mixture of butter and sugar.
I use a 3:4 ratio of sugar to butter, but the amount of sugar is really up to you – I've noticed that Norwegian kling recipes usually don't specify an amount. Some kling recipes use powdered sugar instead of granulated, and some add cinnamon or even brown cheese, but I like my kling with just granulated sugar and butter.
Cover your lefse with a thin layer of the butter and sugar mixture.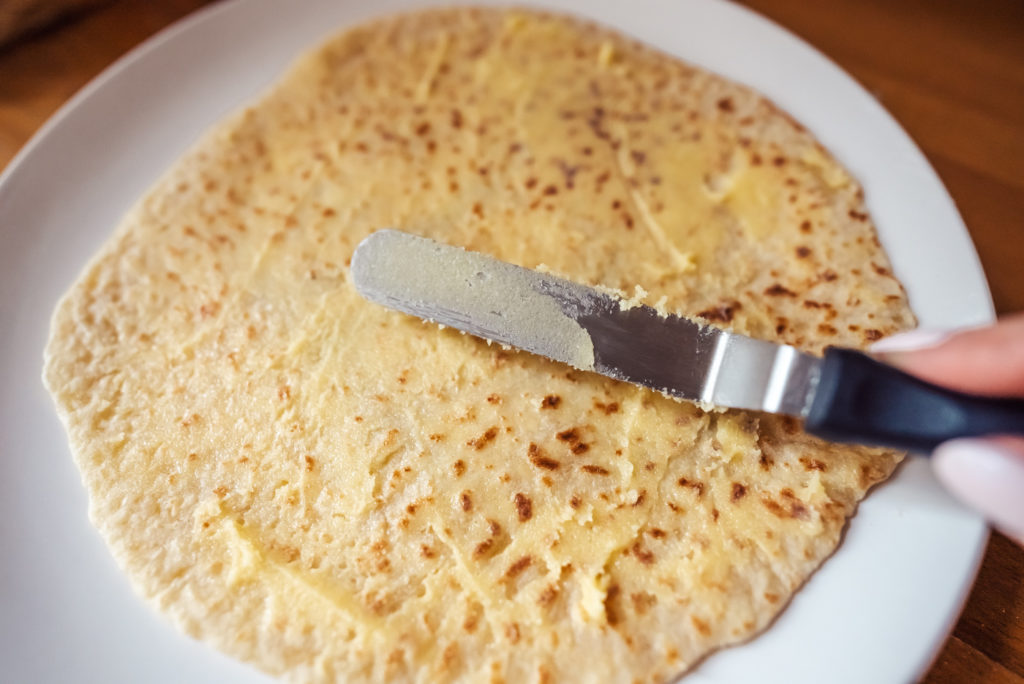 Your folding technique is actually very important here, and this is something all Norwegians seem to agree on when making kling. Fold the sides in towards the middle to make a rectangle. Then take one of your less perfect lefser (often a couple come out a bit wonky) and use scissors to cut triangles to fill in the parts that aren't covered by folded lefser.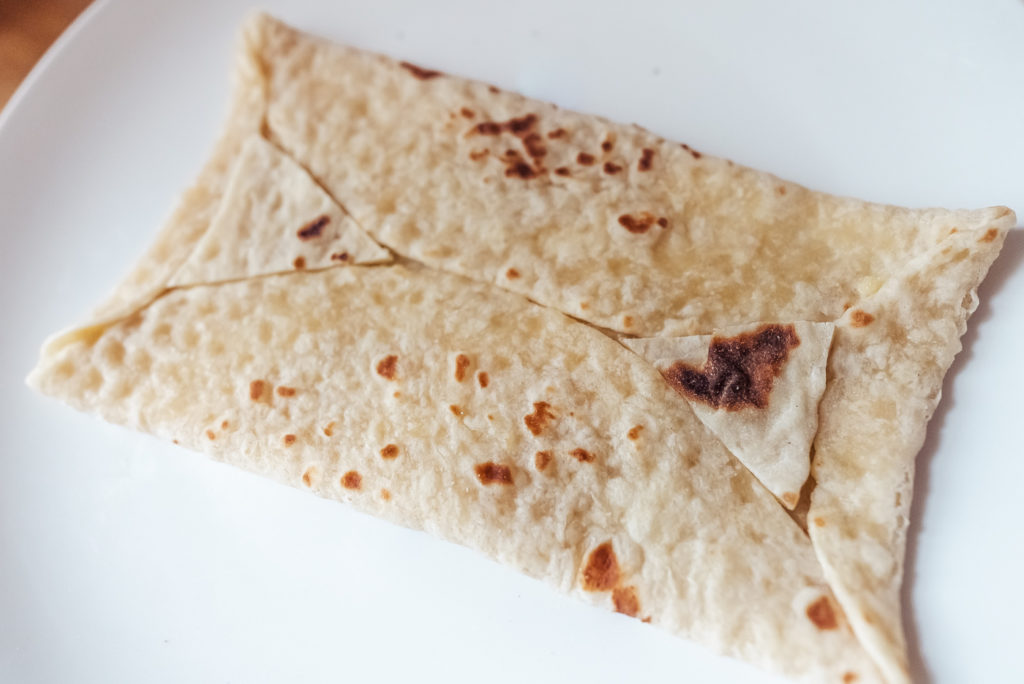 Then spread once more with the butter and sugar mixture, and then fold in half so you get a long, thin rectangle. If you've made large lefser you can cut the kling upwards along the width to get several rectangles, or if you have a smaller lefse you can simply cut it in half once.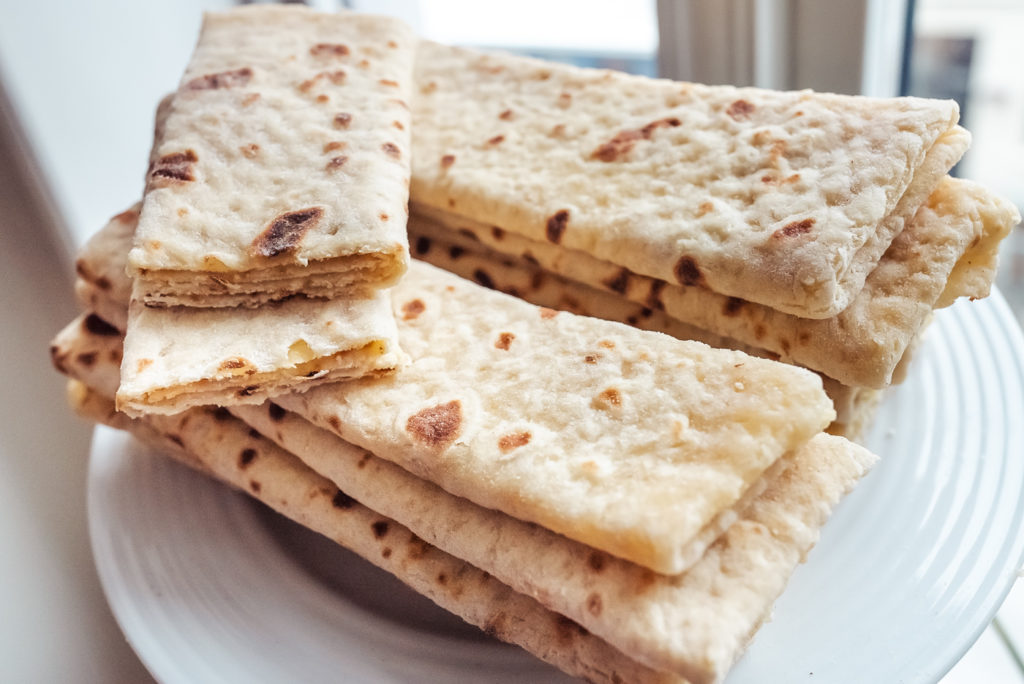 I usually freeze all the lefser after buttering them, and then I defrost one whenever I want.
I also actually love popping these in the microwave and eating them hot. This might not be the traditional way of eating kling, but I personally think the kling is extra tasty when the butter melts into the sugar and lefse. Try it!
You can switch the recipe from US measurements to metric by clicking from "US Customary" to "Metric" under Ingredients.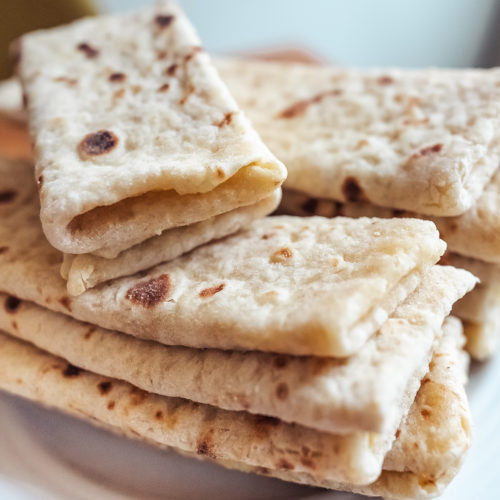 Lefse (Kling) from Telemark
Lefse is a trational Norwegian flatbread, which is filled with butter and sugar to make kling. Lefse is often made with flour and potatoes, but this recipe from Telemark uses flour and semolina, which is extra tasty (and a bit easier). You can cook these on a griddle or in a large frying pan.
Print
Pin
Rate
Servings:
16
small lefser
Equipment
Rolling Pin

corrugated rolling pin

(optional)

griddle or large frying pan
Ingredients
4 and 1/4

cups

milk

10 and 1/2

tbsp

butter

1/2

cup

semolina

8

cups

flour
Kling filling
1

cup

butter

(room temperature)

3/4

cup

granulated sugar
Instructions
Boil the butter and milk and add the semolina. Lower the heat and simmer for 10 minutes. Take off heat and let the porridge cool for 5 minutes.

Pour the porridge into a mixing bowl and slowly add the flour to the porridge while stirring. The goal here is to add as little flour as possible to form a dough that you can roll out, so you may not need the full amount of flour.

When the dough becomes hard to stir, turn it over onto a floured surface and mix by hand.

Divide the dough into about 16 small sections if using a frying pan. If you're using a large griddle you can divide into about 10 sections.

Roll each section into a ball and then roll it into a flat circle with a rolling pin. Switch to a corrugated rolling pin as the dough gets thinner. Aim to make the dough circle the same size as your frying pan or griddle.

Brush off any excess flour and fry the lefse in a frying pan or on a griddle on medium/high heat until the dough begins to bubble and the bubbles are a golden brown (about 1 minute). Flip and cook for another minute, until there are golden brown spots on the bottom side as well.

Stack the cooked lefser on a damp cloth and cover with another damp cloth and plastic (I put the plate of lefser in a large plastic bag).
Kling
To make the kling, mix together the butter and sugar. If the butter is too hard to spread you can heat it slightly.

Spread each lefse with a thin layer of the kling mixture. Then fold two edges of the lefse into the center and fold in the other edges so you get a rectangle. Then cut triangle shapes from another lefse to fill in the gaps of the rectangle (see video). Spread another thin layer of kling and fold the lefse in half so you have a long, thin rectangle. Cut into smaller rectangles and serve.
Video