Kanelsnurrer – Norwegian Twisted Cinnamon Buns
Scandinavians sure love their cinnamon buns, so it's no surprise they have so many different variations of them. In Norway you'll find kanelboller, skillingsboller, kanel i svingene, and kanelsnurrer – also called kanelknuter. These names are often used interchangeably, but kanelsnurrer and kanelknuter are usually slightly smaller buns twisted into a knot.
The twists actually make kanelsnurrer extra delicious, because there's cinnamon sugar butter folded into each twist. Plus I just love the texture of these.
Bergen is actually famous for its skillingsoller, so I may have broken a law or two by baking kanelsnurrer here instead – please don't tell anyone in Bergen.
This is the classic version of kanelsnurrer, made with a buttery cardamom dough and filled with cinnamon, brown sugar and butter. They're simple but oh so tasty. You can use a stand mixer to make these, or you can knead them by hand. If you're using a mixer, dissolve the yeast in cold milk instead of warm, as the dough heats up quite a bit in the mixer, which apparently can kill the yeast. But if you're making these by hand you'll want to dissolve the yeast in lukewarm milk.
In Norway we usually use fresh yeast for baking, but you can also use dry instead.
Make sure to let the dough fully rise so it's about double in size. This ensures that the dough will be easy to roll out and twist into knots.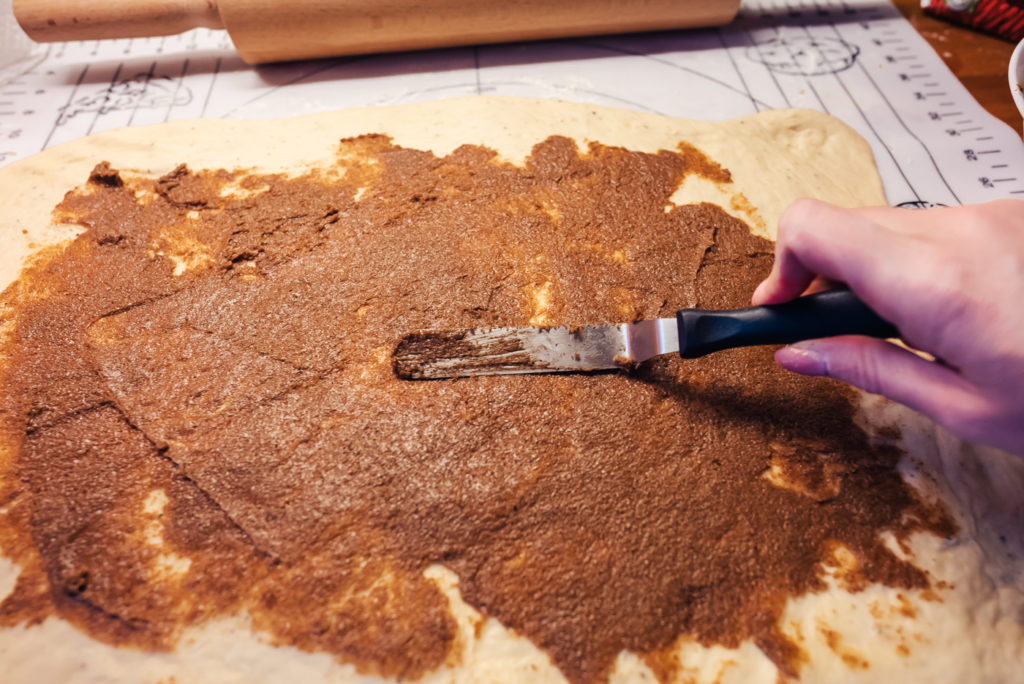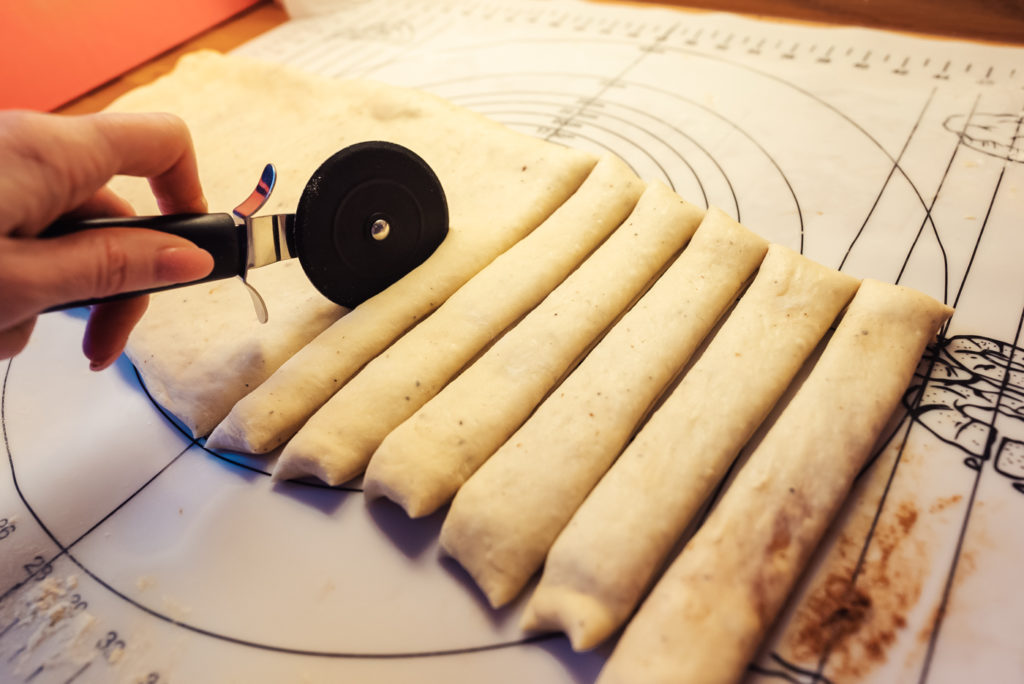 I've seen many different ways of forming the knots, and I don't think your technique here matters too much. Just make sure that you twist the dough a lot before making the knot. To form the knots, I twisted each strip of dough and then held out two of my fingers and wrapped the twist twice around my fingers and then pushed the end through the hole in the middle. See the video below if you're confused.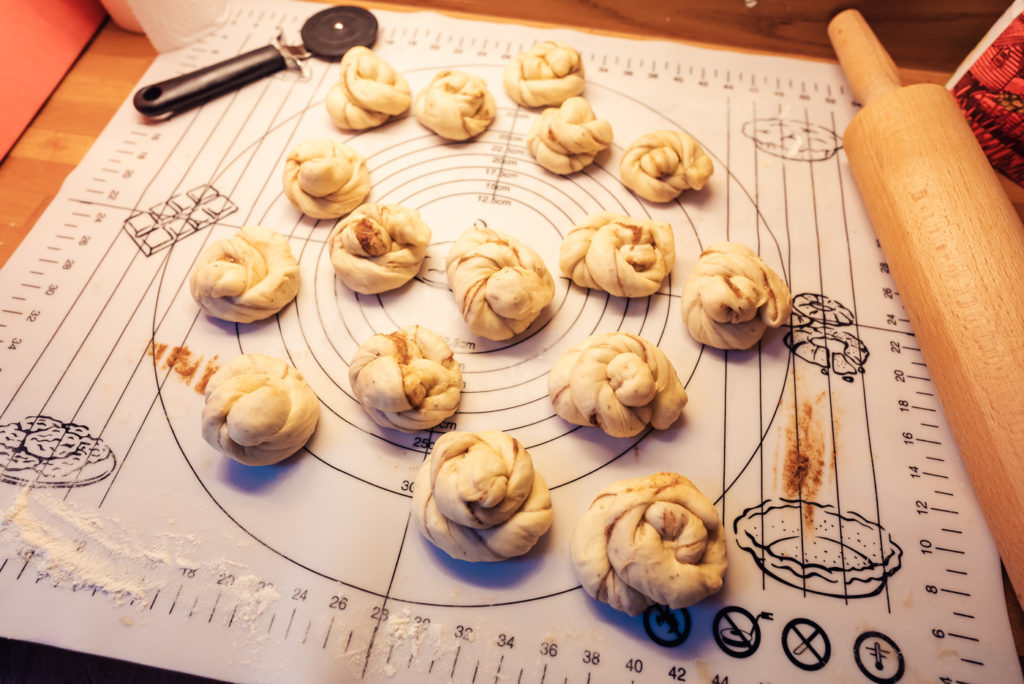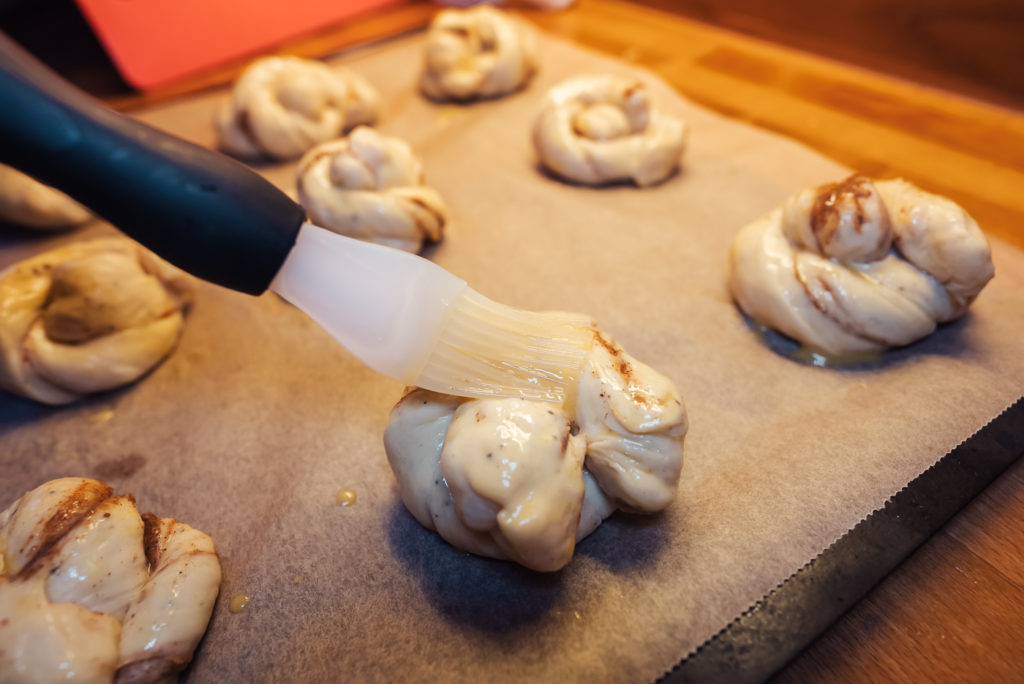 Be careful not to over bake these, and then the buns become dry. I baked mine for exactly 10 minutes – until the tops were golden brown and the bottoms light brown.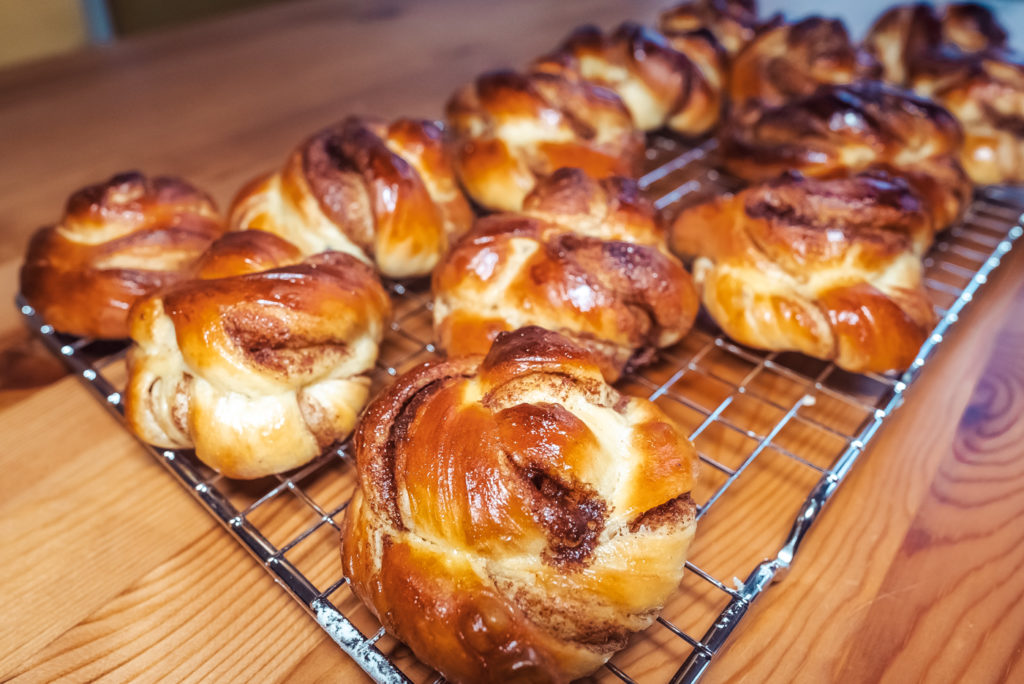 These are best served warm! These also freeze well, and then if you pop them back in the oven they'll taste freshly baked again. I also sometimes simply defrost them in the microwave and then toast them.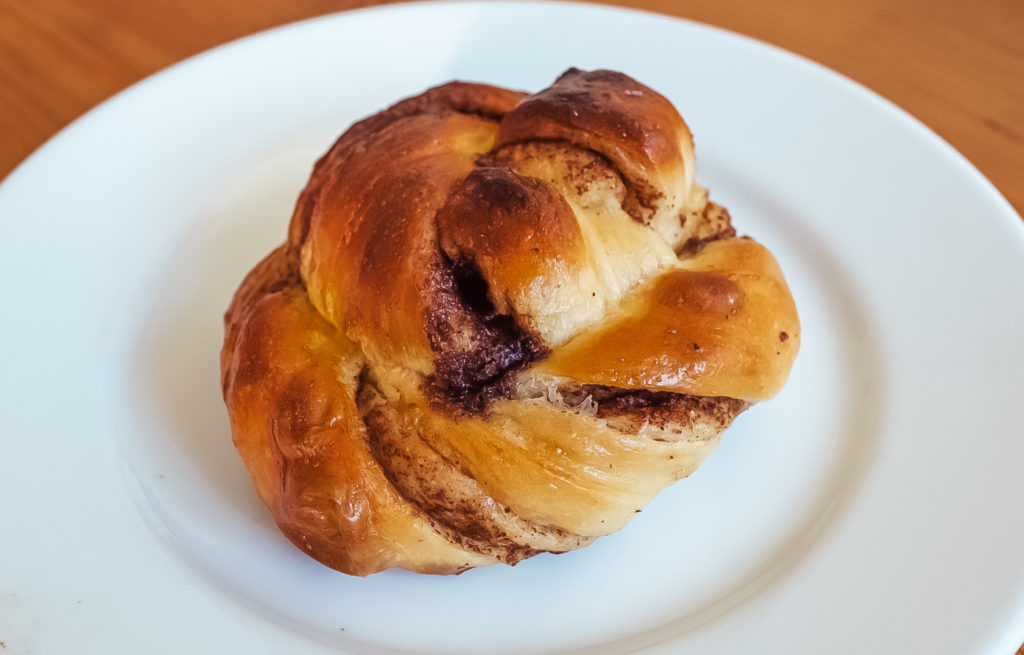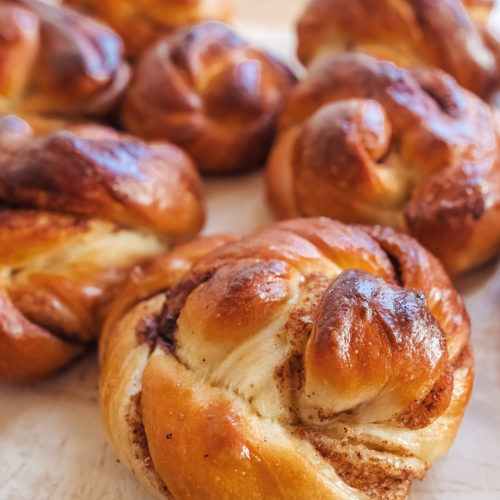 Kanelsnurrer – Norwegian Twisted Cinnamon Buns
These kanelsnurrer, or kanelknuter, are a bit smaller than classic Norwegian cinnamon buns (kanelboller). They're made with a buttery cardamom dough and filled with cinnamon sugar before being twisted into a knot. All the twists make these extra tasty, with cinnamon butter around every bend.
Print
Pin
Rate
Ingredients
1

cup

milk

1

oz

fresh yeast

(or 1 tbsp instant yeast, 1.5 tbsp active dry yeast)

1/3

cup

granulated sugar

1

tsp

freshly ground cardamom

1

pinch

salt

1

egg

3 and 1/2

cups

flour

7

tbsp

butter
Cinnamon filling
5

tbsp

butter

(room temperature)

1

tbsp

cinnamon

3

tbsp

brown sugar
Instructions
If you're making these by hand, heat milk until it's lukewarm. If using a stand mixer, keep the milk cold. Stir in the yeast, sugar, cardamom, salt and egg until dissolved.

Add the flour and stir well. You can do this in a mixer or by hand. Stir until the dough releases from the bowl and then continue to knead (by hand or with the dough hook on the mixer) for 5 – 10 minutes.

Add the butter to the dough and continue to knead for another 5 – 10 minutes. Cover the bowl with the dough and let it rise in a warm place until about double in size (around 1 hour).

Roll the dough out into a rectangle on a floured surface until it's about 18 inches (45 cm) long.

Mix together the butter, cinnamon and brown sugar for the filling. If the butter is a hard you can heat it up a bit so it's easier to spread. Spread the mixture out in an even layer covering the entire rectangle of dough.

Fold the dough in thirds so that you have a long, skinny rectangle (see video below). Then roll out the rectangle again so that it's wider (not longer).

Use a pizza or pastry wheel to cut the rectangle into about 16 strips. Twist each strip and then tie into a knot (see video).

Set the kanelsnurrer on baking paper on a baking sheet and cover with plastic wrap or a cloth. Let them rise again for about 30 minutes.

Preheat oven (upper and lower heat) to 430°F (220°C). Carefully brush the kanelsnurrer with whisked egg.

Bake the buns in the middle of the oven for about 10 – 12 minutes. Be very careful not to over bake, as the buns will become dry. The buns are done when they're golden on top and light brown under.
Video