Mandelflarn – Norwegian Almond Lace Cookies
Today is my mom's birthday! And I'm celebrating by baking some of the best Norwegian Christmas cookies: mandelflarn, or almond lace cookies. Or at least my family always makes these for Christmas, but you really can bake these any time of year. They're very similar to their oat cousins, havreflarn, but the almonds make them more luxurious than oat lace cookies in my eyes. I suppose they're also literally more luxurious as almonds are more expensive than oats.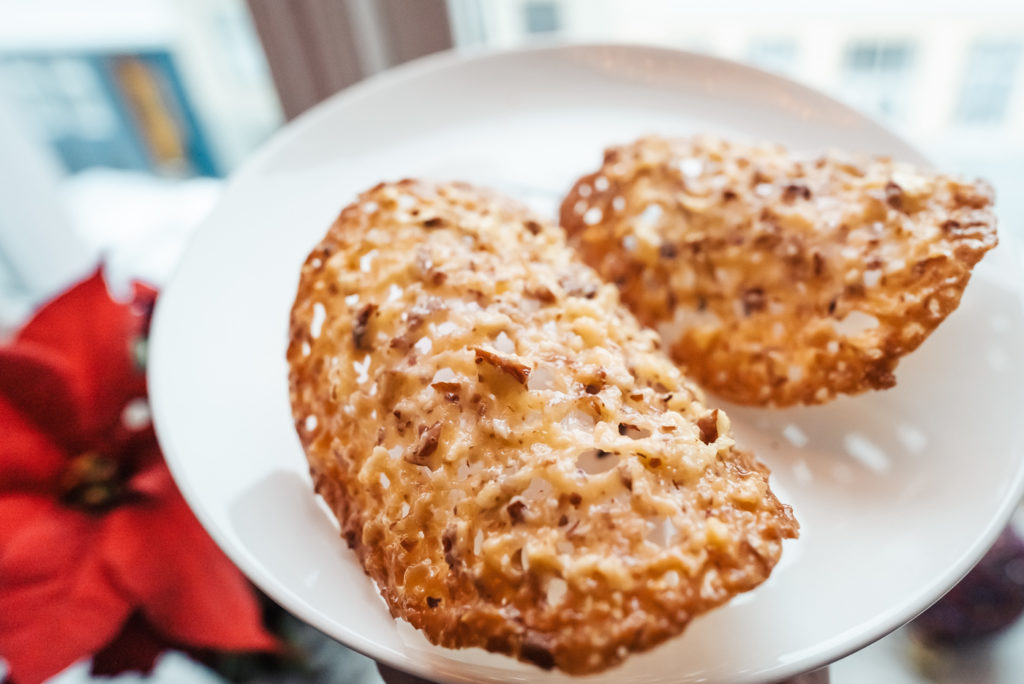 You can find all of my Scandinavian Christmas recipes here.
Mandelflarn cookies taste great on their own, or served alongside ice cream. You can also sandwich two of these cookies together and fill with buttercream or melted dark chocolate.
Making the dough for these Norwegian almond lace cookies is simple, but they can be a bit tricky to bake because they're so thin. You'll want to watch these like a hawk, because the time between these being under and over baked is about thirty seconds. I've also noticed that these bake differently in different ovens, so you might need to adjust the temperature or baking time a bit. But otherwise they're quite easy, and so incredibly delicious.
Mandelflarn taste more like crispy caramel candy than cookies, which makes sense since these are mostly made of sugar, butter, and chopped almonds.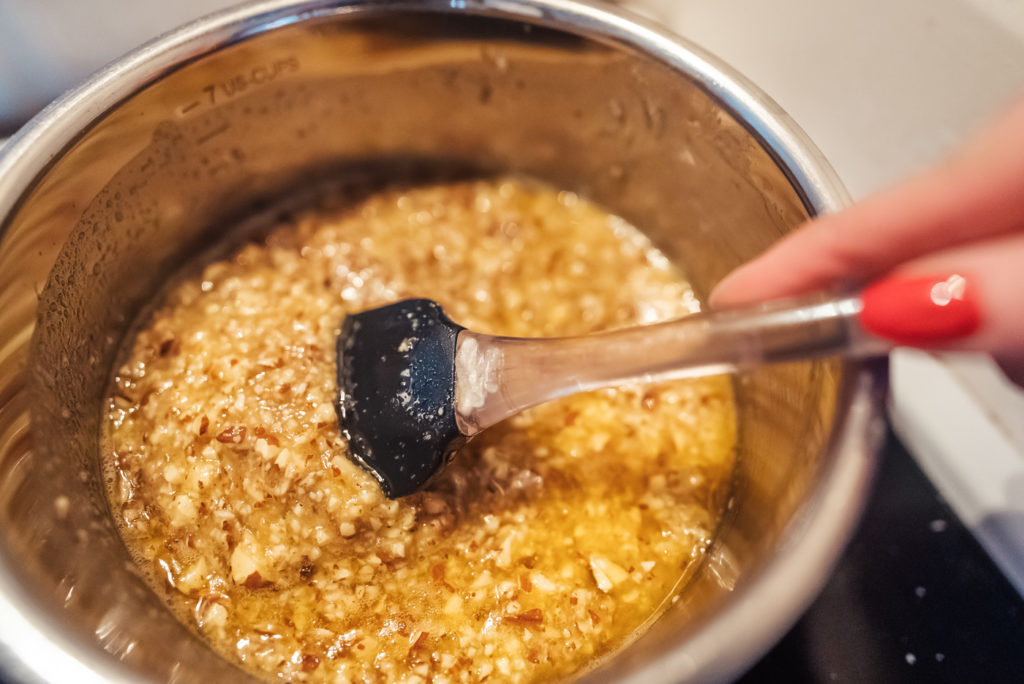 You can chop the almonds by hand, or use a food processor. I like to keep the almonds fairly coarse for these.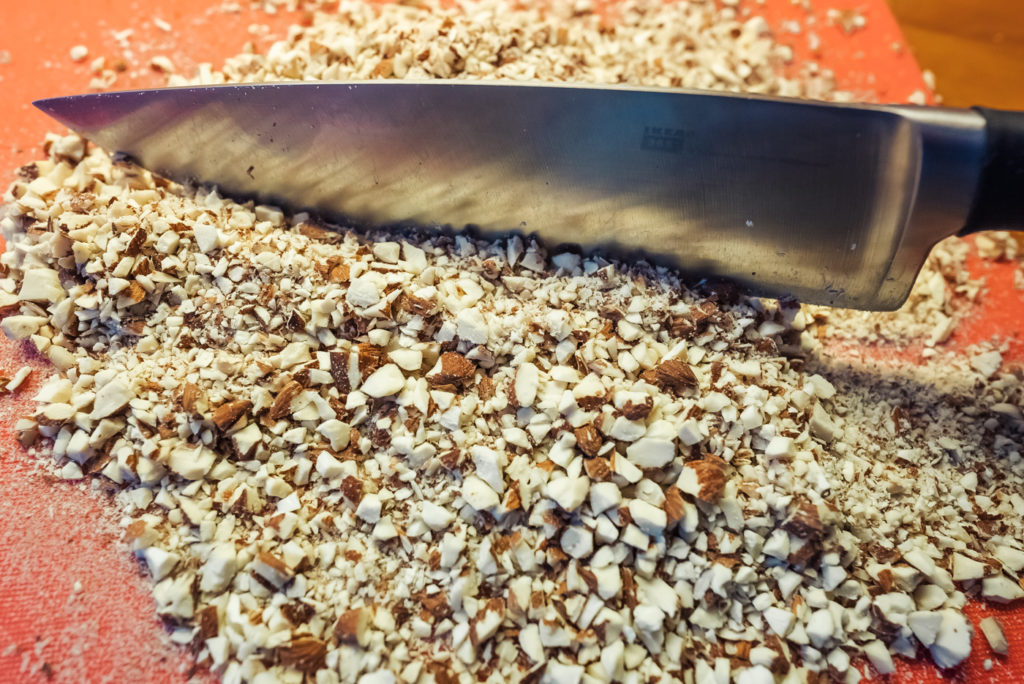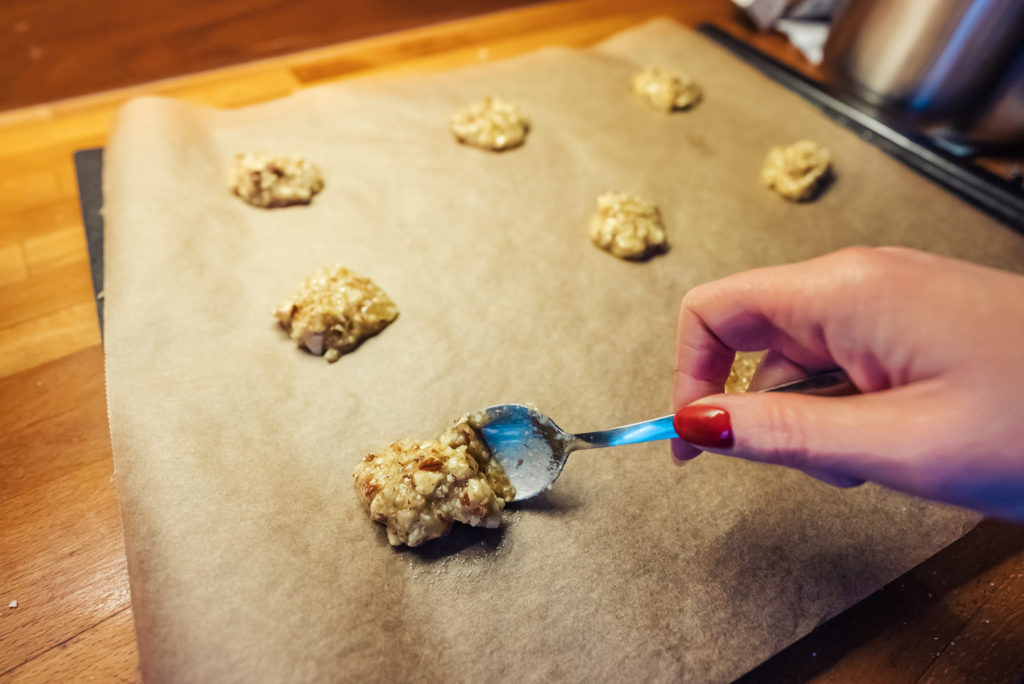 Make sure you only use a small teaspoon of dough per cookie, and give them lots of space on the baking sheet to spread out. These bake more evenly if you keep the batter warm. You can keep the saucepan on low heat when you're not spooning out the cookies.
While you don't want to burn these, also be sure not to take them out of the oven too early, as then they'll be chewy instead of crispy and the caramel flavor won't be as rich. Try to keep them in the oven until they are a dark golden, a bit before you think they're about to burn.
And then after they are baked you can shape them on a roller, or any other kind of cylinder. I covered a rolling pin in tin foil, and my grandmother actually used to cover the hose from her vacuum cleaner with foil. The cookies do harden quickly, so you'll need to shape them quickly. If they become too hard, you can always put them back in the oven to soften.
But the shaping is totally optional – these will be delicious regardless of their shape!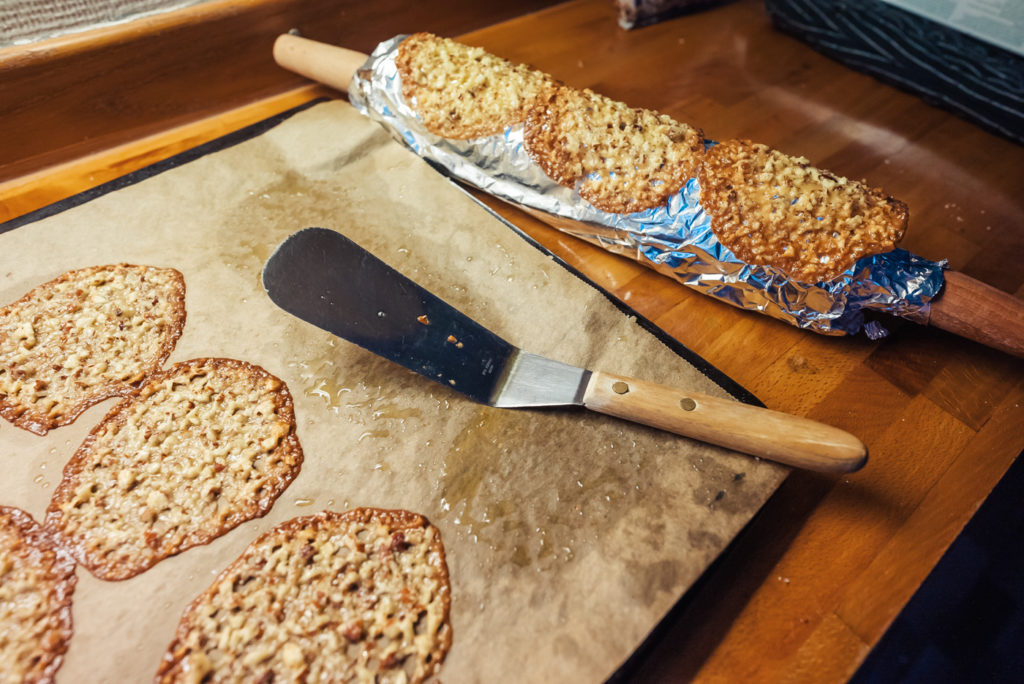 You can switch the recipe from US measurements to metric by clicking from "US Customary" to "Metric" under Ingredients.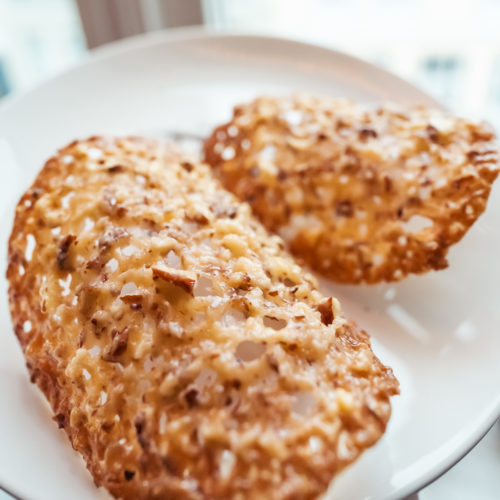 Mandelflarn Almond Lace Cookies
Norwegian almond lace cookies are popular around Christmas.
Print
Pin
Rate
Ingredients
1 1/4

cups

almonds

3/4

cup

butter

1

cup

sugar

2

tbsp

flour

2

tbsp

heavy cream
Instructions
Preheat oven to 375°F (190°C). Cover a baking tray with baking paper.

Finely or coarsely chop the almonds (I kept them quite coarse). You can do this in a food processor or by hand.

Melt the butter in a large saucepan over medium heat. Stir in the sugar and continue to heat until just before boiling.

Add almonds, flour and heavy cream, and stir together. Let it reach a boil and then take the saucepan off the heat.

Place a small teaspoon of batter per almond lace on the baking sheet. It is important to have lots of space between each cookie, as these spread out a lot.

Bake on the middle rack for about 5 – 7 minutes, watching carefully so they don't burn. Take them out when the edges start to turn golden. 

Cool on the baking sheet for a couple of minutes before transferring to a wire rack. 

If shaping, allow cookies to cool slightly on the baking sheet and then shape them on a rolling pin or other cylinder. If the cookies are too hard to shape, you can return the tray to the over briefly to soften them again.

Store in an airtight cookie tin.
Video