Norwegian Krumkake Christmas Cookies
It's snowing here in Bergen today, so I am in full Christmas mode. I actually hadn't expected much snow at all this winter when I moved from Tromsø to Bergen, so the snow came as such a nice surprise! And so I'm celebrating with lots of Christmas baking. My copy of Den Rutete Kokeboken is drowning in flour.
I thought I'd start with one of my favorite Norwegian Christmas cookies: krumkake. Norwegian krumkaker (the plural of krumkake is krumkaker) are so delicious, and actually a lot easier to make than you might expect.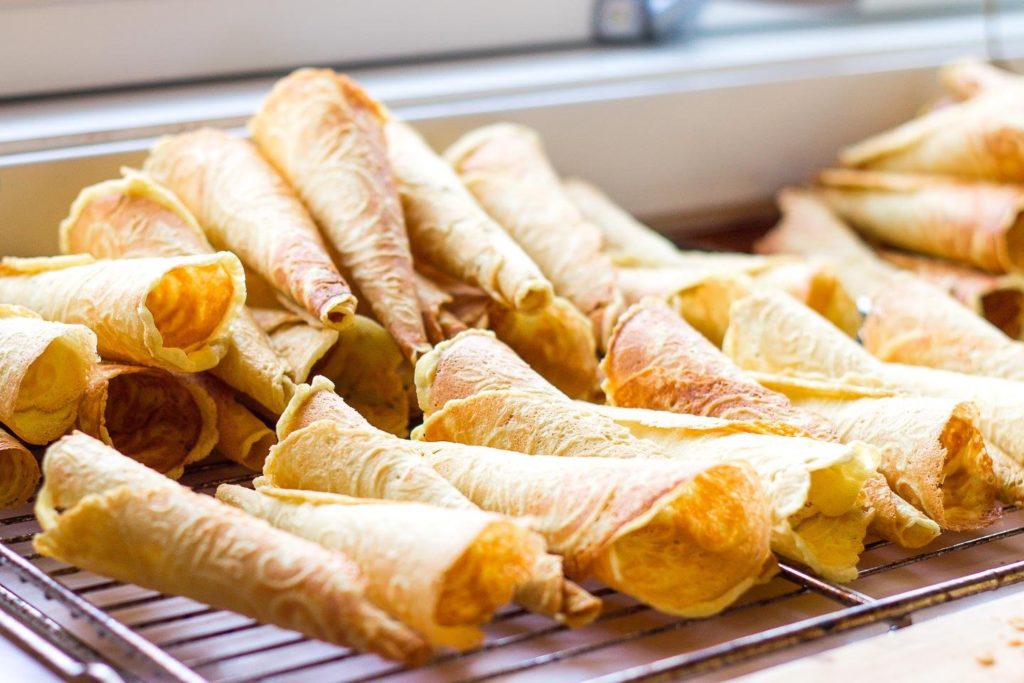 You can find all of my Scandinavian Christmas recipes here.
While I was growing up my family would often spend Christmas in Telemark with my Norwegian grandparents, and I would help my bestemor make krumkaker. Her krumkaker were always the best, and I like to think that I made them enough times with her that my krumkaker are now also the best.
You will need a special krumkake iron and wooden roller for these, which I know is not ideal if you're short on storage, as krumkake irons can really only be used to make krumkaker. But the good news is that krumkaker are so delicious you could absolutely make them year round to really get your iron's worth. In fact while a lot of the other Christmas cookies I bake feel too Christmasy to make other times of year, I do enjoy making krumkaker any time of year.
I use an electric krumkake iron like this one.
They're especially great to make when you have guests, as they're so distinctly Norwegian and look impressive served next to ice cream, or filled with cream and berries. Plus they keep really well, so you can whip up a krumkake batch well before your dinner party.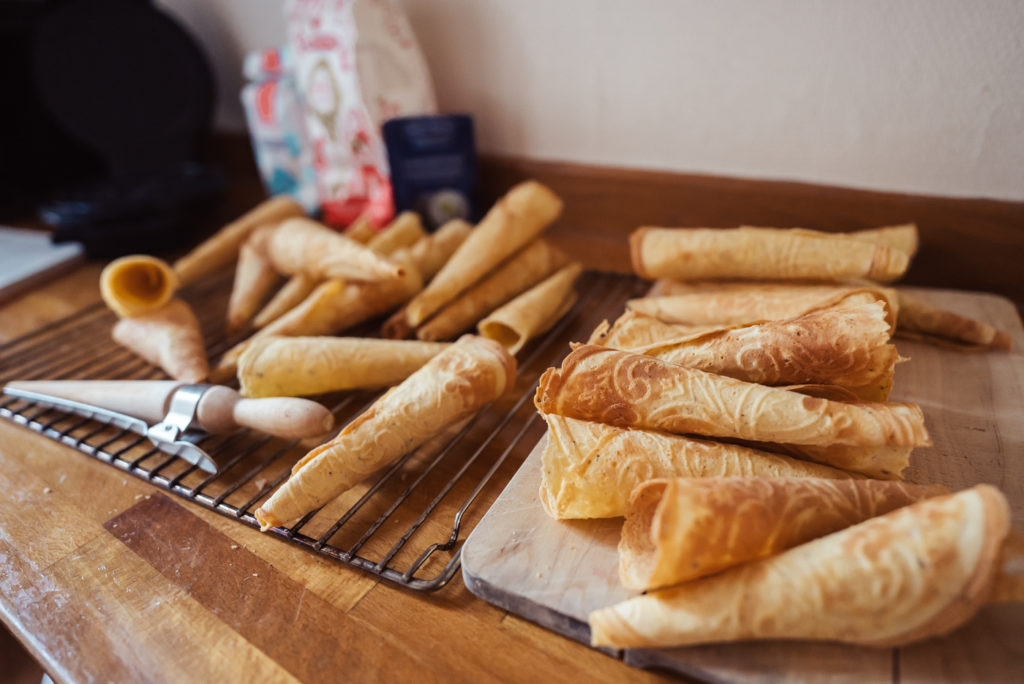 You can use ground cardamom for this recipe, but if you have a mortar and pestal I highly recommend grinding cardamom seeds instead, as freshly ground seeds are much more flavorful. If you only have ground cardamom, I would double the amount in the recipe.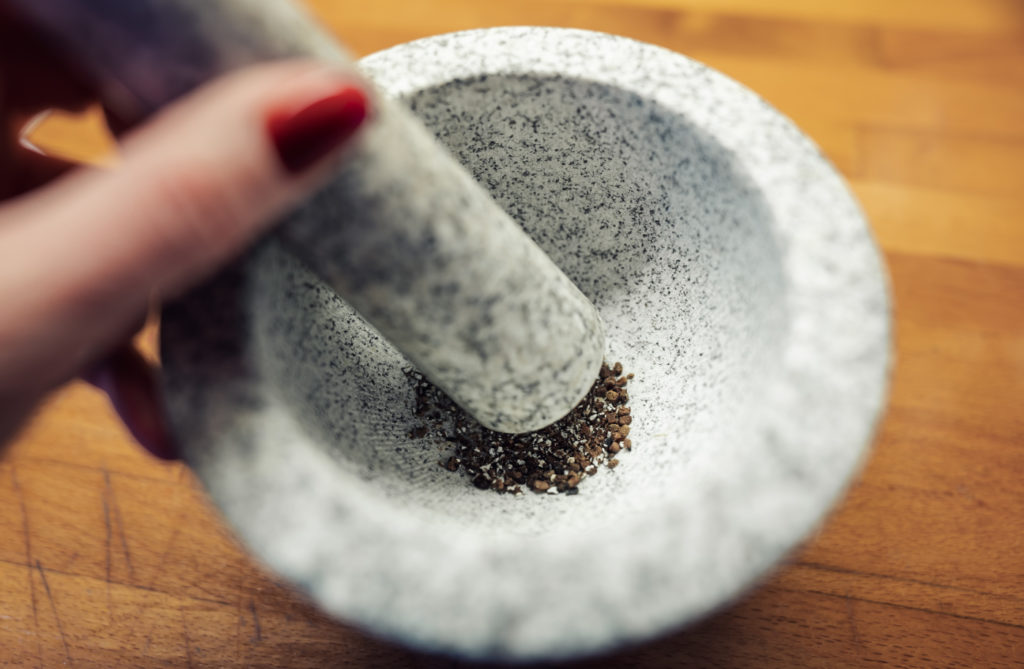 Krumkaker are made with equal weights of egg, butter, sugar, and flour, so you can start by weighing your eggs and then adding an equal amount of the rest. Or if you're not using a scale I've included US measurements in the recipe below.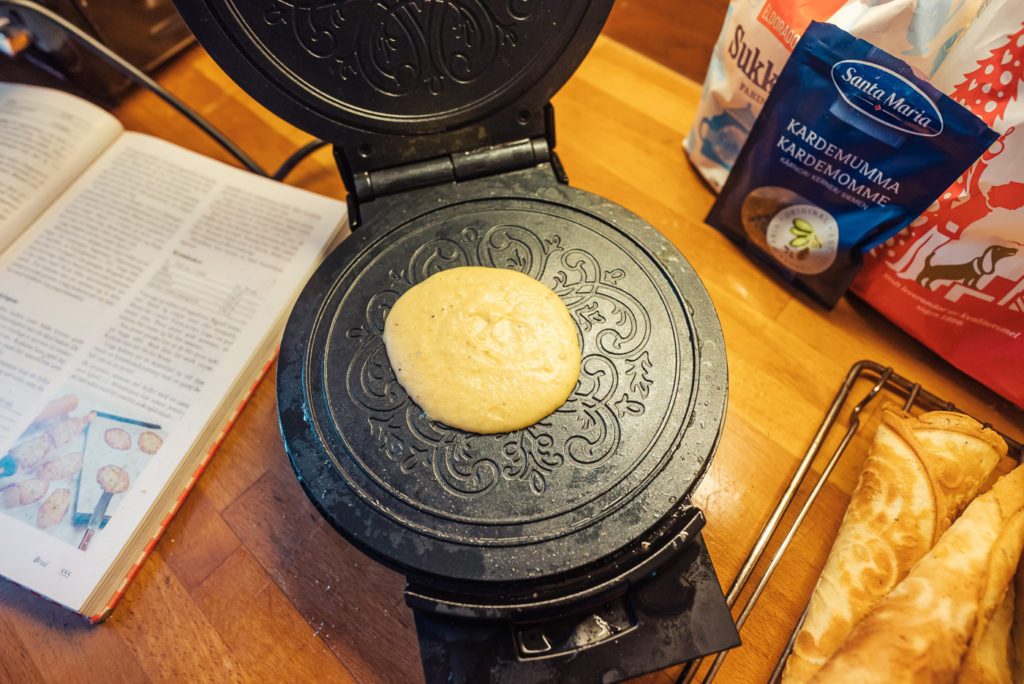 It does take a while to get the hang of using the krumkake iron, so don't worry if the first few krumkaker don't turn out quite right. You'll need to figure out how hot to have your iron (I set mine halfway between medium and high heat) as well as how much batter to add for the right sized krumkake.
The good news is that once you get to know your iron, krumkaker are incredibly easy to make. So don't be put off if they take a bit more time on your first go – soon making krumkaker will be a breeze.
You don't need to grease the krumkake iron, as the batter oozes butter, so these won't stick.
You want the krumkake to be nice and golden. If it's undercooked it will be a bit soft and have less flavor, so it's better to err on the side of darker than lighter.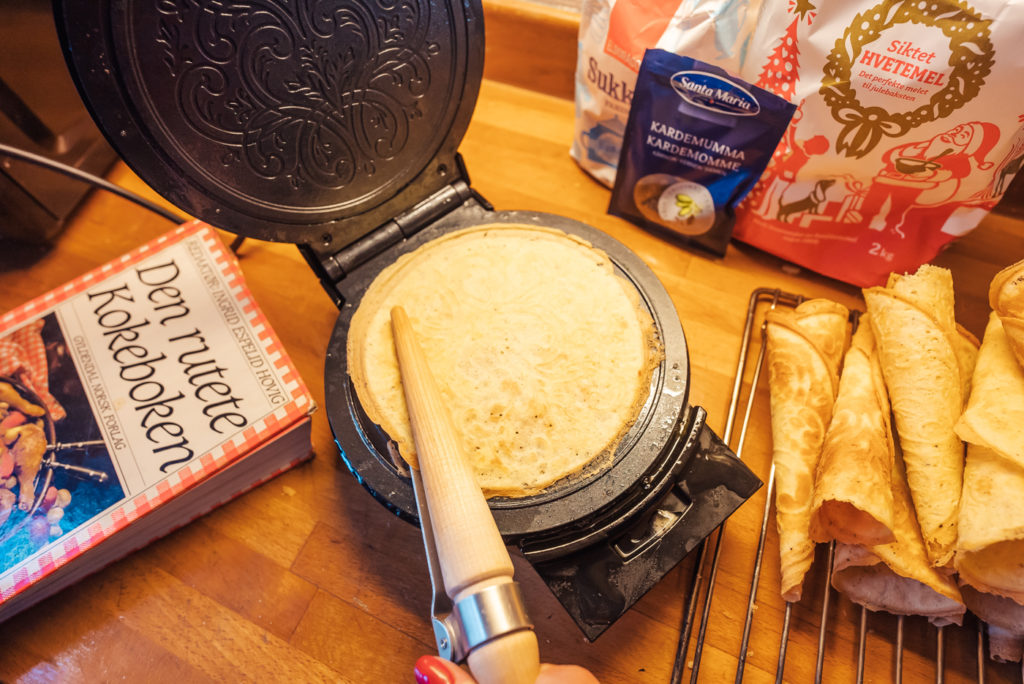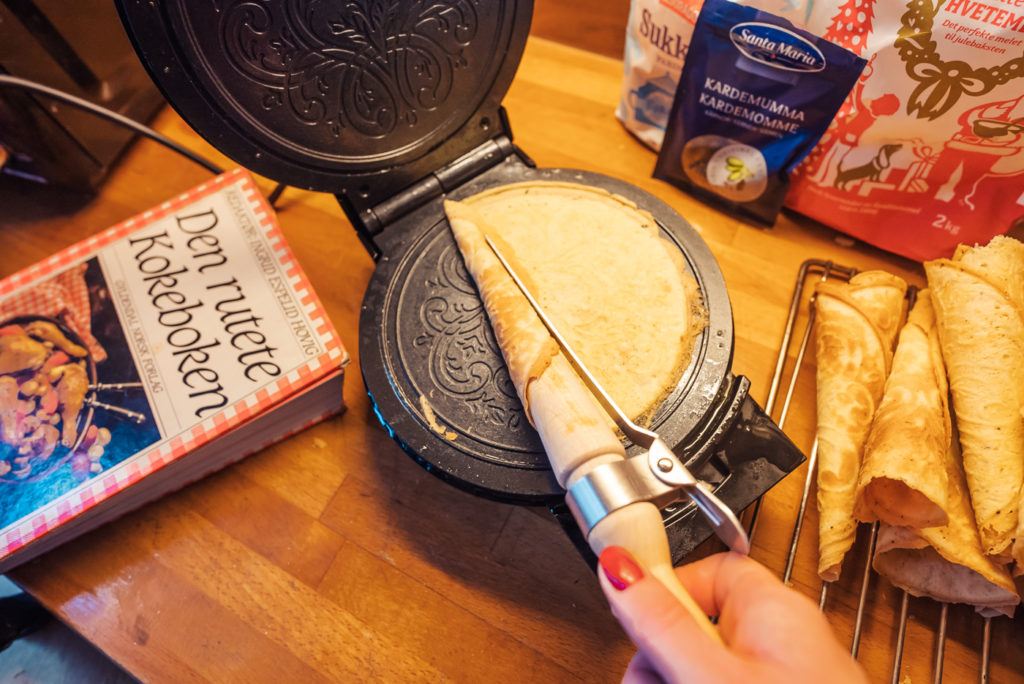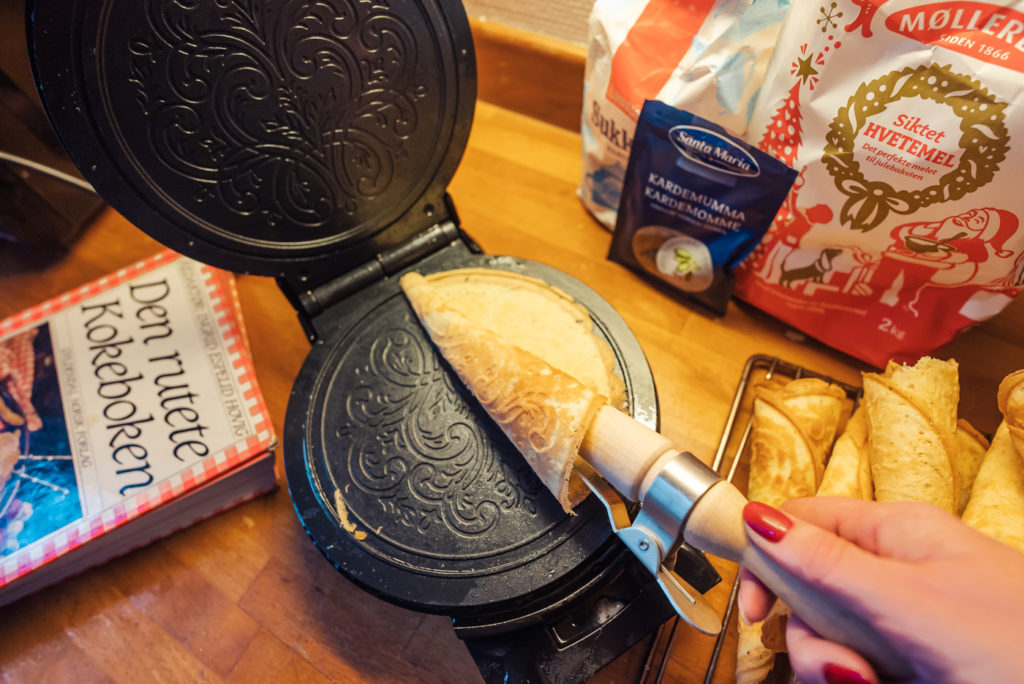 If you have a krumkake roller with clip you can roll them directly from the iron. However if your roller doesn't have a clip, you'll want to quickly transfer the krumkake to a board or cloth first so you don't burn your fingers on the iron. Then roll it quickly before it cools. If you're still burning your fingers on the hot krumkake, try using the cloth to help you roll.
It's much easier to roll krumkaker with a roller with a clip, but I wasn't able to find any krumkake rollers with clips on Amazon so I'm not sure if you can buy them outside of Norway. But you can buy these at any kitchen goods store in Norway, so consider picking one up here if you ever visit!
My parents recently moved to France, and while they were visiting me in Bergen my mom had to pop into a shop to buy a new krumkake iron and roller for her apartment in France. Every Norwegian home needs one, even if that home is now in France!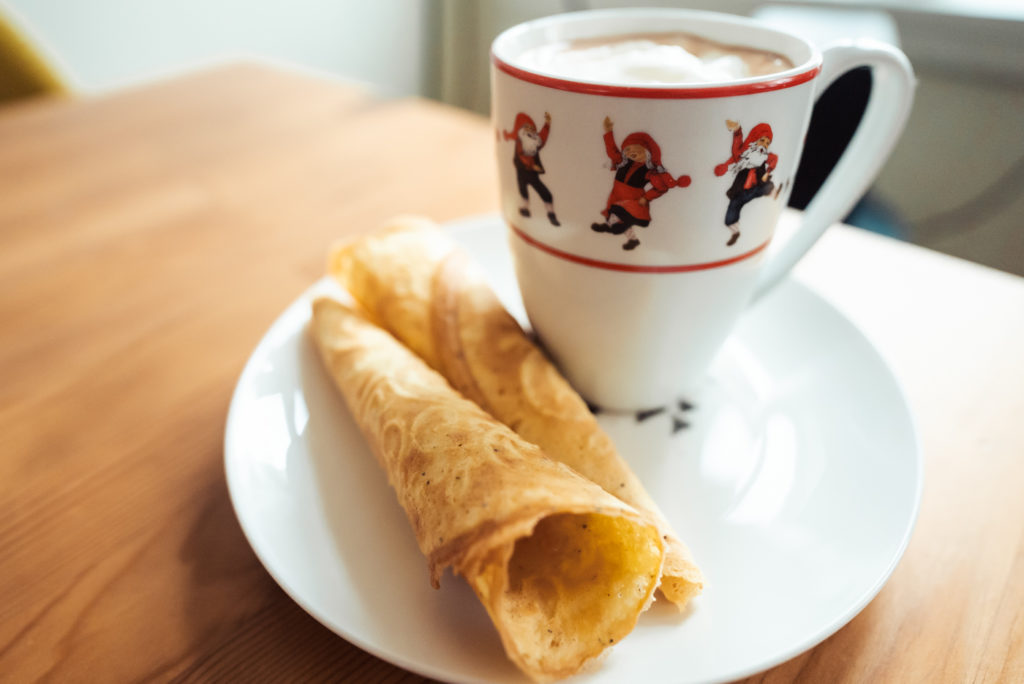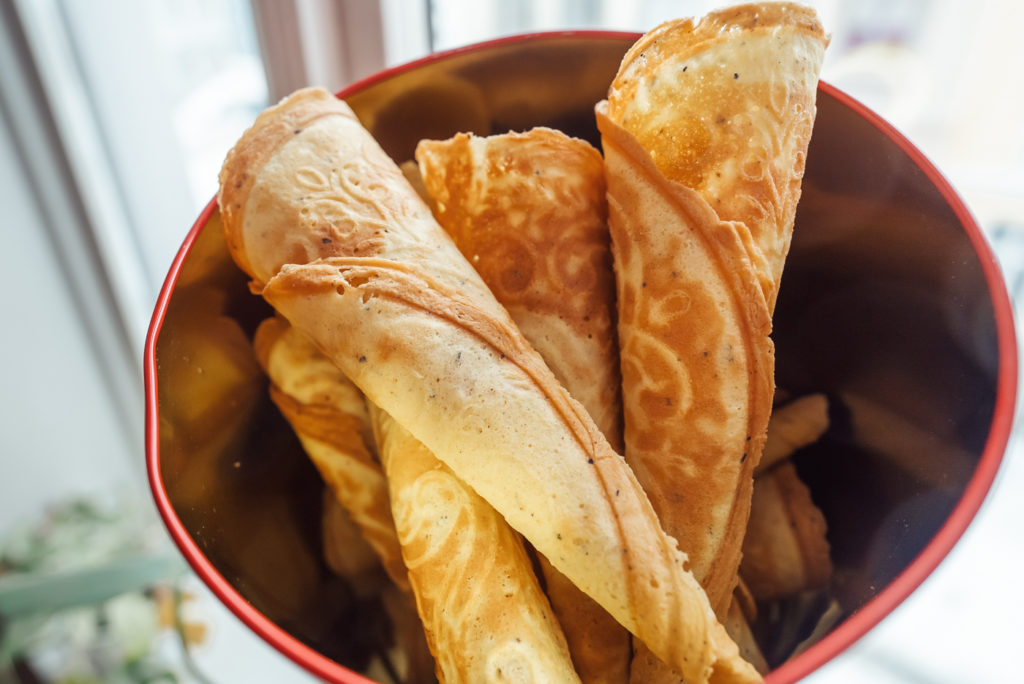 You can switch the recipe from US measurements to metric by clicking from "US Customary" to "Metric" under Ingredients.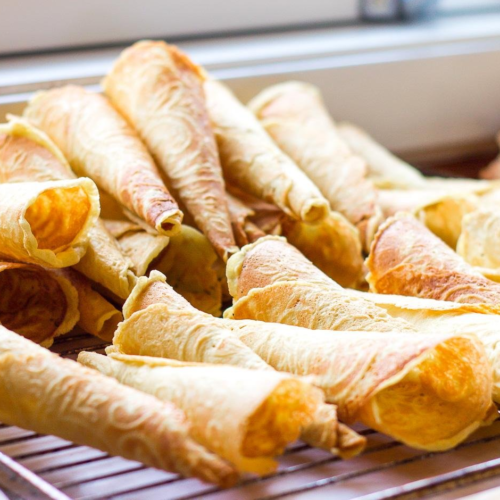 Norwegian Krumkake
Krumkaker are a traditional Norwegian cookie especially popular at Christmas. You'll need a krumkake iron for these, but otherwise they're surprisingly easy to make, and you can fill them with cream, berries, and/or ice cream.
Print
Pin
Rate
Equipment
krumkake iron

wooden roller and/or cup for shaping
Ingredients
3

large eggs

3/4

cups

sugar

2/3

cups

butter

1

tsp

ground cardemom

1

pinch

nutmeg

1/2

tsp

salt

1 and 1/4

cups

flour

a little

water
Instructions
Whisk the egg and sugar until the mixture thickens.

Melt the butter and let it cool slightly, then add the butter to the egg mixture.

Mix in spices and then slowly add the flour while stirring to avoid lumps. 

Let the batter rest for at least 30 minutes. This improves the texture of the krumkaker.

Spoon about one heaping tablespoon of batter onto iron and bake. If the batter is too thick, add some water to it.

While still hot, shape the krumkake with a wooden krumkake roller or over a cup (if using a cup, make them a bit thicker). The krumkaker harden quickly, so you can just let them sit on the roller/cup until the next krumkake is ready to be shaped. 

After completely cooled, store the krumkaker in a metal or glass tin lined with paper towels at the bottom. You can also freeze them!
Video