Fyrstekake – Norwegian Prince Cake
My parents were visiting me in Bergen last week, so of course I wanted to bake something special for them. And so I thought of fyrstekake, or prince cake in English, a Norwegian classic that I've been wanting to make for a while.
Two of my very favorite Norwegian desserts are mazariner and suksessterte, and fyrstekake is sort of like a combination of the two. Fyrstekake is a vanilla lattice pie with a soft almond filling. Prince cake tastes great warm out of the oven topped with whipped cream, but it might be even tastier the next day.
Fyrstekake was developed in the 1860s at Erichsen's Bakery in Trondheim. It's definitely considered a bit old fashioned now in Norway, but it's still popular during Christmas and other celebrations throughout the year – like when my parents visit from France!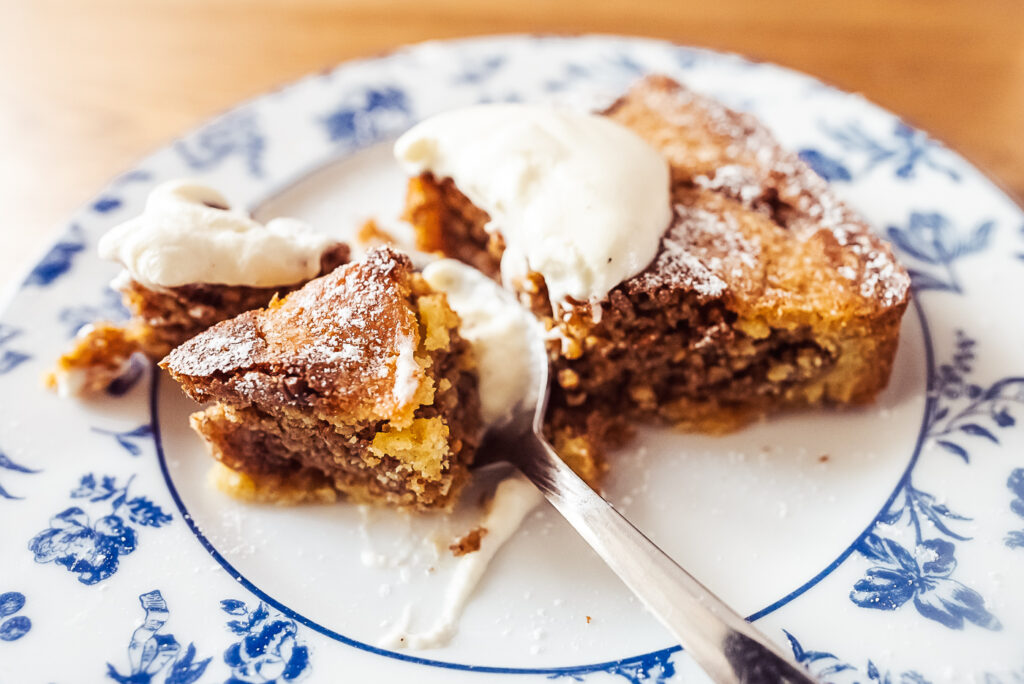 You can decide yourself how fine you want to grind the almonds – I like them quite fine. Some fyrstekake recipes use almond flour instead of ground almonds, but I think the prince cake tastes better with freshly ground almonds. I use brown sugar instead of white for the filling as I like the flavor, but you can make this with white sugar, or half brown and half white as well.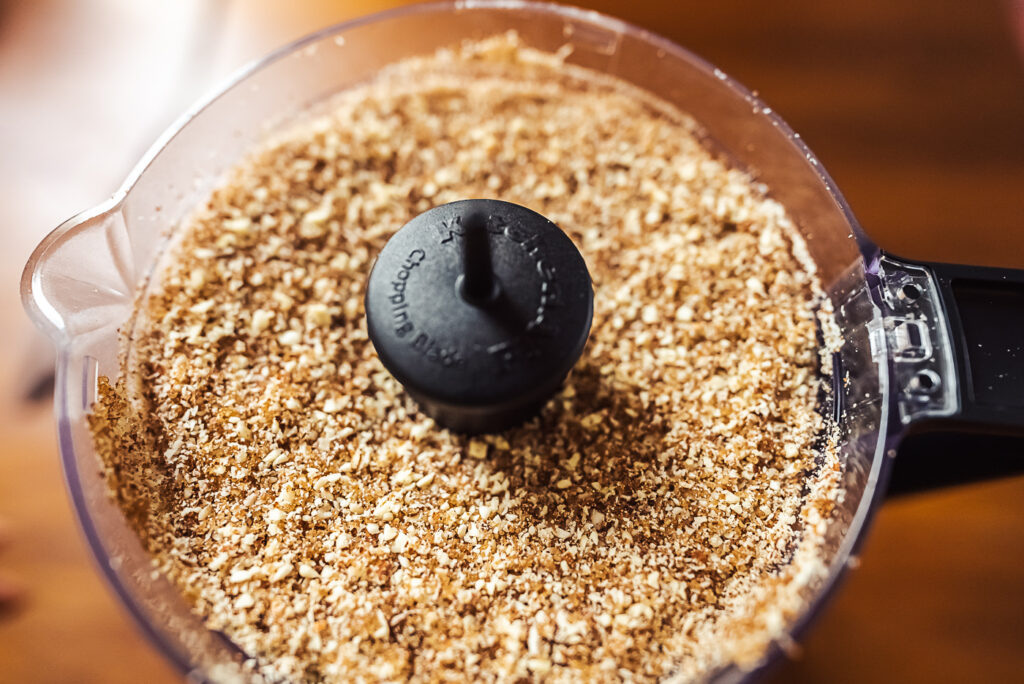 Some people add one or two tablespoons of cognac, brandy or brown rum to the almond filling. I prefer the filling without it, but instead I added a few drops of almond extract for an extra strong almond flavor.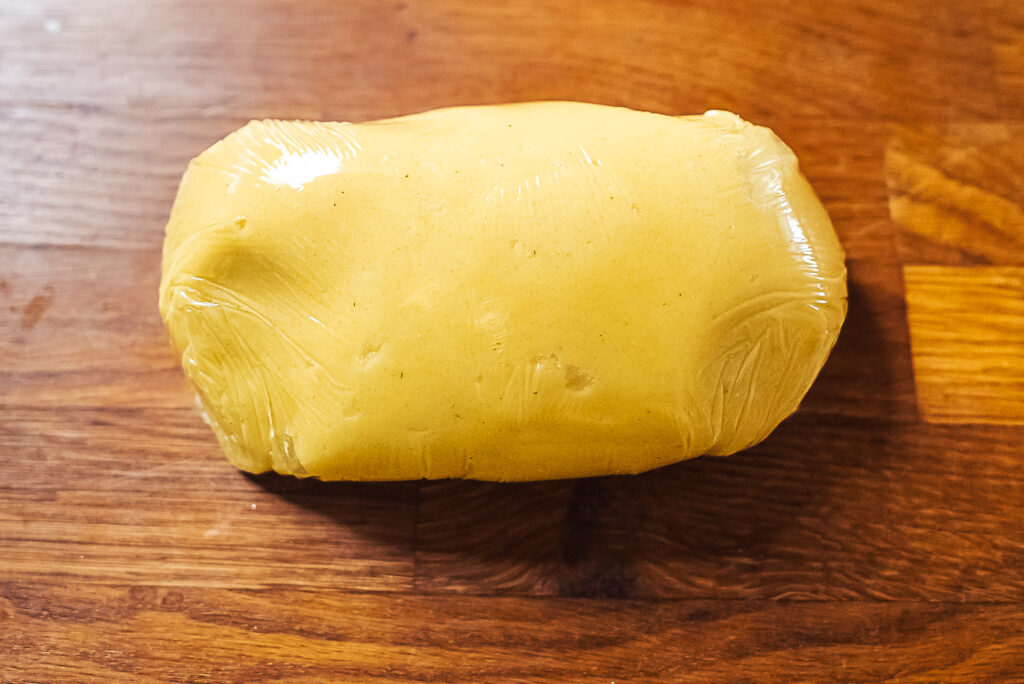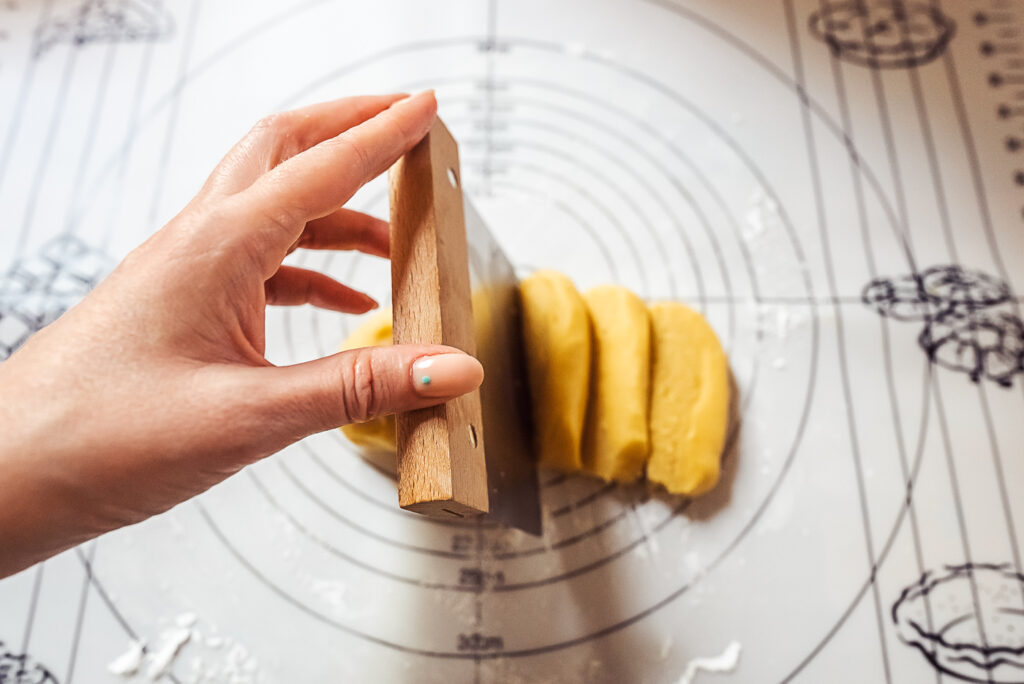 The prince cake crust is not the easiest to work with, but you don't need to worry too much about be perfect here. Simply press the dough into the bottom of the cake tin until it's even. I think this dough tastes better in the fyrstekake than a more traditional pie crust dough, which would be easier to work with.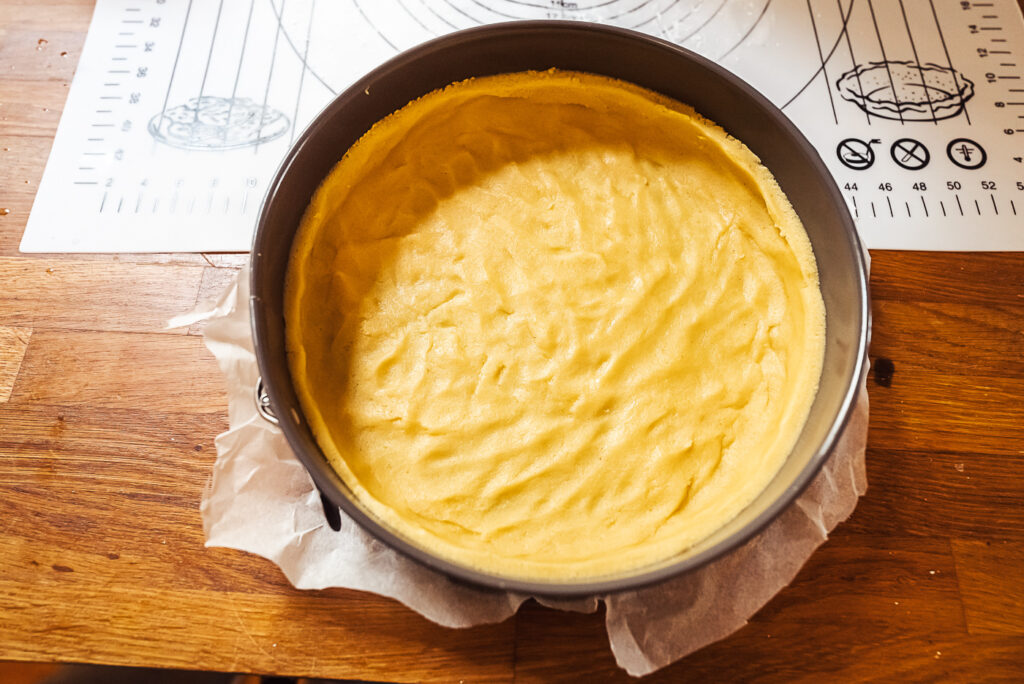 For the strips on top of the cake, I cut them a bit thicker than necessary, because the dough stretches out as you lift it over the cake. Don't worry if the dough breaks – you can simply pinch it back together, it will taste the same.
If you're really struggling with the dough you can return it to the refrigerator for a bit. It's easier to roll out and slice when it's cold.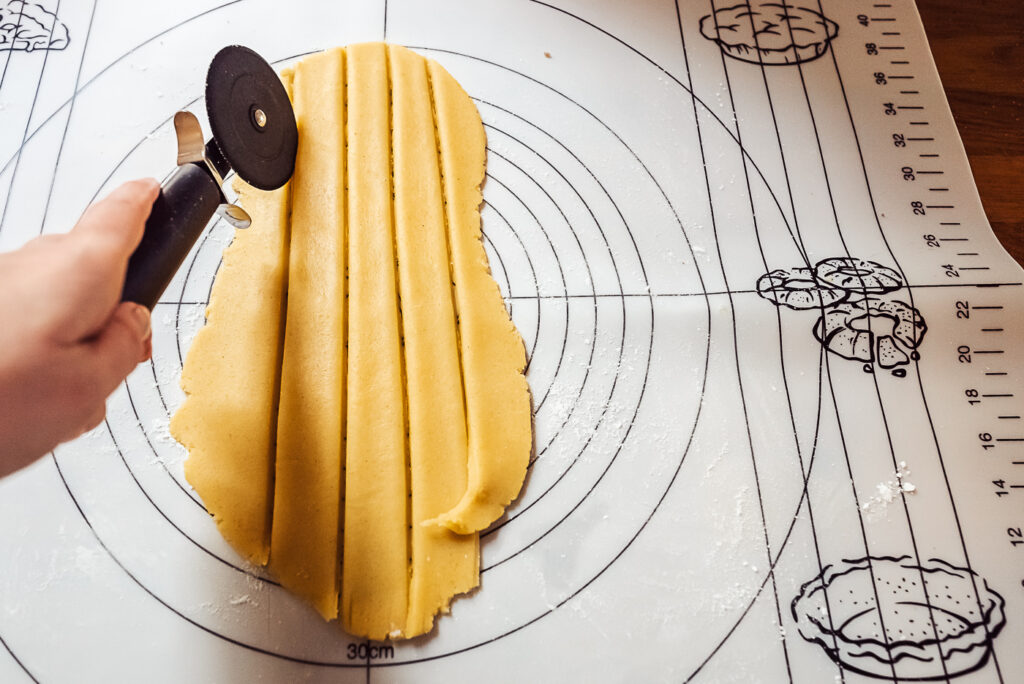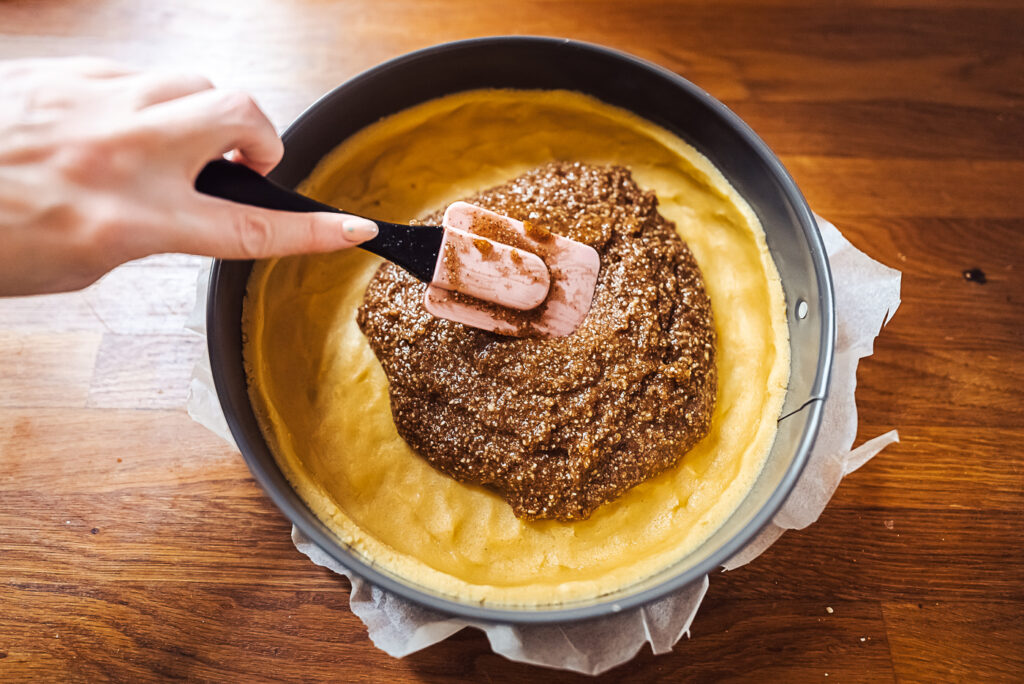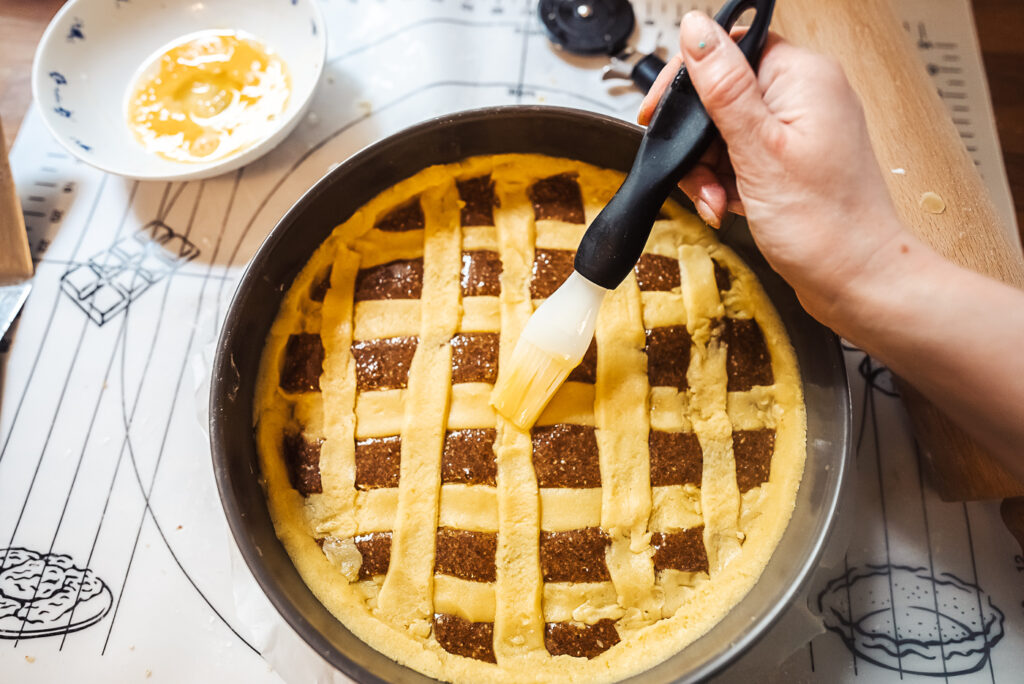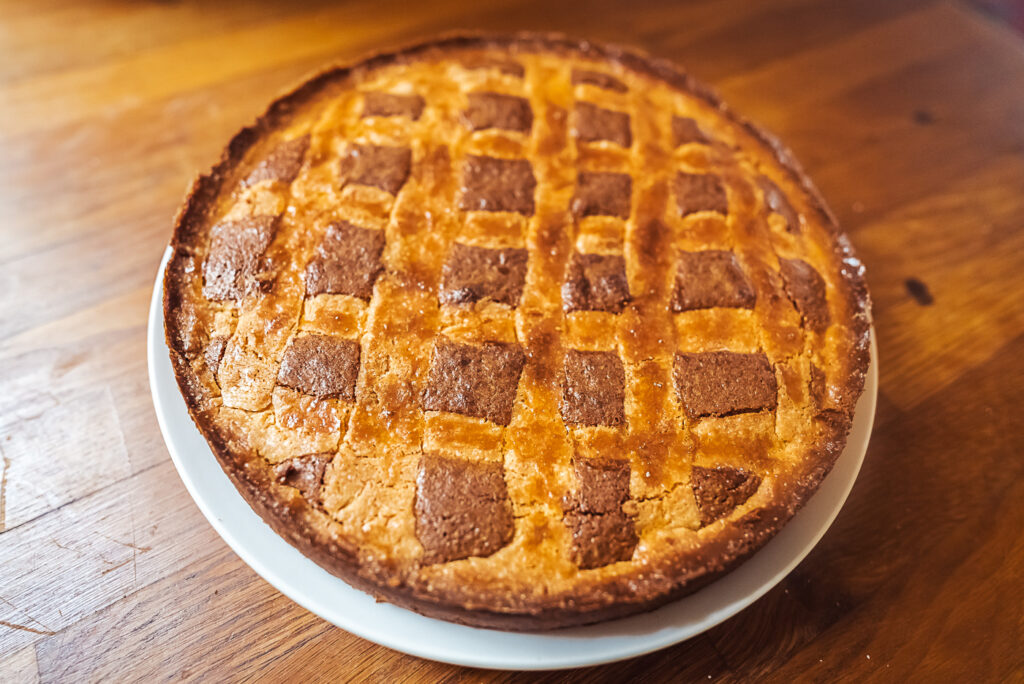 I think the fyrstekake looks better dusted in powdered sugar – plus the sugar can hide any imperfections from the dough lattice. To be honest fyrstekake isn't known to be a particularly attractive cake (if you do a quick Google image search of fyrstekake you'll see what I mean). So you certainly don't need to worry about aesthetics here – the important thing is how absolutely delicious prince cake tastes.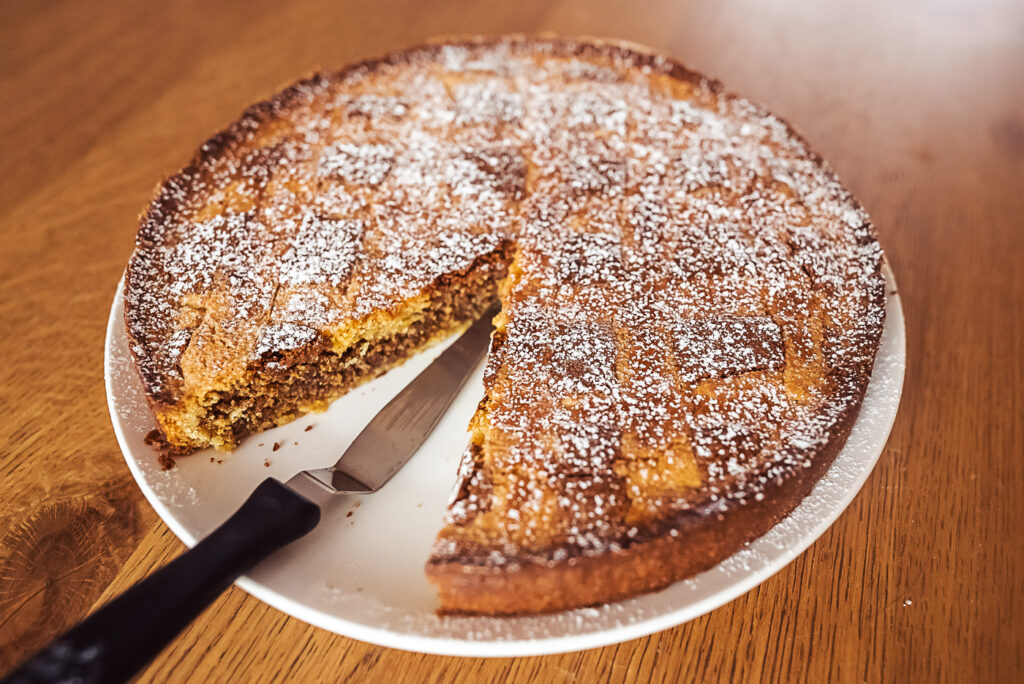 When the fyrstekake is done the crust will be golden brown and crispy and the almond filling will still be soft and gooey. Just writing about it makes me want to bake another one, it was so delcious.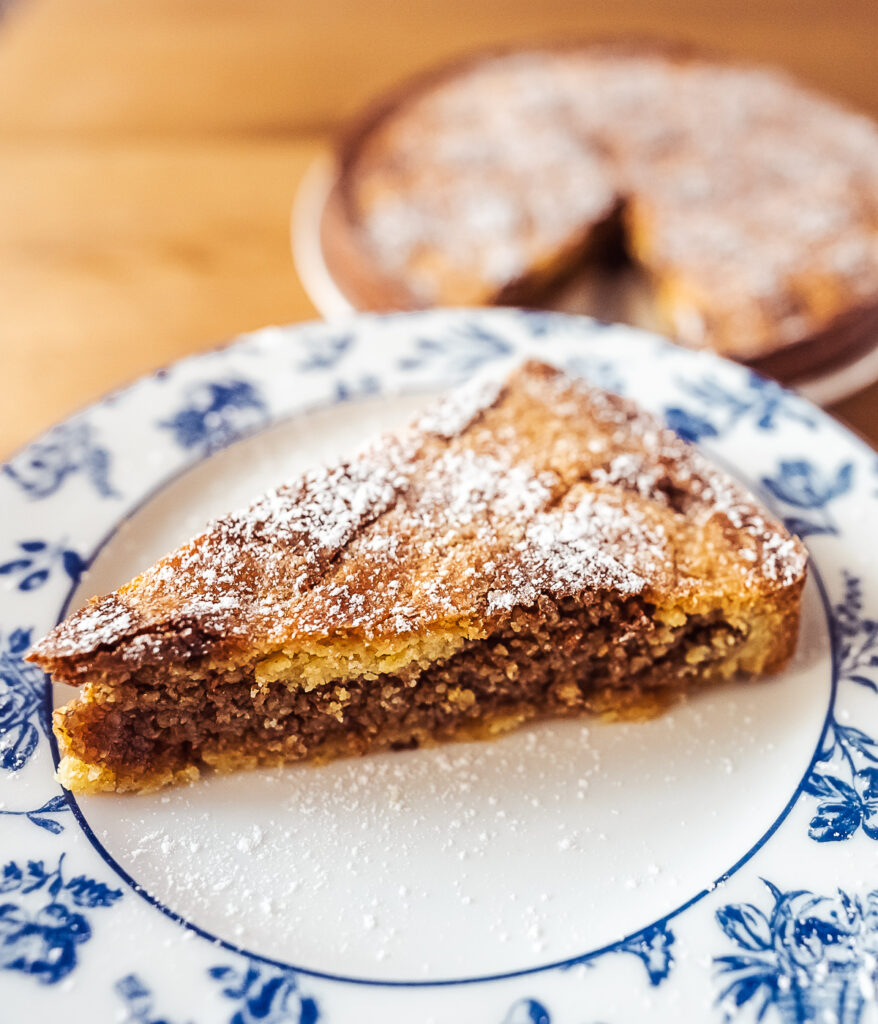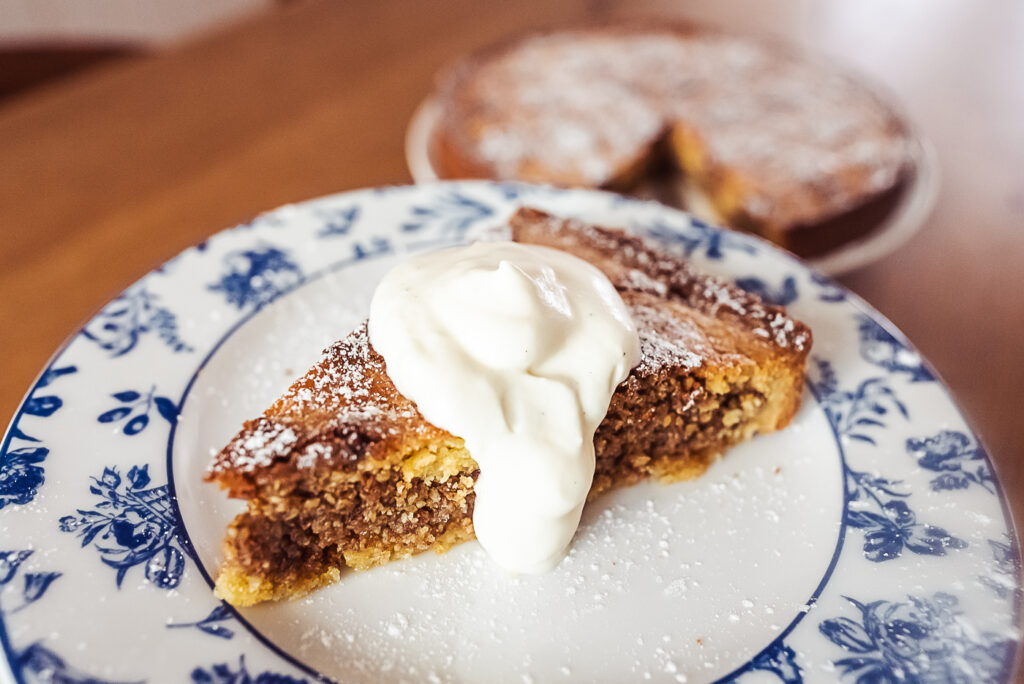 You can switch the recipe from US measurements to metric by clicking from "US Customary" to "Metric" under Ingredients.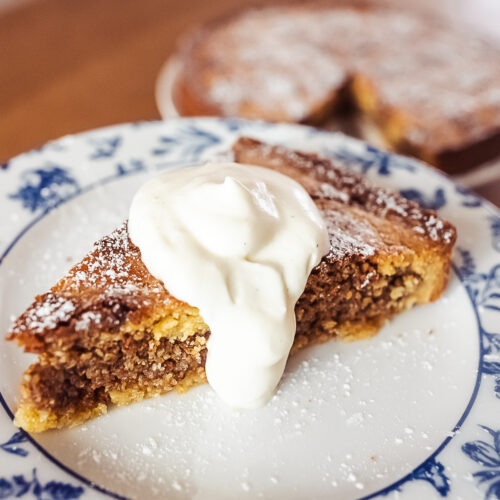 Fyrstekake – Norwegian Prince Cake
Fyrstekake is a classic Norwegian cake made of a vanilla lattice pie with a soft almond filling.
Print
Pin
Rate
Equipment
20 – 24 cm (8 – 9 in) springform cake pan

food processor or almond grinder
Ingredients
Crust
3/4

cups

granulated sugar

1

tsp

vanilla sugar or extract

11

tbsp

butter

(room temperature)

4

egg yolks

1 and 3/4

cups

flour

1

tsp

baking powder
Almond filling
1 and 1/2

cups

almonds

3/4

cup

brown sugar

2

tbsp

melted butter

2

medium eggs

1-2

tbsp

cognac, brandy or brown rum

(optional)

5

drops

almond extract

(optional)

1

egg

(for egg wash)
Instructions
Crust
Mix together sugar, vanilla and butter until light and fluffy. Mix in the egg yolks. Add in the flour and baking powder and knead with hands until the dough is smooth.

Pack the dough in plastic wrap and chill in refrigerator for at least 30 minutes.
Almond filling
Run the almonds and sugar together in a food processor until the almonds are finely ground (you can decide for yourself how coarse or fine you want them).

Stir in the butter, egg, cognac and/or almond extract (if using).
Assembly
Line the bottom of your cake form with baking paper and grease the sides of the form.

Preheat oven to 350°F (175°C).

Cut 2/3 of the crust dough into slices and press down into the cake form. Cover the bottom of the cake form with the dough and bring the dough 2-3 cm (1 inch) up the sides of the form, pressing until even.

Roll out of the rest of the dough and slice into long strips. Lay the strips of dough across the cake in a grid. Don't worry of the strips break – simply press them back together on the cake.

Gently brush the dough with egg wash.

Bake for about 45 minutes. The top of the cake should be golden brown while the almond filling will remain soft.
Video