Mazariner – Scandinavian Almond Tartlets
Some of my favorite sweet treats to buy at bakeries in Norway are mazariner, which are simple but oh so tasty almond tartlets with a shortbread cookie shell and almond filling. Apparently mazariner originally come from Sweden, so you might now them as Swedish almond tarts, but they seem to be just as popular here in Norway. They're sort of like marzipan tarts, though while I'm not a huge fan of marzipan I absolutely adore these. If you like other almond baked goods like almond croissants I think you will be a fan of mazariner.
Mazariner are considered more of a retro sweet these days, but you still often see them in Norwegian bakeries, as well as in Sweden and Denmark. But they're also quite easy to make at home! And homemade mazariner are way better than the packaged mazariner you can buy in Norwegian supermarkets.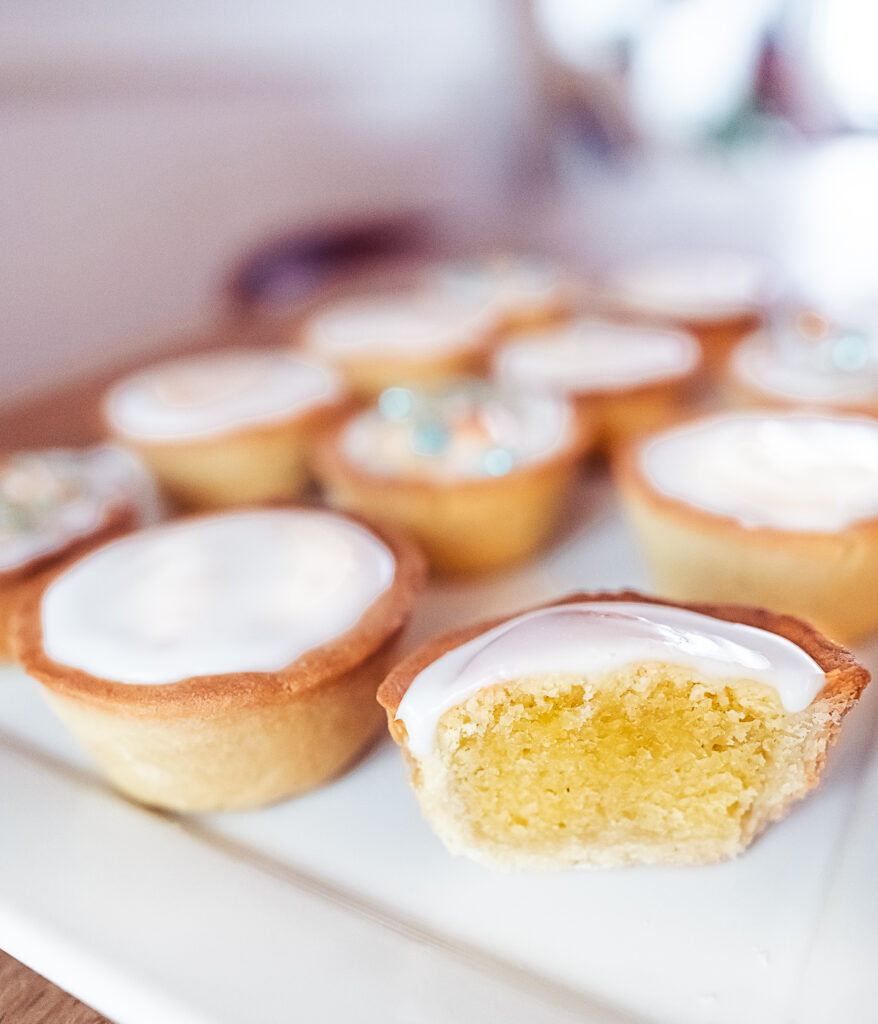 Yesterday was gray and rainy here in Bergen, so I decided it would be the perfect day to bake some mazariner. This is my favorite almond tartlets recipe because it's easy but also makes super flavorful mazariner. I froze a bunch of them and am hoping they'll last in my freezer until my American friends arrive in Norway next week, but I've already defrosted a couple so maybe I'll have to bake a new batch for my friends. They're just so hard to resist.
Traditionally mazariner are made in an oval form (like these), but muffin forms work just as well, and the size is about the same as mazariner forms.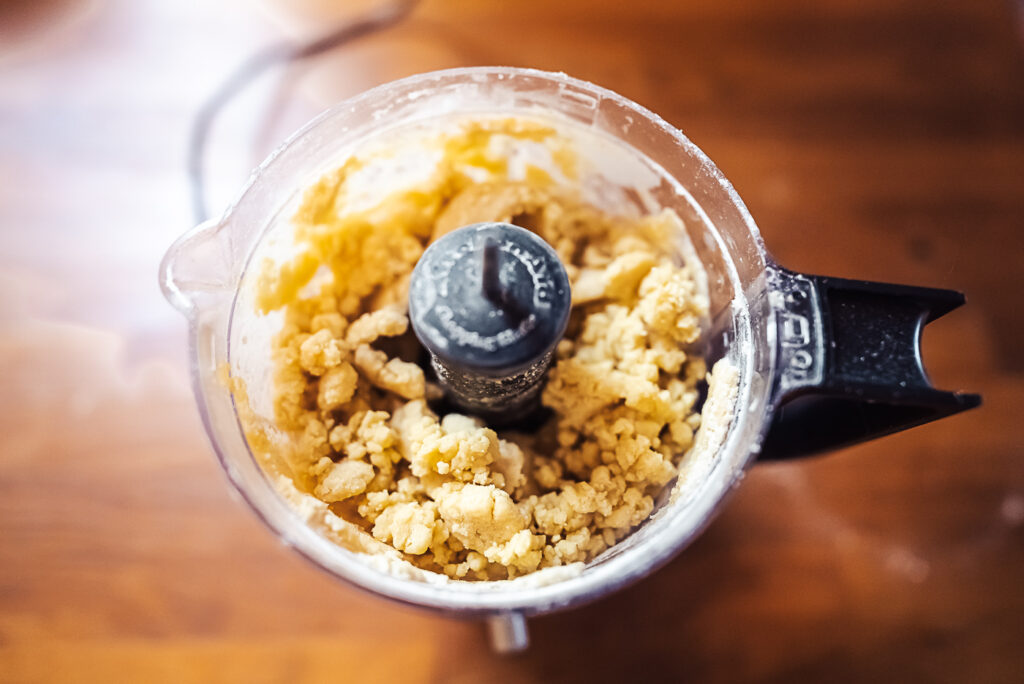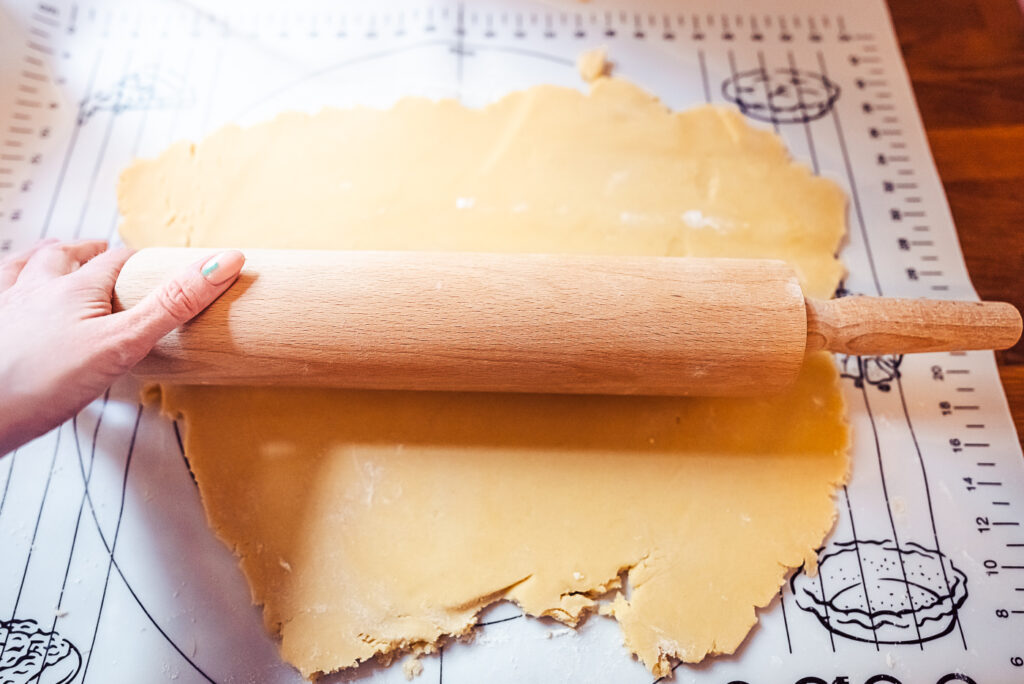 You don't need to be too exact when rolling out and cutting the dough for the mazarin shells. This is more cookie dough than pie crust, so you can really press it into the muffin pan however you like and the texture will be the same. Do make sure to grease the muffin pan first so that the mazariner pop out easily when they're finished baking.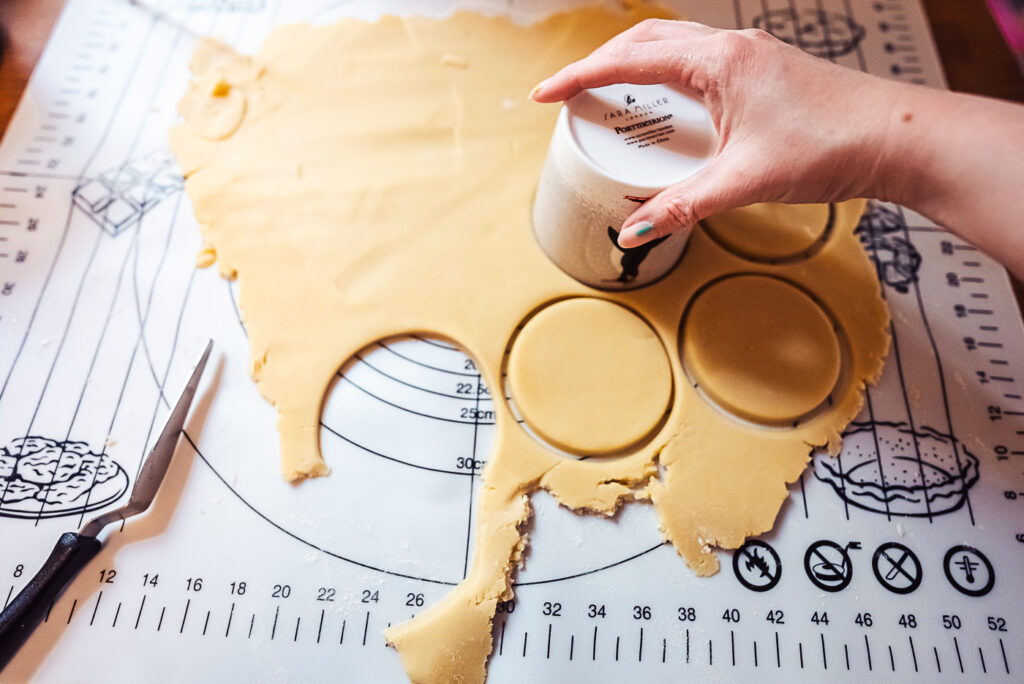 I find it easiest to cut large circles of dough with a mug, and then I form a little clover shape with the circle and press the sides into the muffin form (see video below). But you can really do whatever you like, just make sure the dough is pressed all the way down into the form so you don't have air bubbles.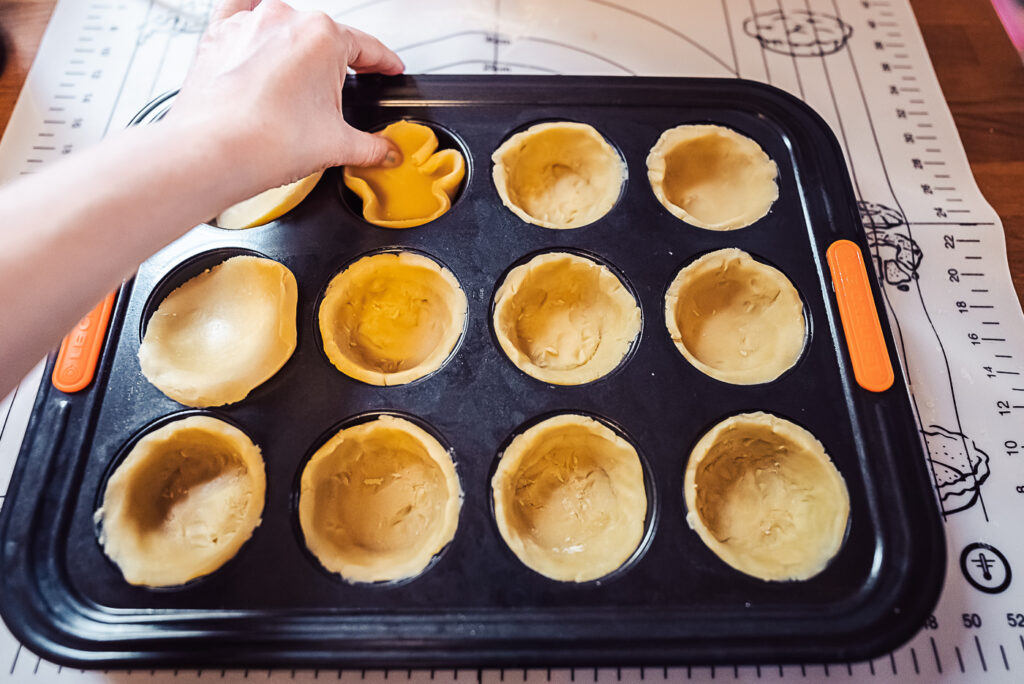 I use a piping bag to pipe the filling into the mazarin shells, but you could also spoon it into the shells if you prefer.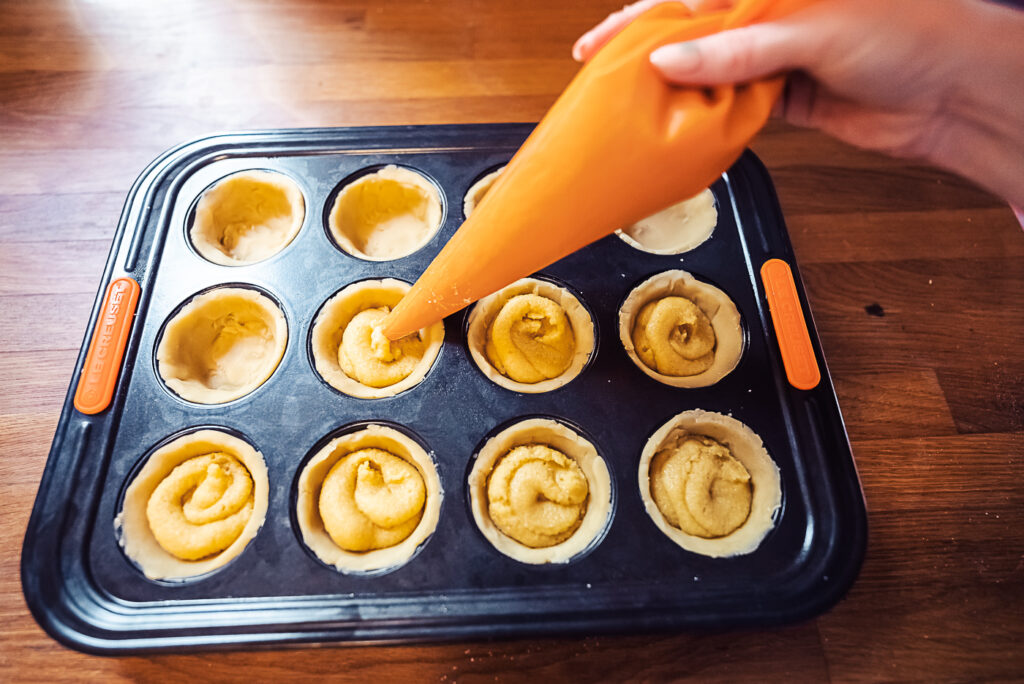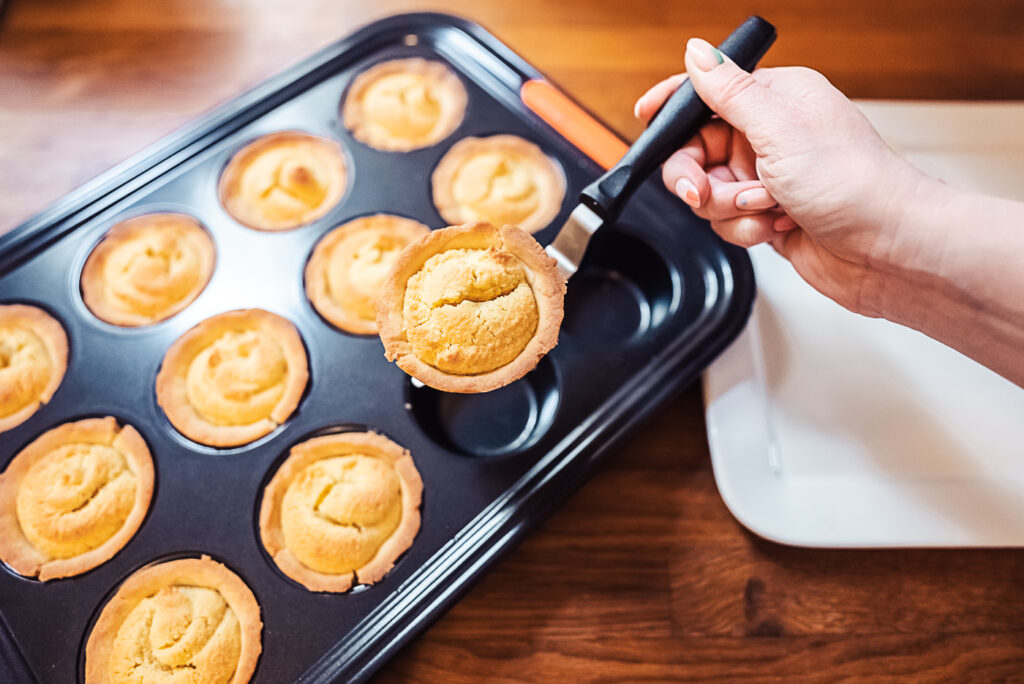 You can use heavy cream if you want a creamier glaze, or I usually simply mix the powdered sugar with water. You can add almond extract to the glaze for a stronger almond flavor, or some people like to add lemon. I think almond tastes best!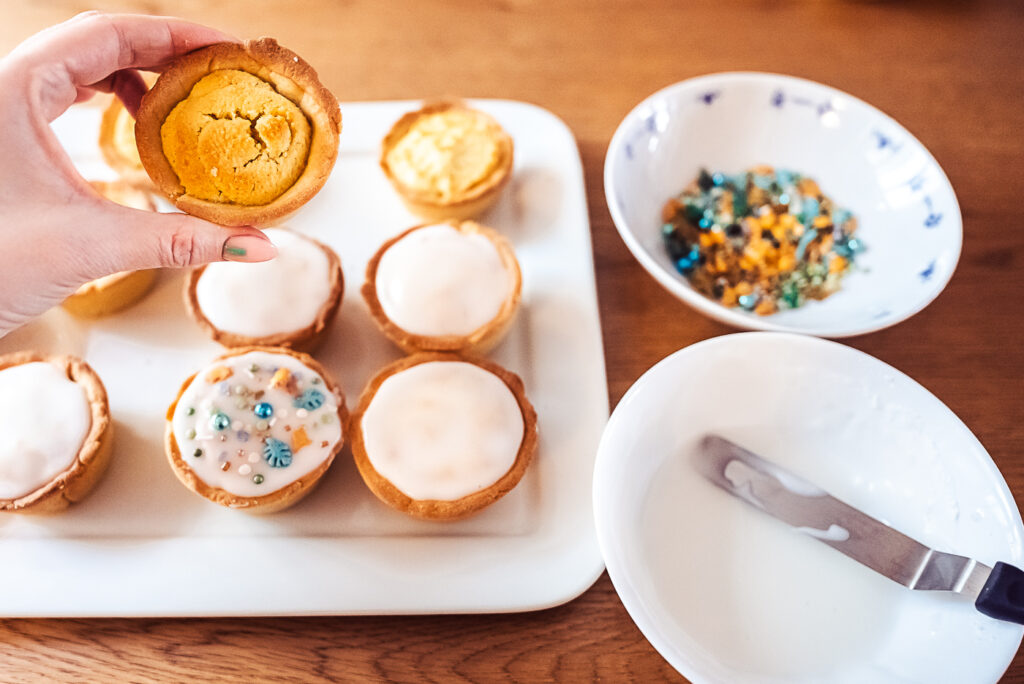 If you want to make your mazariner a bit fancier, you can decorate them with sprinkles, sliced almonds, or whatever you like. You can also make the icing with juice instead of water if you want colored icing.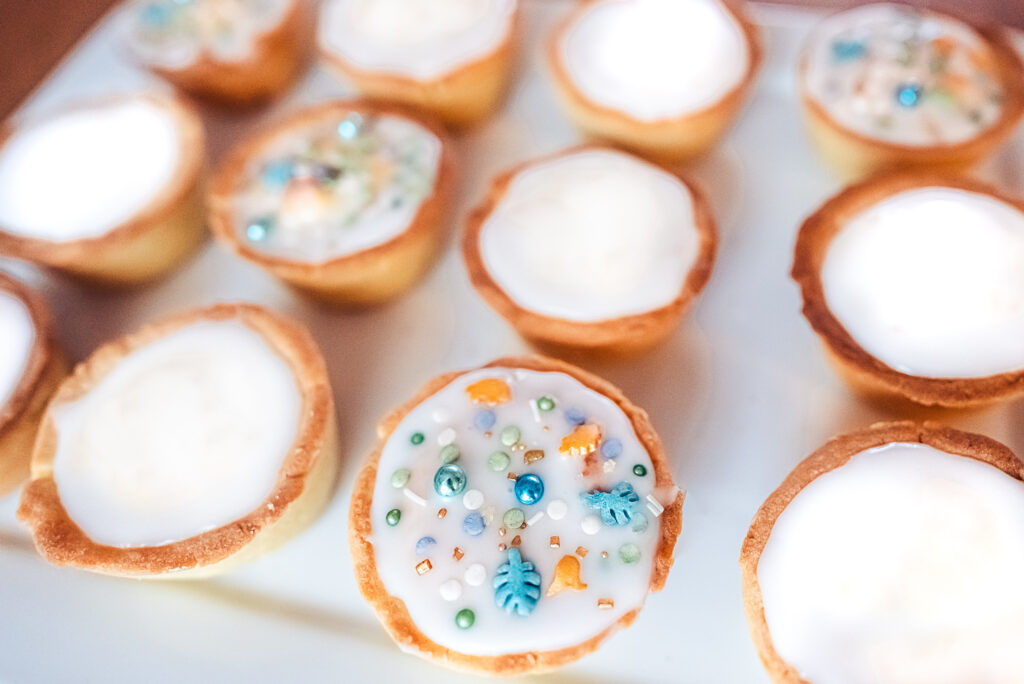 You can switch the recipe from US measurements to metric by clicking from "US Customary" to "Metric" under Ingredients.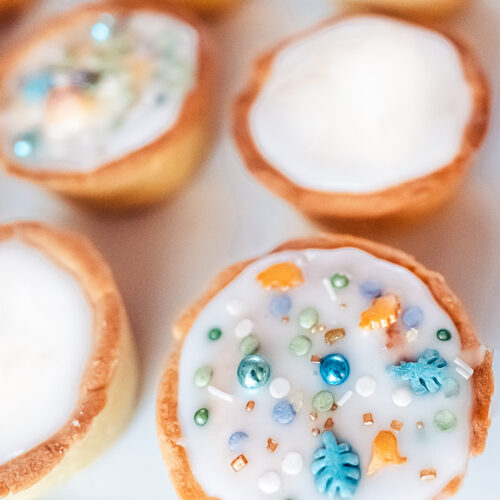 Mazariner – Scandinavian Almond Tartlets
Mazariner are simple but oh so tasty almond tartlets with a vanilla shortbread crust and almond filling.
Print
Pin
Rate
Equipment
food processor

muffin pan

Rolling Pin
Ingredients
Shells
3 and 1/4

cups

flour

1 and 1/4

cups

powdered sugar

14

tbsp

butter

1

egg
Almond filling
3

eggs

1 and 1/4

cups

powdered sugar

7

tbsp

butter

2

tsp

vanilla sugar

(or vanilla extract)

2

tbsp

flour

2

cups

almond flour

1

tsp

almond extract

(optional)
Glaze
2

cups

powdered sugar

3

tbsp

heavy cream, milk, or water

1/4

tsp

almond extract
Instructions
Shells
Combine the flour and powdered sugar in a food processor. Add the butter and pulse until it's evenly distributed. Add the egg and pulse until the dough comes together.

Roll out the dough on a floured surface. Cut the dough in circles with a large mug. Press the circles down into a greased muffin pan. Put the pan of shells in the fridge while you prepare the almond filling.
Almond filling
Preheat oven to 355°F (180°C).

Whisk the egg and powdered sugar together until thick and airy. Melt the butter and stir it into the egg mixture. Stir in the vanilla, flour, and almond extract. Stir in the almond flour.

Pipe or spoon the almond filling onto the shells, filling the shells about 3/4 full.

Bake the mazariner for 20 – 25 minutes, until light golden brown. Cool on a wire rack.
Glaze
Mix together the powdered sugar and liquid until you get a spreadable glaze. Spread the glaze on top of the mazariner and if you wish, decorate with sprinkles, or anything you like.
Video