Hallongrottor (Swedish Raspberry Jam Cookies)
Swedes sure love their fika, which is a coffee break enjoyed with a sweet treat. While Swedish buns (like these cardamom buns) and cake (like silviakaka) are popular for fika, you'll also see Swedish cookies served for fika as well. In fact apparently before fika became an established tradition in Sweden in the early 20th century, Swedes practiced kafferep, where women would gather, often to repair clothes, and enjoy seven types of cookies. Any more than seven cookies would be showing off, while fewer would be stingy. Norwegians also practice this tradition with their seven types of cookies for Christmas.
And one classic Swedish cookie is the hallongrotta, or hallongrottor plural. The name means raspberry cave, which is very fitting for these Swedish thumbprint cookies filled with raspberry jam.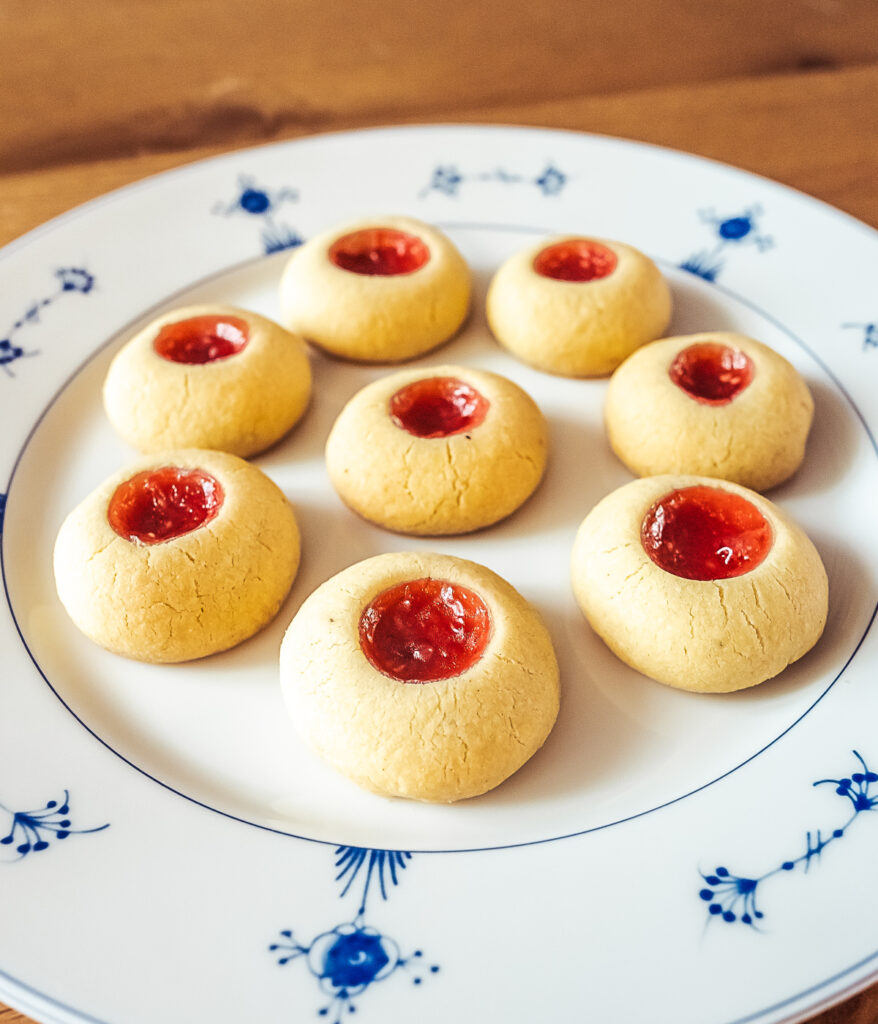 These vanilla cookies are the perfect amount of buttery and crumbly, and the jam contrasts the cookie beautifully. They also happen to be incredibly easy to make! If you're a fan of jam you might have all of the ingredients for these in your kitchen already.
I used this Swedish recipe for these hallongrottor, which I've translated into English in the recipe card below (I also included the US measurements in addition to the metric measurements so be sure to click "US Customary" at the top of the recipe to get those).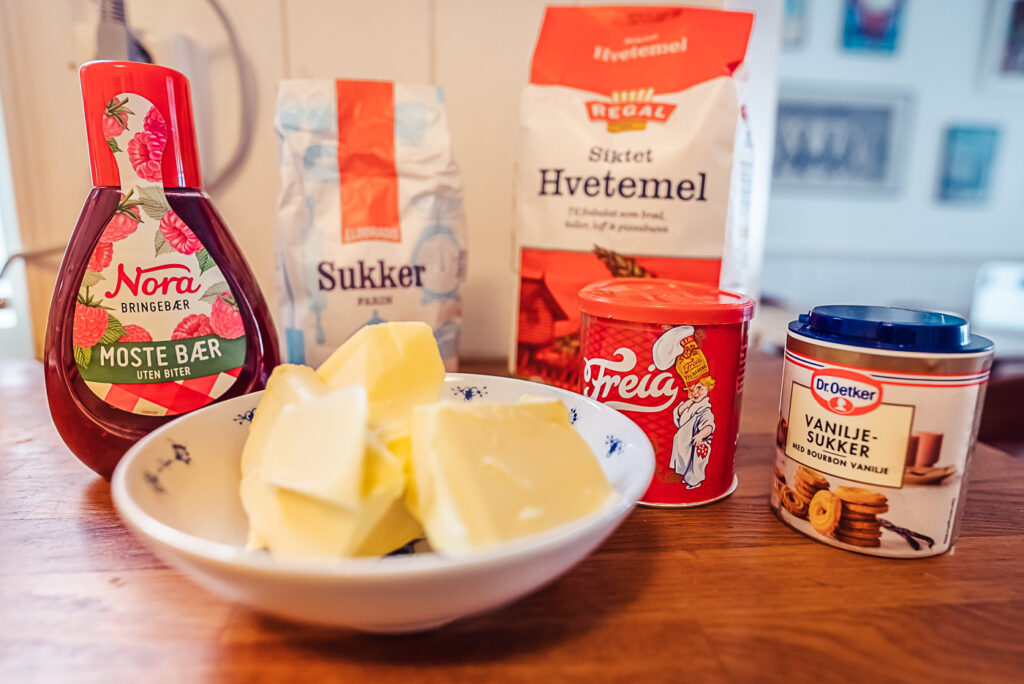 I brought these Swedish raspberry jam cookies to a movie night with my Norwegian friends and everyone loved them. One friend said they taste like Norwegian sandnøtter but even better with the jam filling. And my other friend said that these hallongrottor were even better than the ones her Swedish grandmother makes (maybe don't tell any Swedish grandmothers she said that).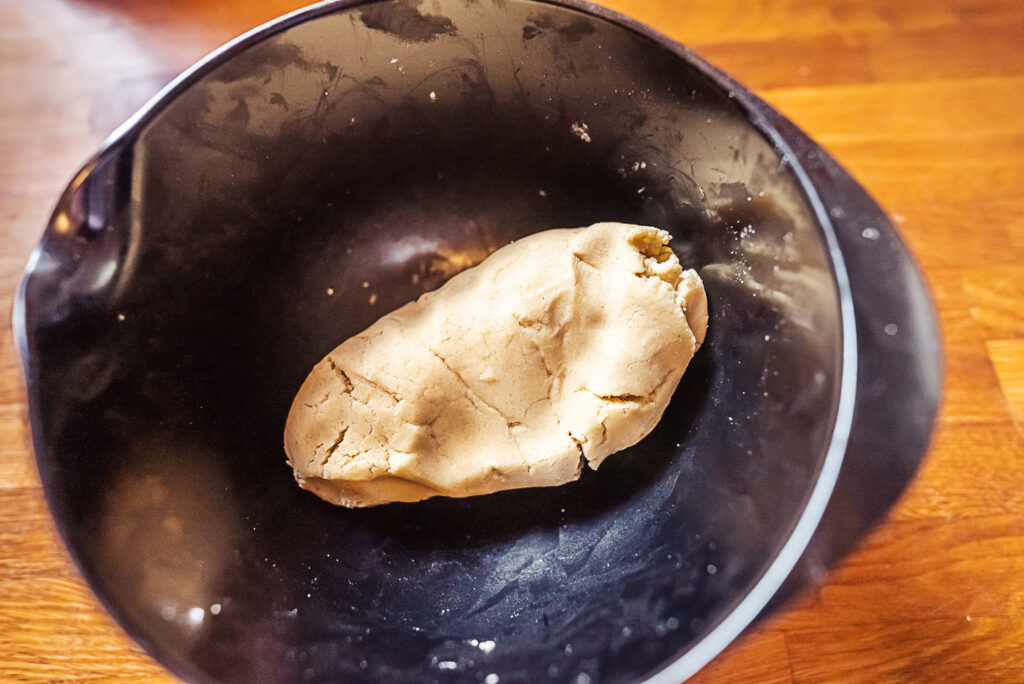 Be sure to use room temperature butter when making these, as cold butter won't roll as well.
Hallongrottor dough comes together best if you mix the ingredients with your hands. This ensures that the butter really is soft enough, as your hands will continue to soften the butter as you knead. This will help the cookies maintain their shape and not crack.
Only knead the dough until it just comes together into a ball. Don't over knead, as then the cookies can become tough instead of soft and crumbly.
I've seen both large and fairly small hallongrottor, so you can decide on the size of the cookies yourself. I like to make them on the bigger side because then the cookies are a little bit soft in the middle instead of entirely hard and crumbly.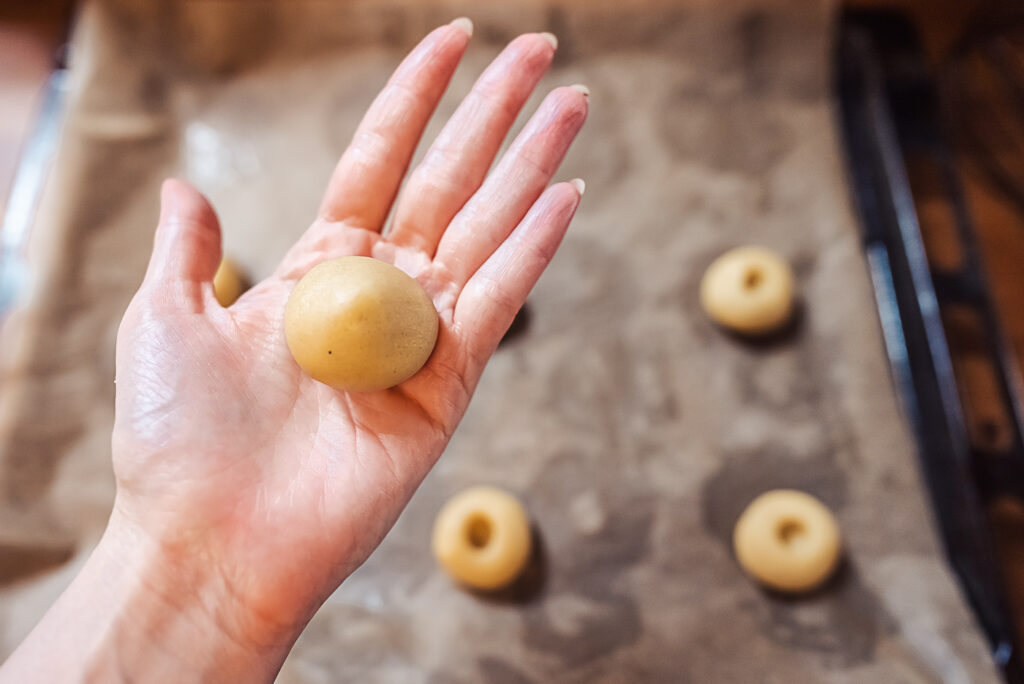 Make each indentation in the cookie immediately after rolling it because then the cookie dough will still be soft from rolling and less likely to break when you make the indentation.
These are thumbprint cookies so you can of course make the indents for the jam with your thumb. But if you want a cleaner look (or if you have long nails) you can use the back end of a serving spoon to make the indents. I use the back of my whisk because it has a nice round shape.
And then you can also decide how large to make the indentations. I wiggle the whisk around a bit to make a larger hole to fit more jam.
The cookies will spread a bit during baking. Because of this some people use muffin forms for their hallongrottor, but I find that they're not necessary if you roll the cookies into balls and don't flatten them before baking.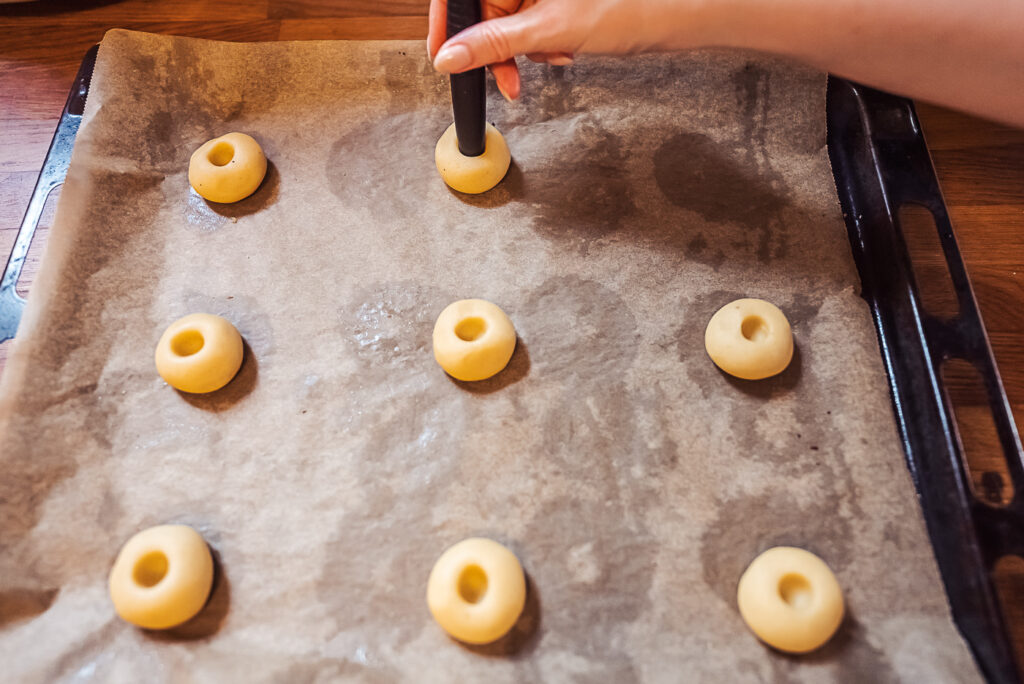 It's easiest to use jam in a squirt bottle, but you can also spoon the jam onto each cookie.
Traditionally hallongrottor use raspberry jam, but you can experiment with different flavors of jam as well!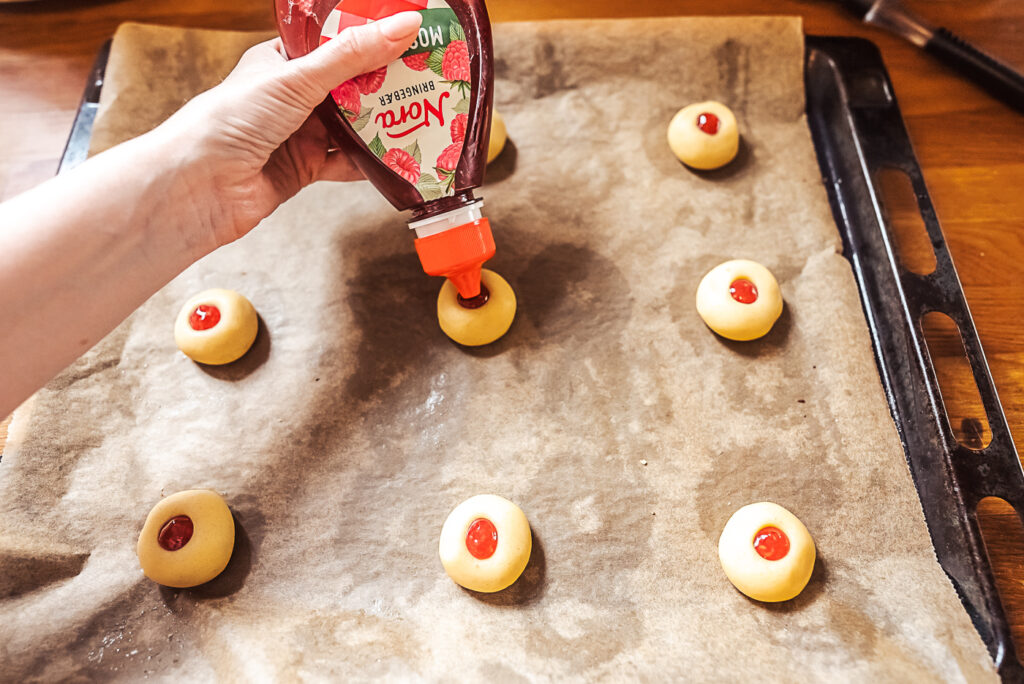 The baking time will vary depending on your oven and the size of the cookies. I bake mine for 17 minutes, until the bottoms of the cookies are just starting to turn golden.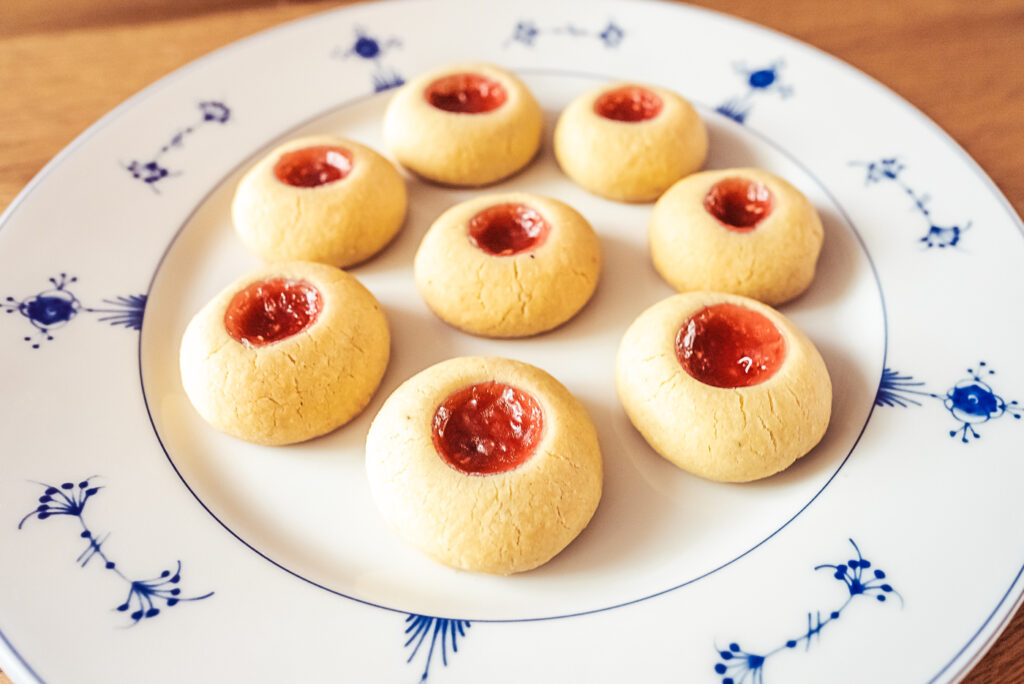 You can switch the recipe from US measurements to metric by clicking from "US Customary" to "Metric" under Ingredients.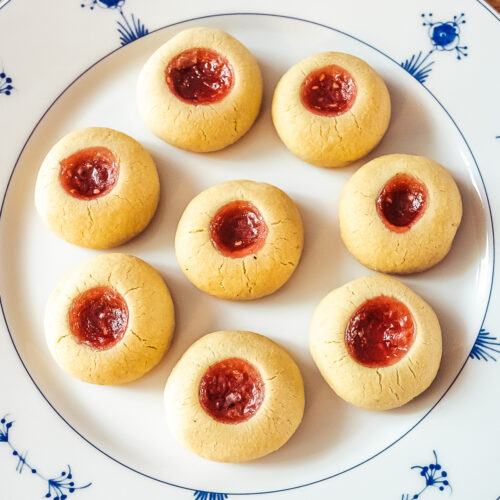 Hallongrottor (Swedish Raspberry Jam Cookies)
Hallongrottor, or raspberry caves, are Swedish thumbprint cookies made of a crumbly vanilla cookie filled with raspberry jam.
Print
Pin
Rate
Ingredients
2

cups

all purpose flour

1/2

cup

granulated sugar

1

tsp

baking powder

2

tsp

vanilla sugar

(or extract)

14

tbsp

butter

(room temperature)

1/2

cup

raspberry jam
Instructions
Preheat oven to 175°C (350°F) top and bottom heat. Line a baking tray with baking paper.

Add all the dry ingredients to a mixing bowl. Add the butter and knead with your hands until the dough comes together into a ball (don't over knead).

Roll the dough into about 25 round balls. After rolling each cookie, immediately use your thumb or the back end of a mixing spoon to make a deep indentation in each cookie.

Space the cookies well apart on the baking sheet, as they will spread a bit in the oven. Fill each indentation with jam.

Bake for 15 – 20 minutes.
Video