Kvæfjord Cake "Verdens Beste" (World's Best Cake)
Most Norwegians refer to kvæfjord cake (kvæfjordkake) as simply verdens beste, or the world's best cake. In fact some of my friends here in Norway didn't even know that verdens beste is officially called kvæfjordkake. Now personally, if I were to give any cake the title of world's best cake I would choose suksessterte, but I'll at least agree that it's one of the best cakes in the world.
And I'll also add that Kvæfjord is one of the most beautiful parts of Norway, nestled between the stunning Vesterålen islands and the town of Harstad. Kvæfjord cake got its name from the two sisters from Kvæfjord who first made this cake at Café Alliance in Harstad in the 1930s.
One of the sisters, Hulda Markussen, had bought a recipe for kongekake, or king's cake, from a Danish bakery, but the recipe called for a large amount of almonds, which were difficult to come by then, so she modified it to make a sponge cake and meringue sprinkled lightly on top with almonds. The locals loved the cake and the recipe started to make its rounds around Northern Norway, getting simplified along the way. Eventually in the 1970s a Norwegian magazine shared the recipe, making the cake a nationwide hit.
And Norwegians love verdens beste so much that in 2002 they voted it as the national cake of Norway.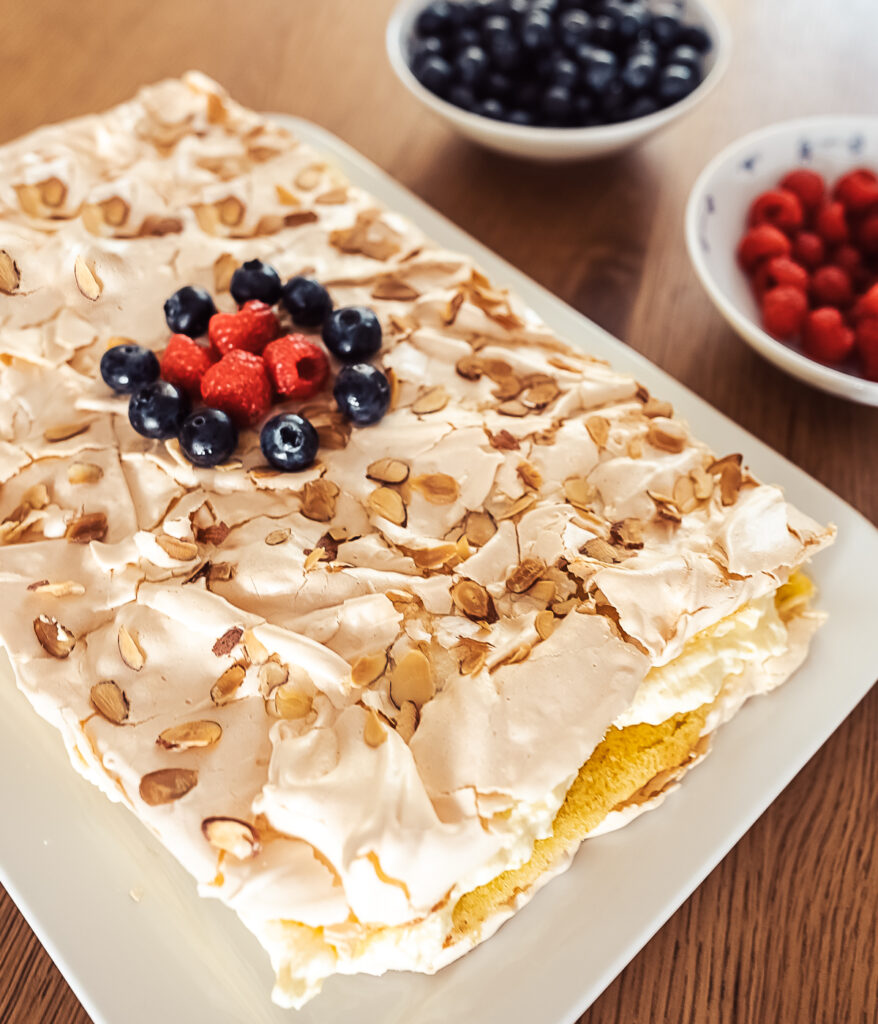 Verdens beste is a meringue topped sponge cake filled with a velvety vanilla cream. I particularly love the rustic look of kvæfjord cake, as it's spread by hand across a baking sheet instead of poured into a baking form. Norwegians usually serve verdens beste on special occasions like birthdays and confirmations, and last weekend I had a special occasion of my own: a housewarming party! It was the perfect excuse to make verdens beste, and perfect my own best cake in the world recipe before sharing it with you guys.
I recently bought an apartment in downtown Bergen, which I guess means that I truly live in Bergen now! I've always been so grateful for my Norwegian citizenship allowing me to move to Norway after growing up in the US, and after hopping around Norway for the past seven years, now I'm even more excited to start my life here in Bergen. And the views in my new neighborhood certainly feel worth celebrating.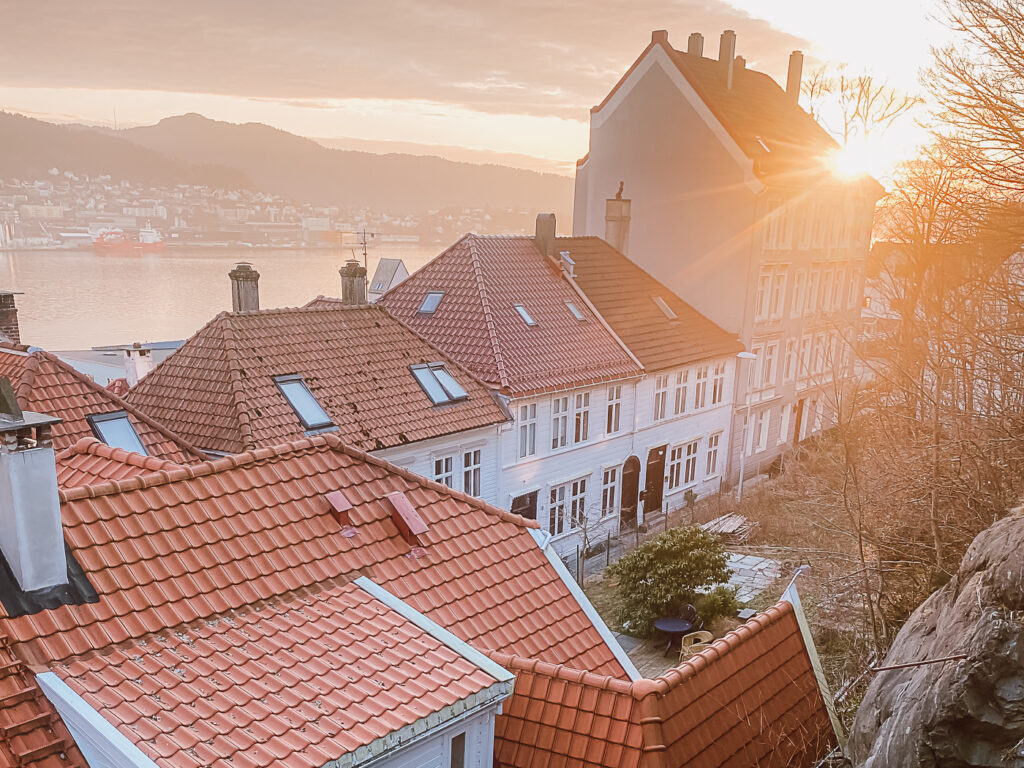 If you're looking for your own excuse to celebrate with verdens beste, Norway's Constitution Day is May 17th! Many Norwegians will be eating kvæfjordkake then.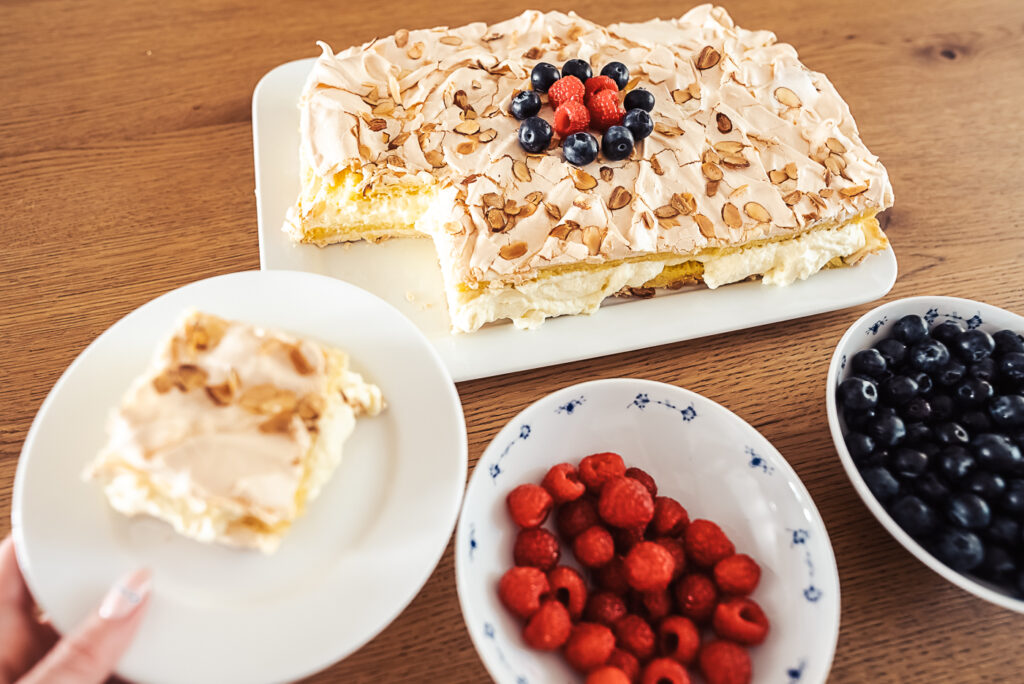 Kvæfjord cake might look complicated, but it's actually quite easy to make. The cake layer is thin, so it's easy to bake through, unlike some other cakes.
But if you want to make it even easier, you can buy vanilla custard instead of making your own. If you do this, you can make the meringue with the five egg whites leftover from the cake batter (instead of seven including the custard) and reduce the sugar to 200 grams (1 cup). Of course homemade custard tastes best!
You don't need to be too exact when spreading the cake batter into a rectangle. Verdens beste is meant to look a little messy.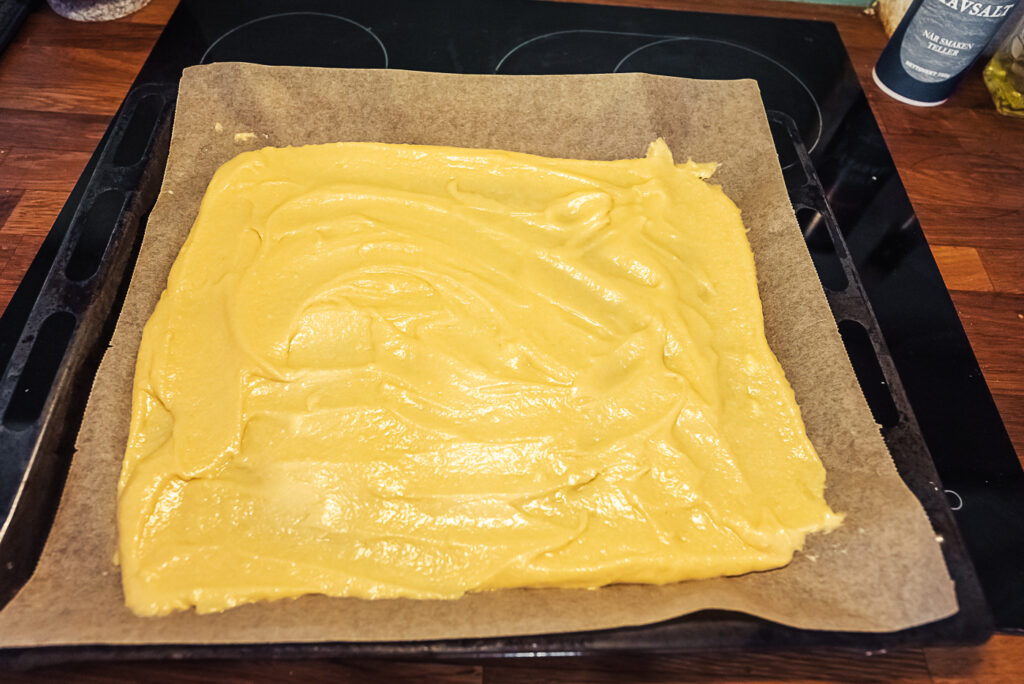 Fats ruin a meringue, so make sure the egg whites are free from any traces of yolk and your bowl is perfectly clean (glass is better, as plastic can absorb oils). Be patient when whisking the egg whites into meringue, as it can take a while for stiff peaks to form. If the meringue doesn't maintain its shape keep whisking!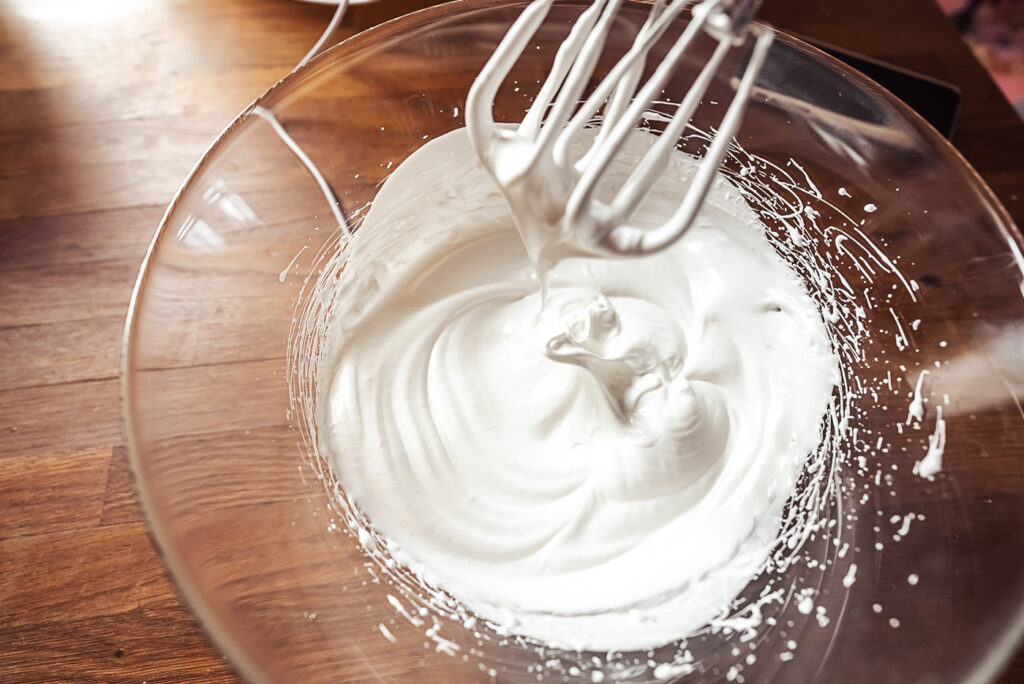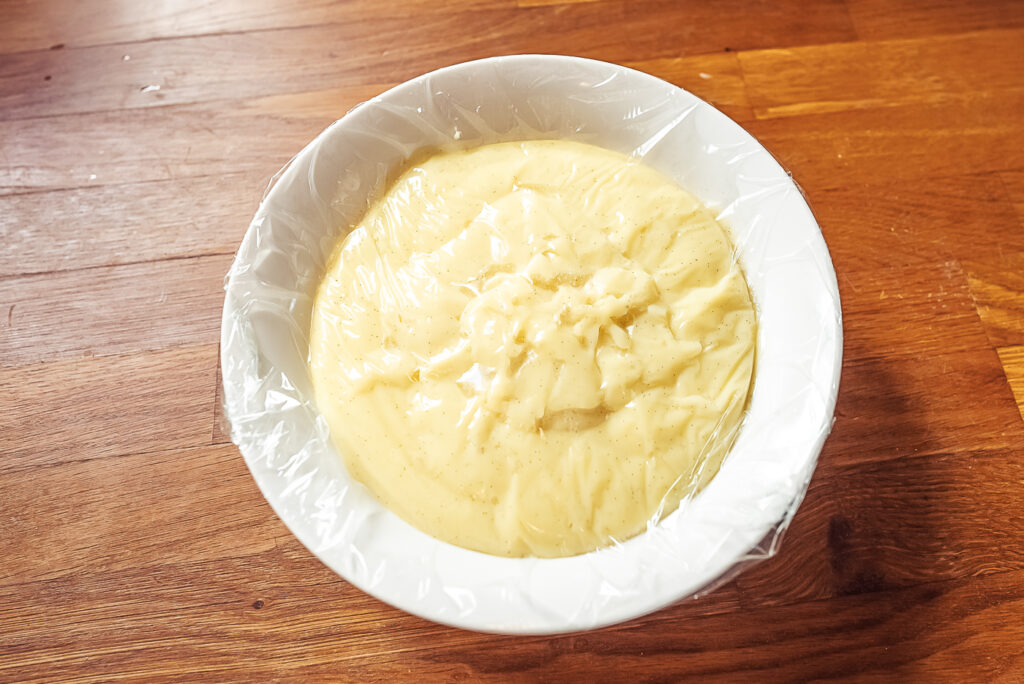 As I'm not usually a big fan of cream cakes I prefer a higher custard to cream ratio in the filling, so I like to make double the amount of custard. But if you like whipped cream follow the recipe as is.
Some people also choose to flavor the custard with rum essence instead of vanilla, though Hulda's original version did use vanilla.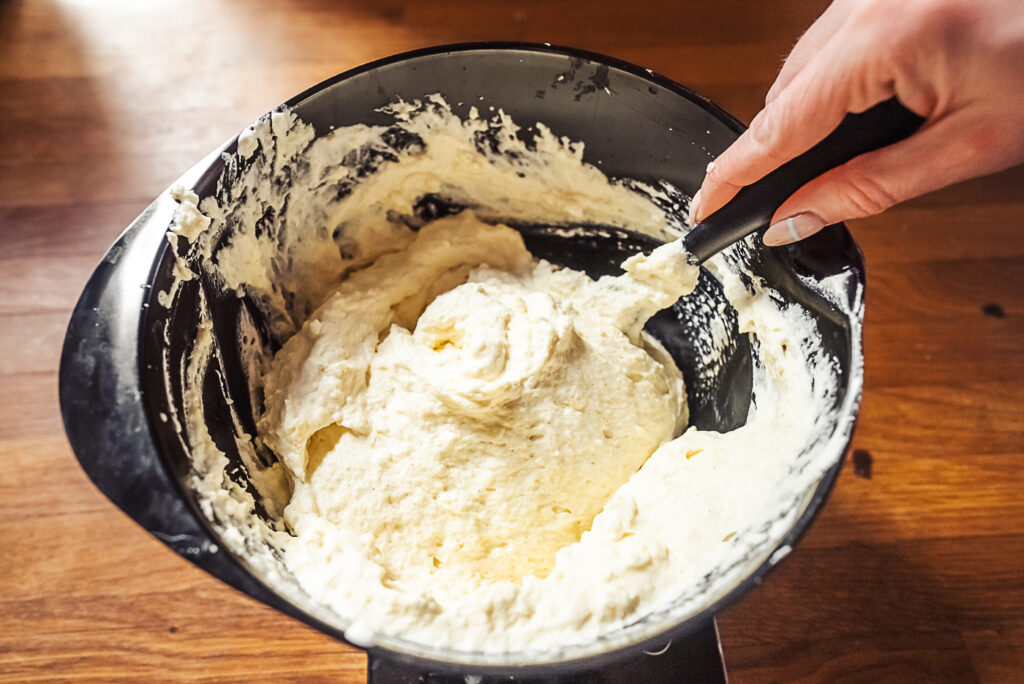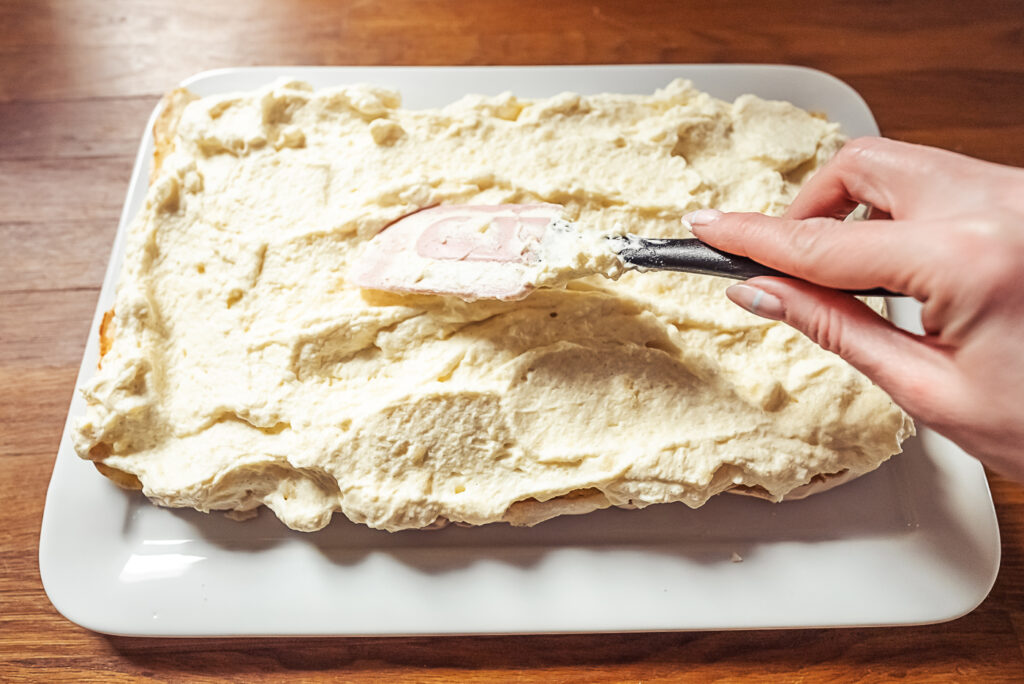 You might see some people make their verdens beste cake with the meringue side up on the bottom layer as well, but this is actually incorrect, as the sponge cake is meant to be touching the cream on both sides, because it will absorb some of the cream filling.
I've always seen verdens beste served with fresh berries, which are a lovely complement to all the cream filling. In fact I just went to the supermarket and was surprised by all the crates and crates of strawberries on sale right now, until I remembered that it's the 17th of May this week and Norwegians love adding strawberries to all of their Constitution Day cakes.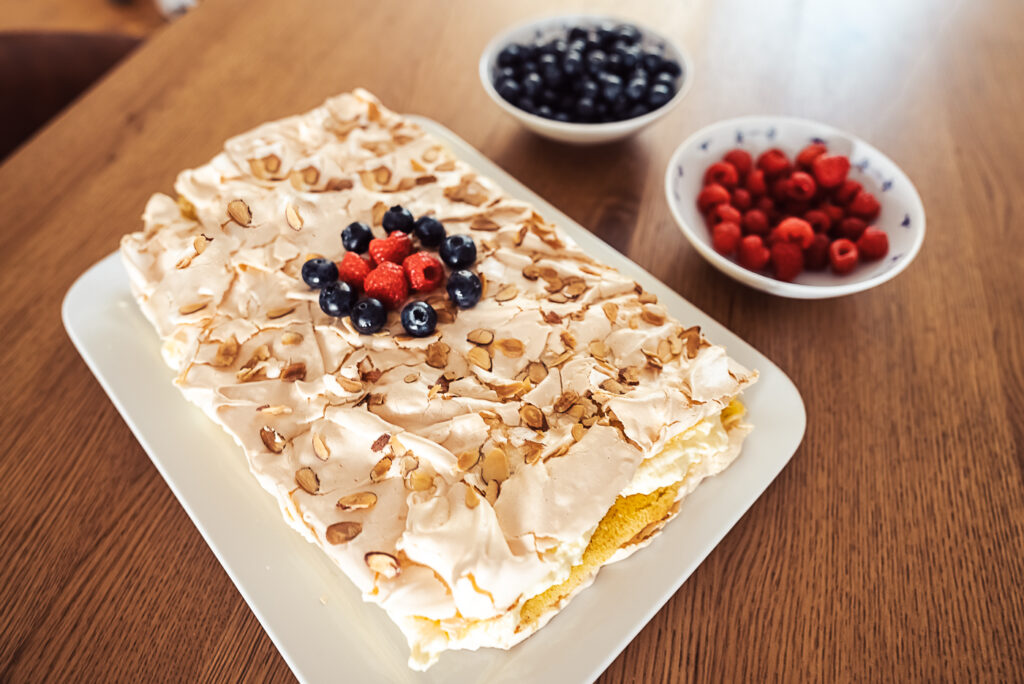 You can switch the recipe from US measurements to metric by clicking from "US Customary" to "Metric" under Ingredients.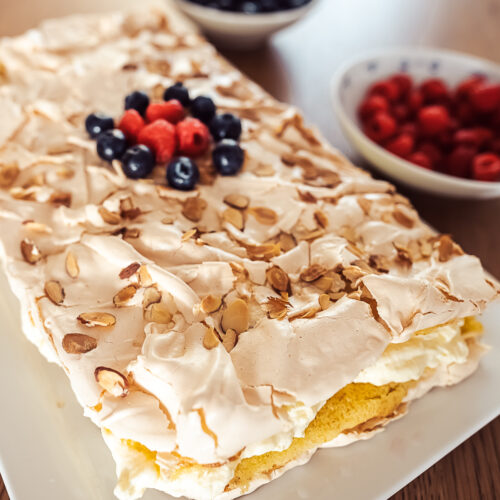 Kvæfjord Cake "Verdens Beste" (World's Best Cake)
Kvæfjord cake, or verdens beste, is a meringue topped sponge cake filled with a velvety vanilla cream and sprinkled with sliced almonds.
Print
Pin
Rate
Ingredients
Vanilla custard
2

large egg yolks

2

tbsp

cornstarch

1/4

cups

granulated sugar

2/3

cup

heavy cream

3/4

cup

milk

1

vanilla pod

(or 1 tsp vanilla extract)
Cake
11

tbsp

butter

3/4

cup

granulated sugar

5

large egg yolks

1 and 1/4

cups

flour

1.5

tsp

baking powder

1/2

cup

milk
Meringue topping
7

large egg whites

1 and 1/2

cups

granulated sugar

sliced or chopped almonds
Cream
1 and 1/4

cups

whipping cream
Instructions
Vanilla custard
Separate the egg yolks and set aside the whites to use in the meringue.

Whisk together the egg yolks, cornstarch and sugar in a bowl.

Heat the cream and milk in a saucepan. Split open the vanilla pod and add the beans to the saucepan. Once the milk begins to bubble pour about half of it into the bowl with the egg mixture, whisking constantly. Then return the saucepan to the heat and pour the egg mixture back into the saucepan with remaining milk, whisking constantly. Once the mixture thickens lower the heat and continue whisking for about 30 seconds.

Pour the custard into a clean bowl and cover with plastic wrap, placing the plastic directly on the top layer of the custard. Chill in the fridge.
Cake
Mix together butter and sugar until light and fluffy. Add egg yolks one at a time, setting aside the egg whites for the meringue. Add the flour mixed with baking powder. Stir in the milk, beating until smooth (you can use an electric mixer if you prefer).

Preheat oven to 320°F (160°C). Cover a baking sheet with baking paper and spread out the batter into a large, even rectangle.
Meringue topping
Whisk together the egg whites and sugar until you get glossy, stiff peaks. The meringue should hold its form – if it still melts continue whisking.

Spread out the meringue on top of the cake batter. Use a spatula to form light waves with the meringue. Sprinkle almonds on top of the meringue. Bake for about 30 minutes, until the meringue and almonds are golden.
Cream filling
Whisk the cream into stiff peaks. Carefully fold in the vanilla custard.
Assembly
Once the cake has cooled, cut it in half. You can use scissors for this, or a knife on a cutting board, slicing through the baking paper as well.

Place half of the cake on a serving platter with the meringue side down and peel off the baking paper.

Spread the cream filling across the cake. Then carefully remove the other half of the cake from the baking paper and place it over the cream filling, meringue side up.

Serve with fresh berries.
Video