Skoleboller (Skolebrød) Norwegian "School Bread"
I almost don't want to share this skoleboller recipe because I'm pretty sure the main reason my American friends visit me in Norway is to eat skoleboller. And I don't fault them for that, because skoleboller probably accounted for 90% of my decision to move to Norway.
But you can, in fact, make these Norwegian buns outside of Norway! Skoleboller (also called skolebrød) are Norwegian "school buns" (or school bread) made with a sweet cardamom dough, filled with vanilla custard in the center, and then coated in icing and dipped in coconut flakes. These Norwegian coconut and vanilla buns are an instant favorite amongst everyone who tries them – well, as long as they like coconut.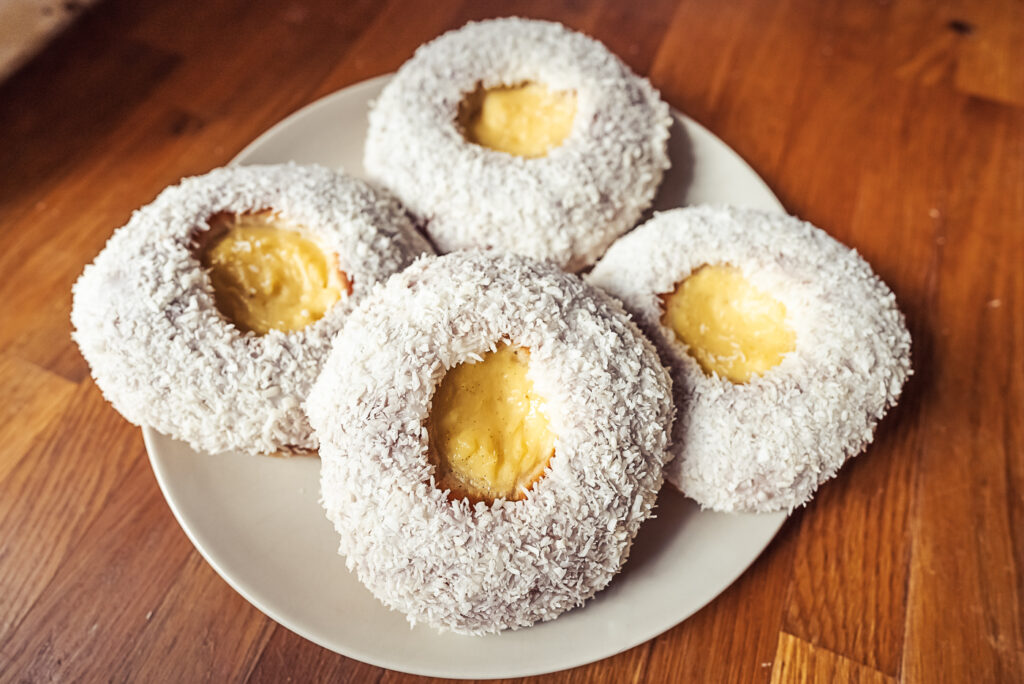 And if you don't like coconut, try my other favorite Norwegian custard buns: solskinnsboller.
When I was growing up, every summer I would be so excited to get to eat skolebrød while visiting family in Norway. And then when I first moved to Norway I worked in the bakery section of a supermarket for a year, where I would make skoleboller every morning.
And I'm not even exaggerating when I tell you I felt like I truly had made it in life living in Norway getting paid to bake Norwegian boller. I no longer work in a Norwegian bakery so I don't get paid to make skoleboller anymore, but I am very excited to get to share my Norwegian school buns recipe here!
One of the key ingredients in most Norwegian sweet buns is cardamom. And well, you probably already know what I'm going to say about the cardamom here.
You can use ground cardamom for this recipe, but if you have a mortar and pestal I highly recommend grinding cardamom seeds instead, as freshly ground seeds are much more flavorful. I wouldn't bother unless it really made a difference, but it really does.
Pre ground cardamom doesn't have much flavor, so if you do use it, I would probably double the amount of cardamom.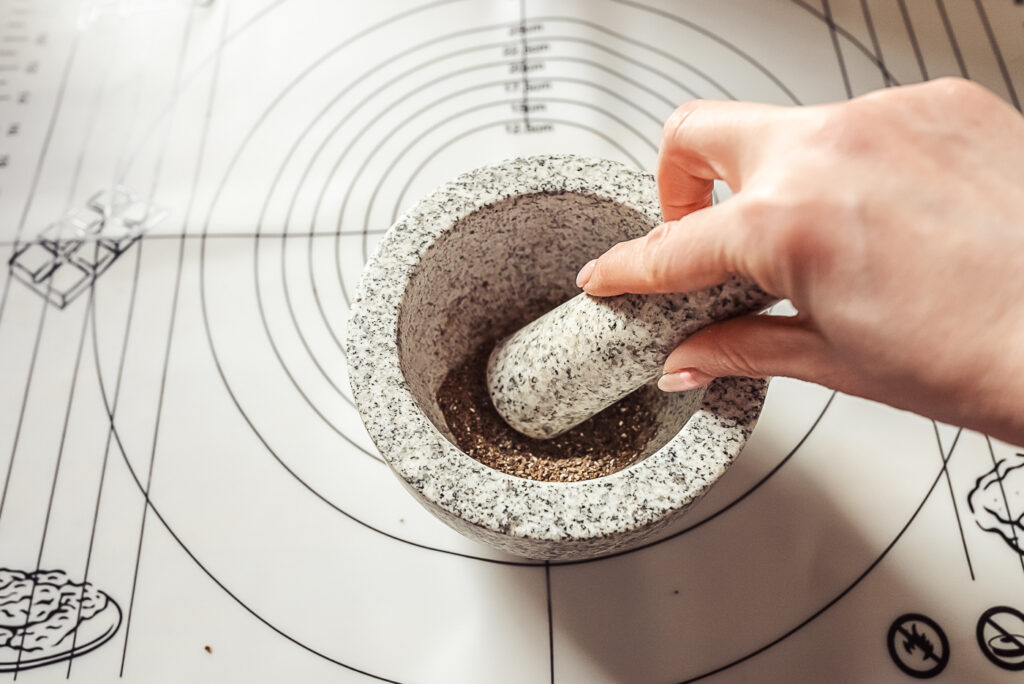 Making the vanilla custard for the center of the skolebrød might seem intimidating, but it's actually pretty easy. Just make sure that you keep whisking the custard the entire time you're heating it so there aren't any lumps. This recipe does make about twice as much vanilla custard as you'll likely use, so you can be as generous as you like when filling the skoleboller. The custard also tastes delicious on its own, so I save the rest to eat as a little dessert.
You can prepare the vanilla custard before making the buns, or while the skolebrød dough is rising. If you make it while the dough is rising, it will probably still be a little warm when you're spooning it onto the buns, but that's totally fine.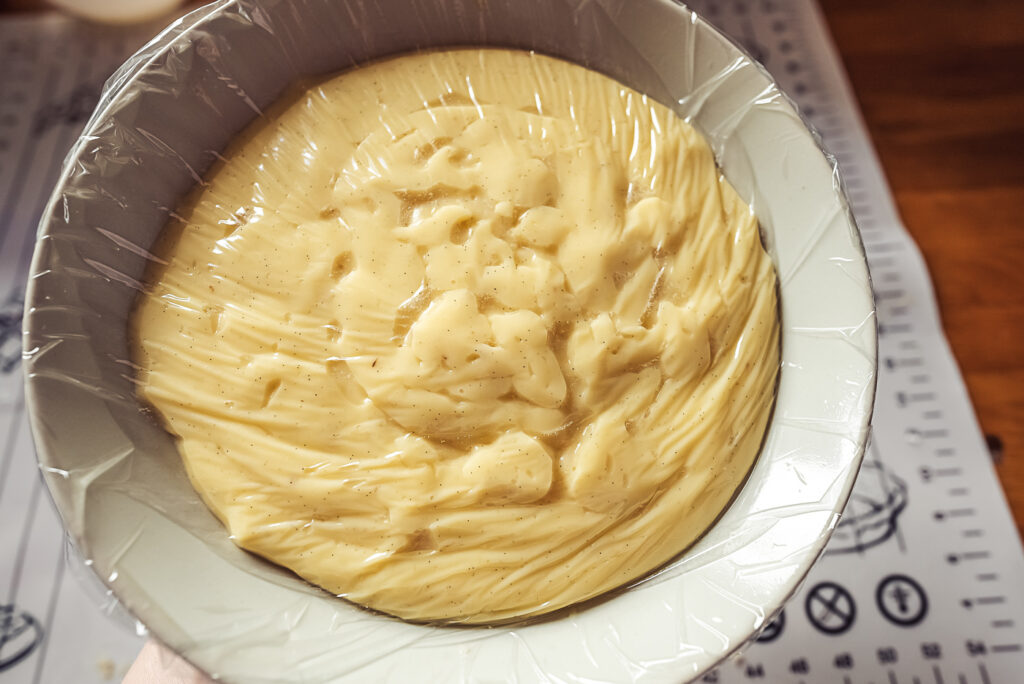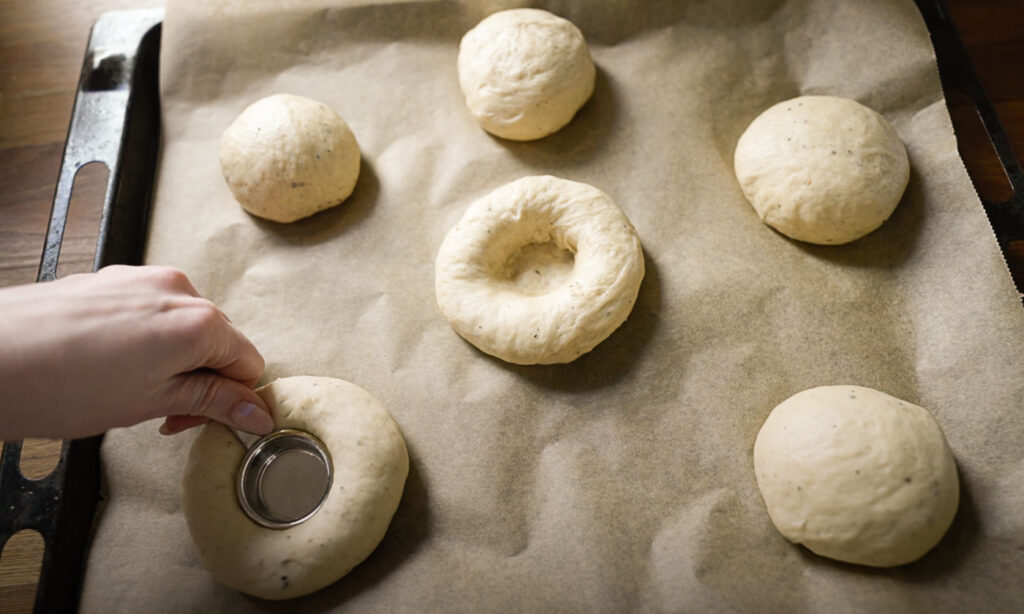 When making indents for the vanilla custard in the buns, you need to really push down to the bottom of the bun. I start off making an indent with the back of a measuring spoon, and then I continue pressing the dough down with my fingers shaping it into a little cup (see video below). This ensures that even when the dough rises again there's still space left for the custard.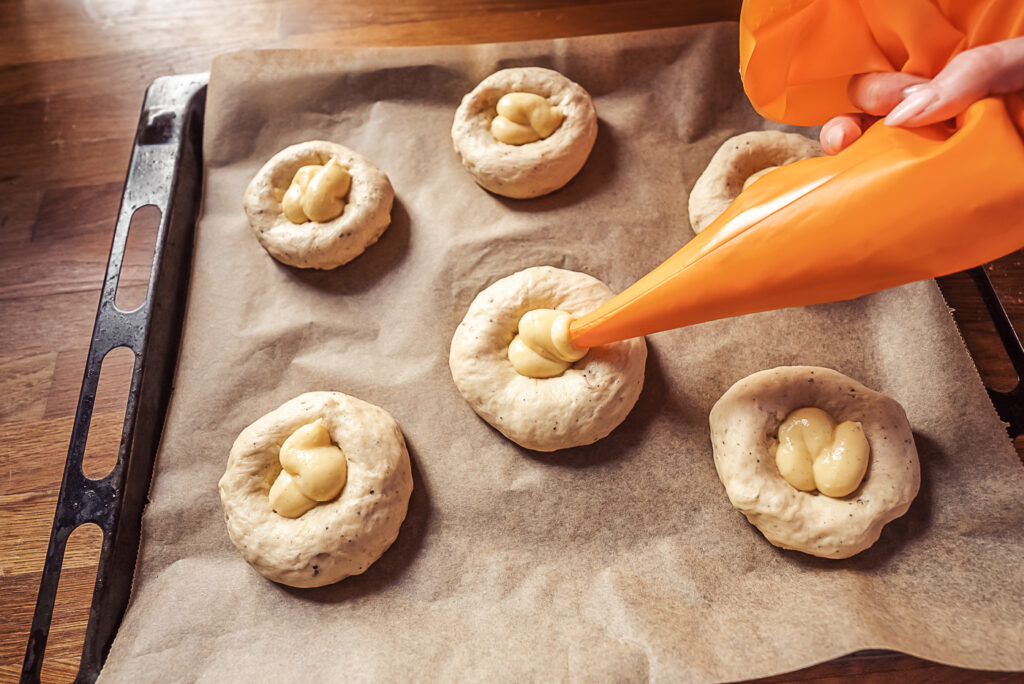 I use a piping bag for the vanilla custard, mostly because I like to pretend I'm a pastry chef, but you can just as well spoon out the custard with a couple of teaspoons.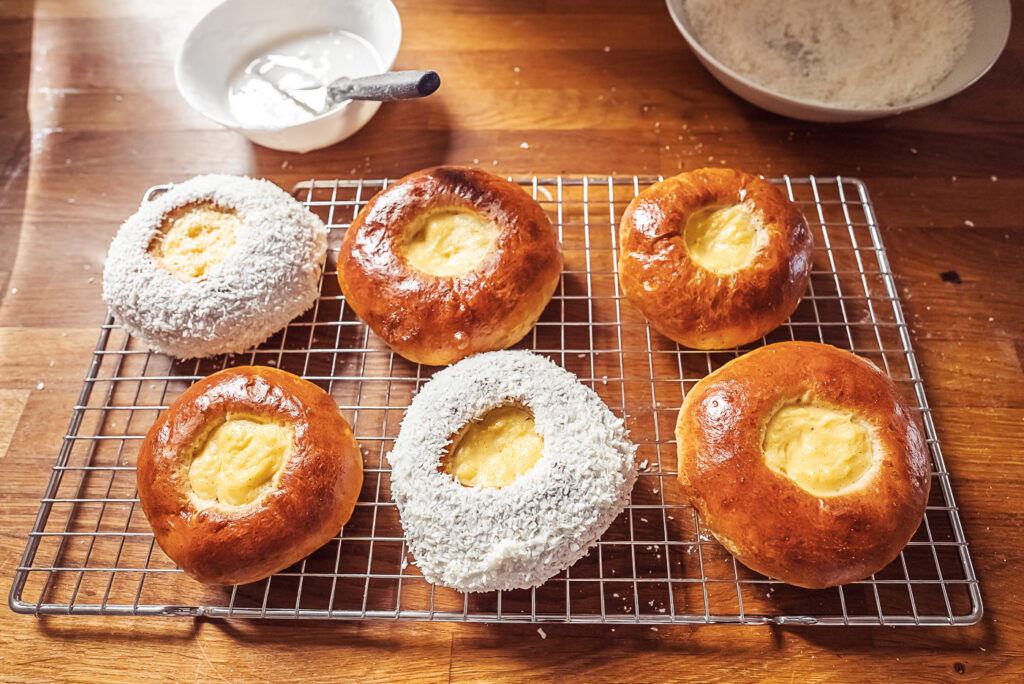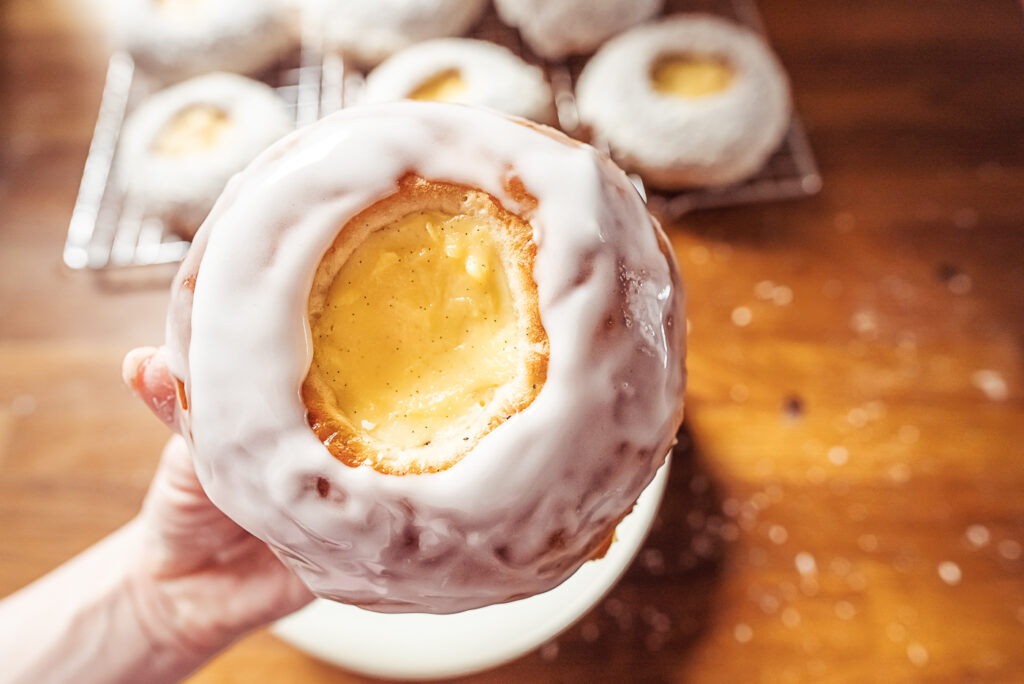 You can coat the skoleboller with as much icing as you like, and then simply press the bun down in a bowl of coconut flakes. The coconut won't really stick to the vanilla center, so you can go ahead and press the whole bun flat into the coconut.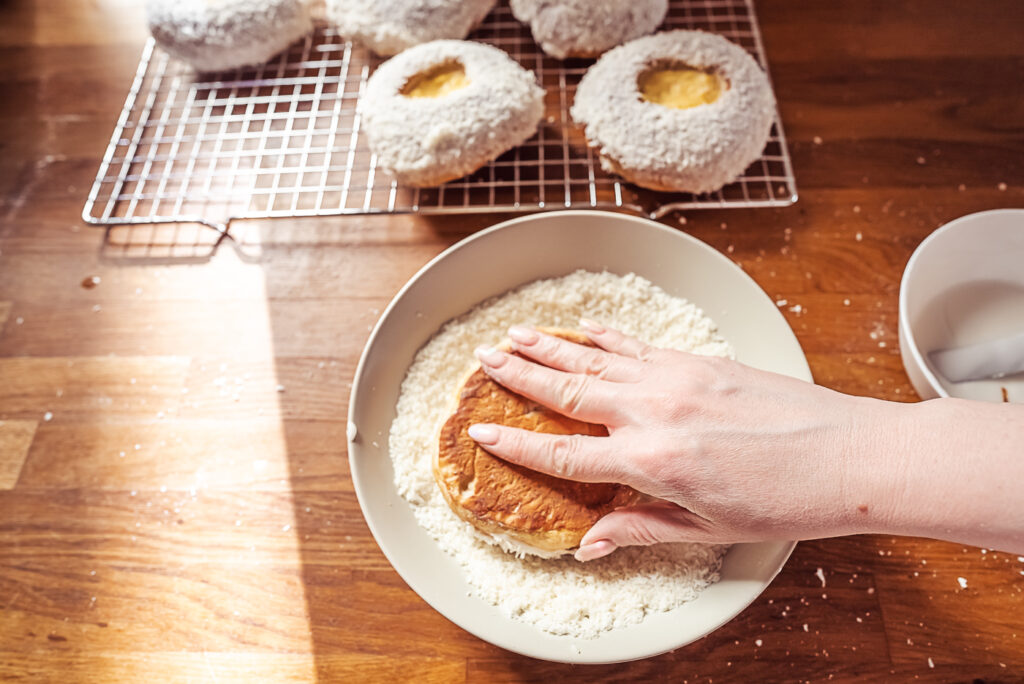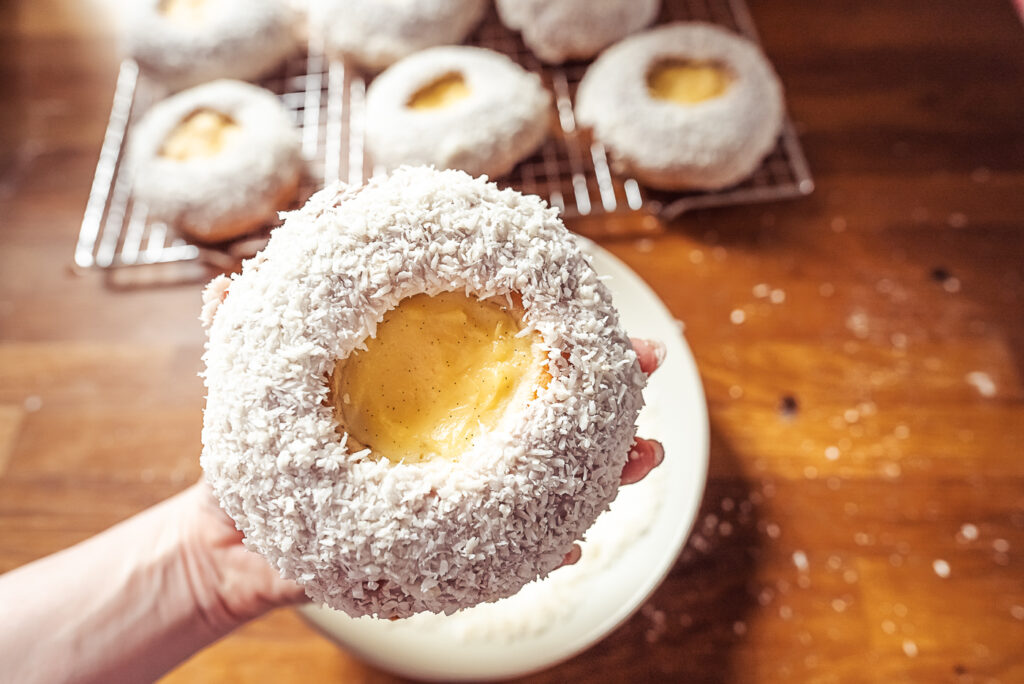 I gave this batch of skoleboller away to my neighbors, and now I'm regretting not saving a few more for myself. They're so good!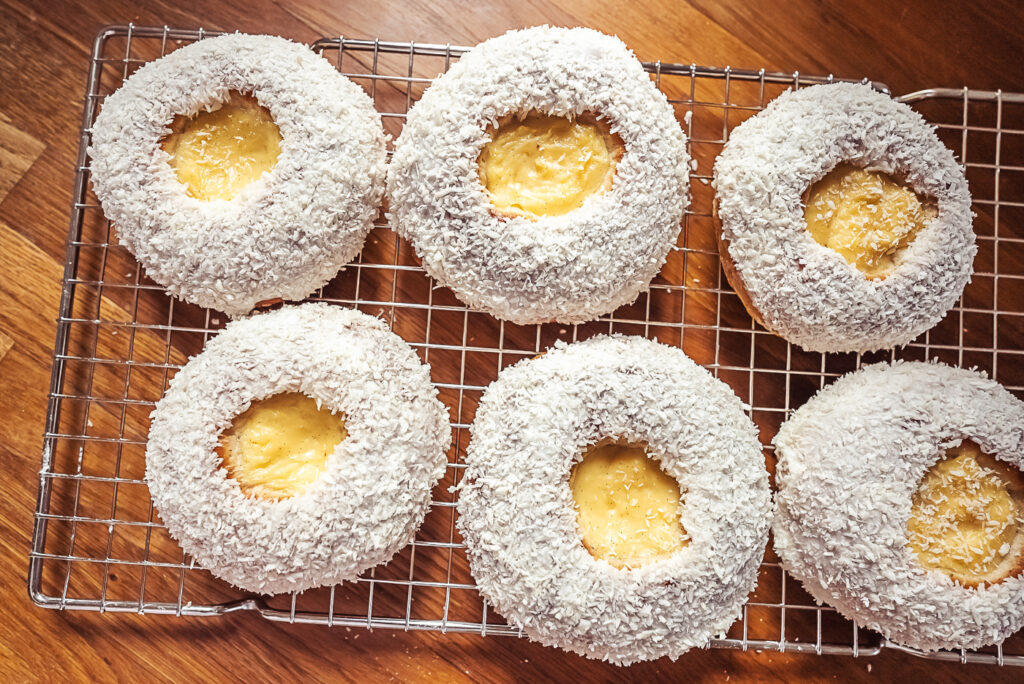 If you have leftovers the next day, my little tip would be to pop these in the microwave for just a few seconds so that the icing gets a tiny bit warm (but not totally melted) and the bun softens a bit.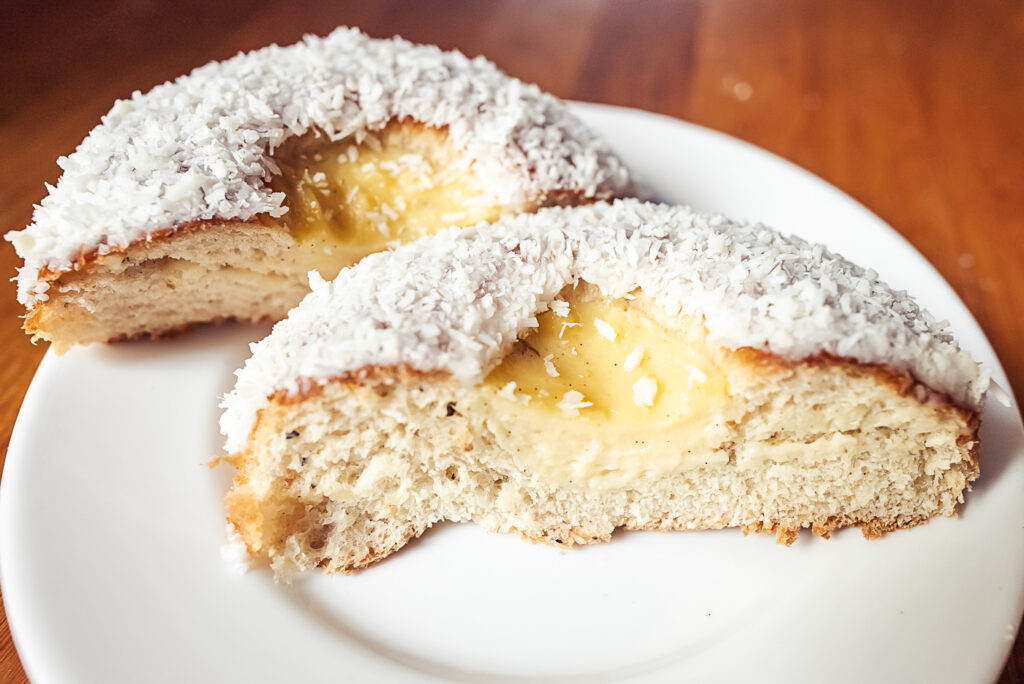 You can switch the recipe from US measurements to metric by clicking from "US Customary" to "Metric" under Ingredients.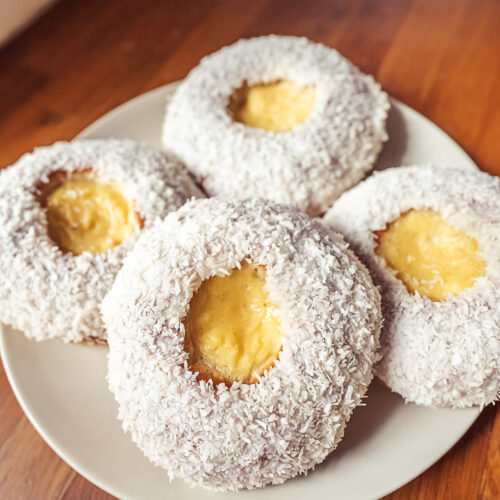 Skoleboller (Skolebrød) Norwegian "School Bread"
Skoleboller are popular sweet cardamom buns filled with a bit of vanilla custard in the center and topped with icing and shredded coconut.
Print
Pin
Rate
Ingredients
Skoleboller dough
5

cups

flour

0.5

cup

granulated sugar

1.75

oz

fresh yeast

(or 2 tbsp instant yeast, 2.5 tbsp active dry yeast)

2

tsp

ground cardamom

1

tsp

baking powder

1

tsp

vanilla sugar

(or vanilla extract)

1.5

cups

milk

7

tbsp

butter

(softened)
Vanilla custard
2

cups

milk

0.5

cup

granulated sugar

3

egg yolks

1

egg

2.5

tbsp

flour

1.5

tbsp

corn starch

1

vanilla pod
Decoration
1

egg

(whisked for egg wash)

1.75

cups

powdered sugar

2-3

tbsp

water

1

cup

shredded coconut
Instructions
Skoleboller dough
Heat the milk until it's lukewarm. Add the fresh yeast and dissolve. (If using dry yeast, follow instructions on the packet.)

Add the sugar, baking powder, vanilla, and 2/3 of the flour.

Mix the dough together either by hand or in a mixer with a dough hook, slowly adding the rest of the flour. You might need a bit more or less flour to form dough that isn't too sticky to knead. When the dough forms a nice ball, add the softened butter and continue to knead the dough for about ten minutes.

Cover and let rise until doubled in size (about one hour).
Vanilla custard
Heat the milk and half of the sugar in a saucepan. Split open the vanilla pod with a knife and carefully scrape out the seeds and add them to the milk.

Mix together the rest of the sugar and the flour and corn starch in a bowl. Add the egg yolks and egg and whisk together until smooth.

Once the milk mixture starts to bubble pour about half of it into the bowl with the egg mixture, whisking quickly the entire time. Then return the saucepan to the heat and pour the egg and milk mixture from the bowl back into the saucepan, whisking the whole time. Let the custard cook for 2 minutes, whisking the entire time. By the end it should be quite thick and harder to whisk.

After 2 minutes remove the custard from the heat and pour into a clean bowl. Cover with plastic wrap, placing it directly touching the top of the custard. Let the custard cool while the skoleboller dough finishes rising.
Assembly
After the dough has risen, turn it out onto your counter and roll into a long cylinder. Cut it into about 12 even slices. Roll each slice into a round ball and place them all on baking sheets lined with baking paper. Make sure to leave plenty of space between the buns, as they'll grow in the oven.

Flatten each ball a bit and then use a spoon and/or your fingers to press down a good well in each bun. Be sure to press the dough all the way down and make a bigger well than you'll actually need, as the dough will puff back up a bit in the oven.

Use a piping bag or spoons to place vanilla custard in the well of each bun (about 1 – 2 tbsp of custard). Cover with plastic wrap and let rise again for 30 minutes.

Preheat oven to 410°F (210°C) top/bottom heat. Whisk egg (you can add a splash of milk if you like) and gently brush each bun with egg wash. Bake for about 10 – 14 minutes in the middle of the oven, until golden brown.
Decoration
Slowly add water to powdered sugar and stir until you get a thick icing. Pour shredded coconut out onto a shallow bowl or plate.

Once the buns are cooled, spread the icing over the top of the skoleboller, around the custard center. Then dip the bun in the coconut, pressing flat to coat the entire top.
Video