Brunsviger (Danish Coffee Cake)
While Danes might be most famous for their pastries, they also make so many great cakes. And then there's one cake that brings the best of both: brunsviger. Brunsviger is a yeast based coffee cake that's a bit of a cross between a cake and a Danish, topped with a gooey brown sugar and butter caramel. Brunsviger tastes best warm out of the oven served with a cup of coffee.
The brunsviger dough only has a little sugar in it so it's not particularly sweet, but the topping is super sweet. Brunsviger reminds me a bit of Danish dream cake, except without the coconut. However this cake is made with yeast, and it's a lot simpler to make than dream cake. This is sort of like an everyday version of dream cake.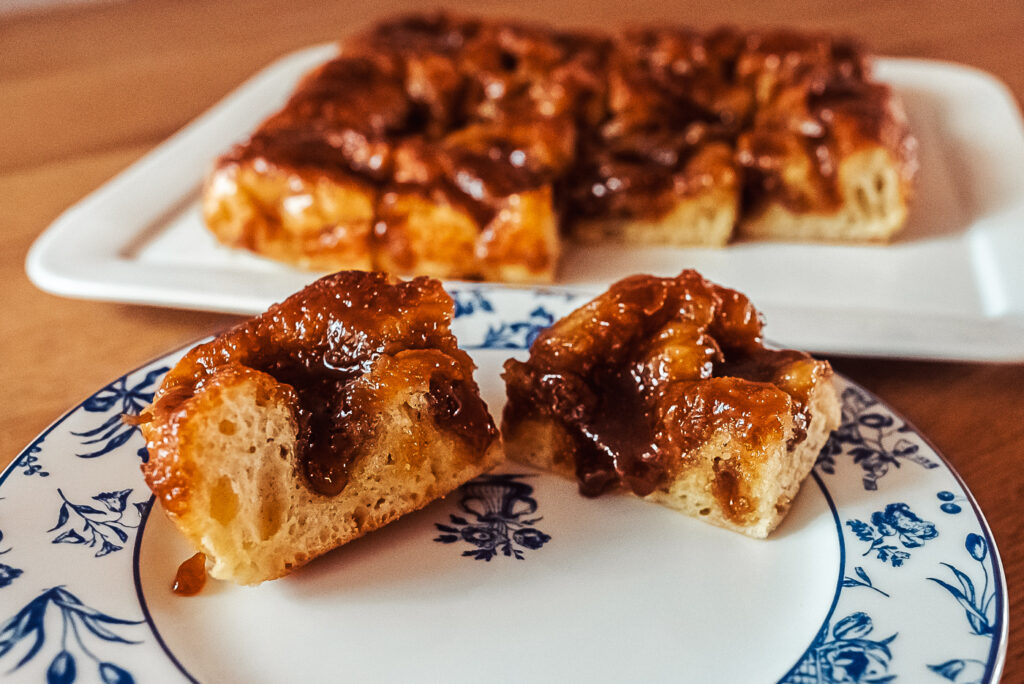 Brunsviger also happens to be the base for a popular Danish birthday cake. Danes will make brunsviger in the shape of a girl or boy, called a kagemand (cake man), and decorate the top with pieces of candy – on top of the caramel topping. They end up looking pretty hilarious and the whole tradition is so incredibly Danish to me.
But today we're making a regular brunsviger cake in a small brownie pan.
As with most Scandinavian doughs, brunsviger calls for cardamom. I use seeds from green cardamom pods and grind them with a mortar and pestle. This is a lot more flavorful than pre ground cardamom and well worth the effort.
I knead the dough directly in the mixing bowl because it's quite sticky and small enough that you don't need a large surface. And since this is a yeast dough enriched with butter, sugar, and egg, you don't have to work it as much for it to rise. I do use fresh yeast, so if you're using dry yeast be sure to follow the instructions on the packet (you might need to proof it first).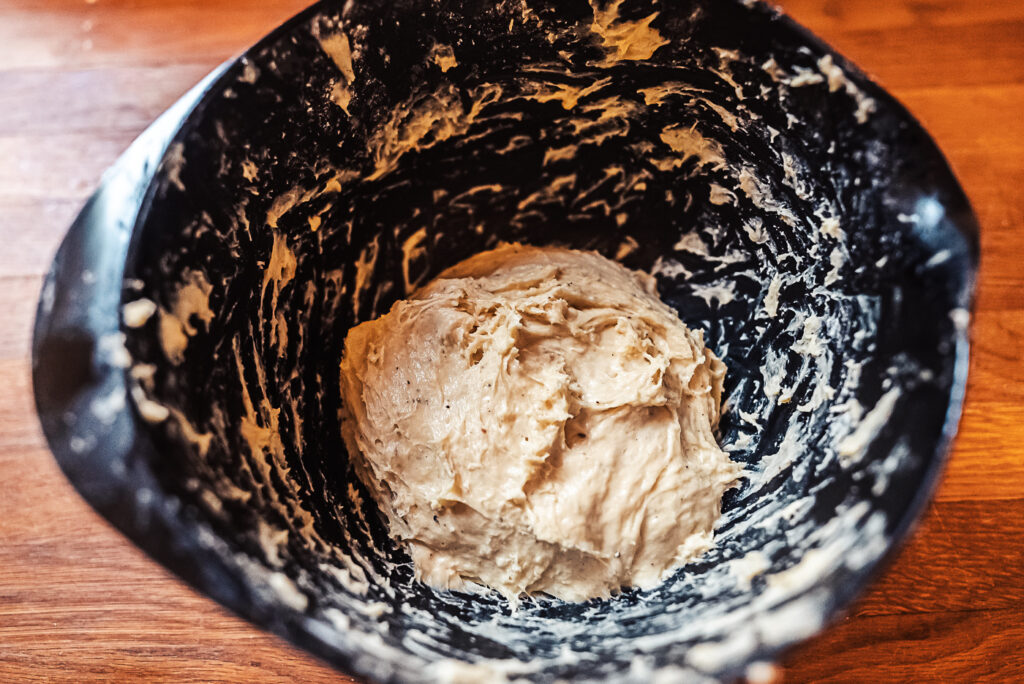 Once the dough is on its second rise, you can start making the caramel topping. Heat up the butter, sugar, and syrup until the mixture starts to bubble, then remove the saucepan from the heat and continue stirring until the bubbling stops. The syrup is optional – if you don't have any you can leave it out.
Some people also add a teaspoon of cinnamon to the topping, which could be a nice addition especially for the holidays.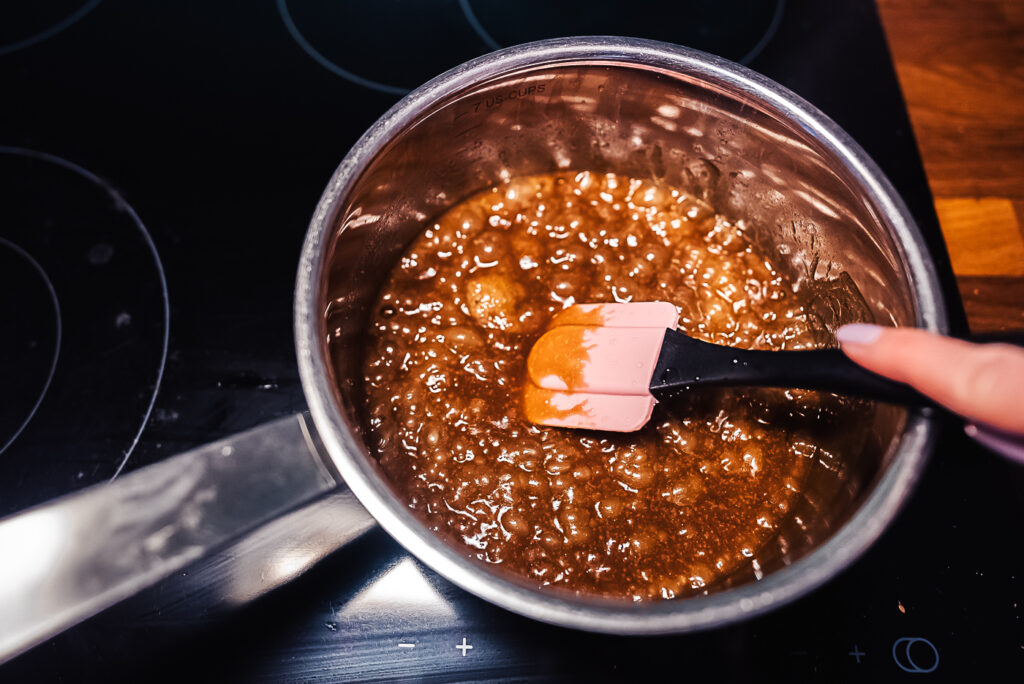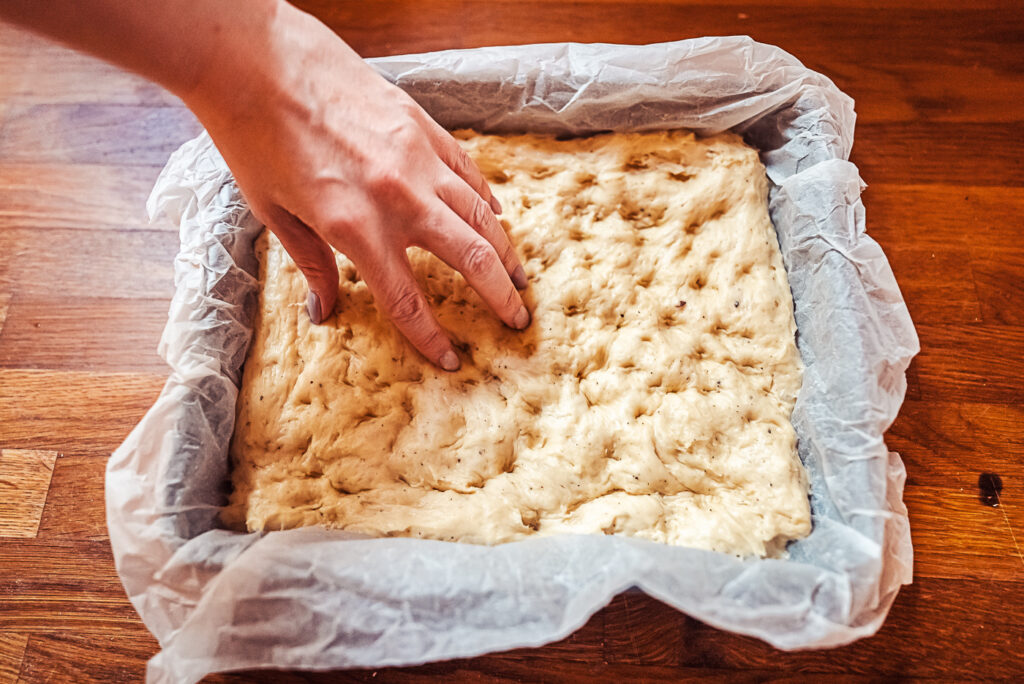 Be sure to make lots of holes in the dough with your fingers, as this is where the topping will drip into. Some people also make more holes after adding the topping, but I find this messy and unnecessary.
I make brunsviger in a brownie pan lined with baking paper. The paper catches any topping that might run off the sides of the cake, which you definitely don't want dripping into your oven.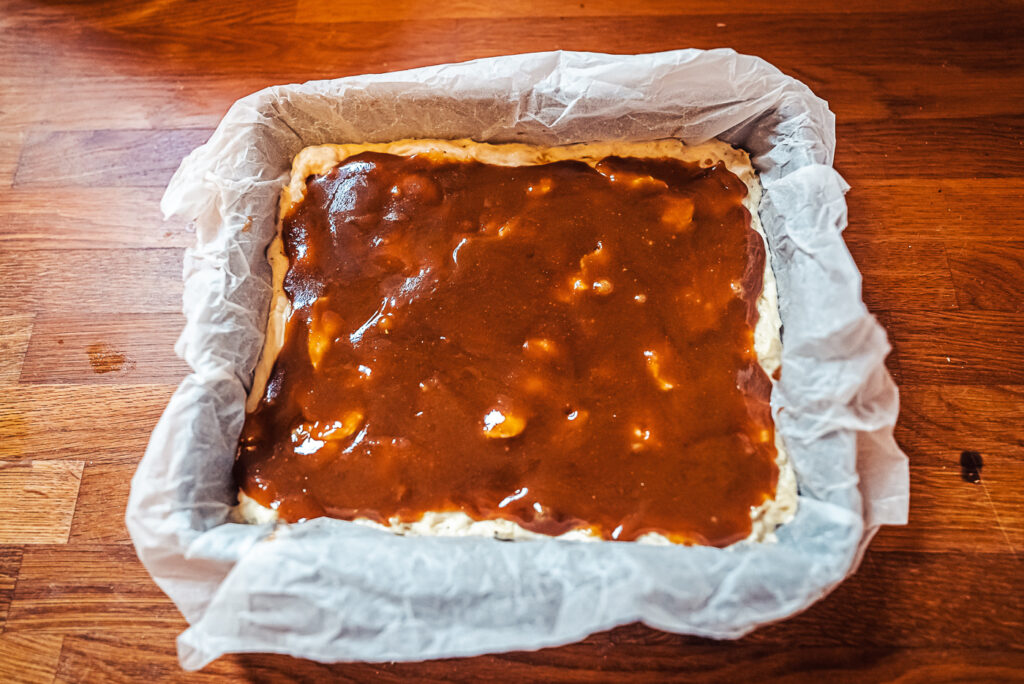 Let the brunsviger cool before slicing. You want to serve it warm, but not hot.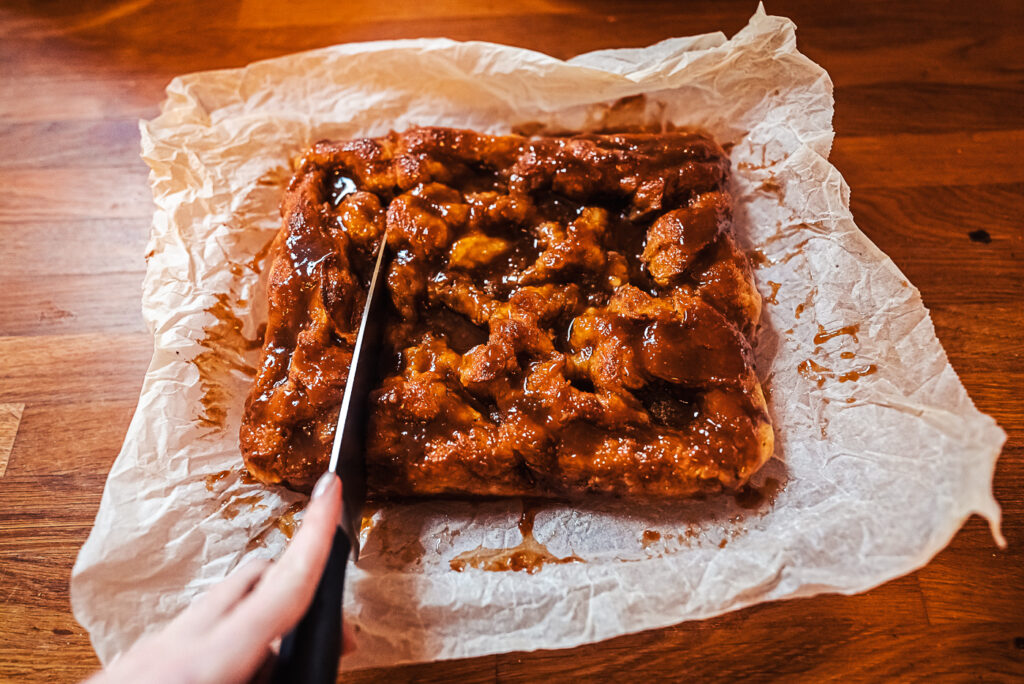 If you're going to eat it the next day, heat up the brunsviger in your oven or microwave for a few minutes so it softens again.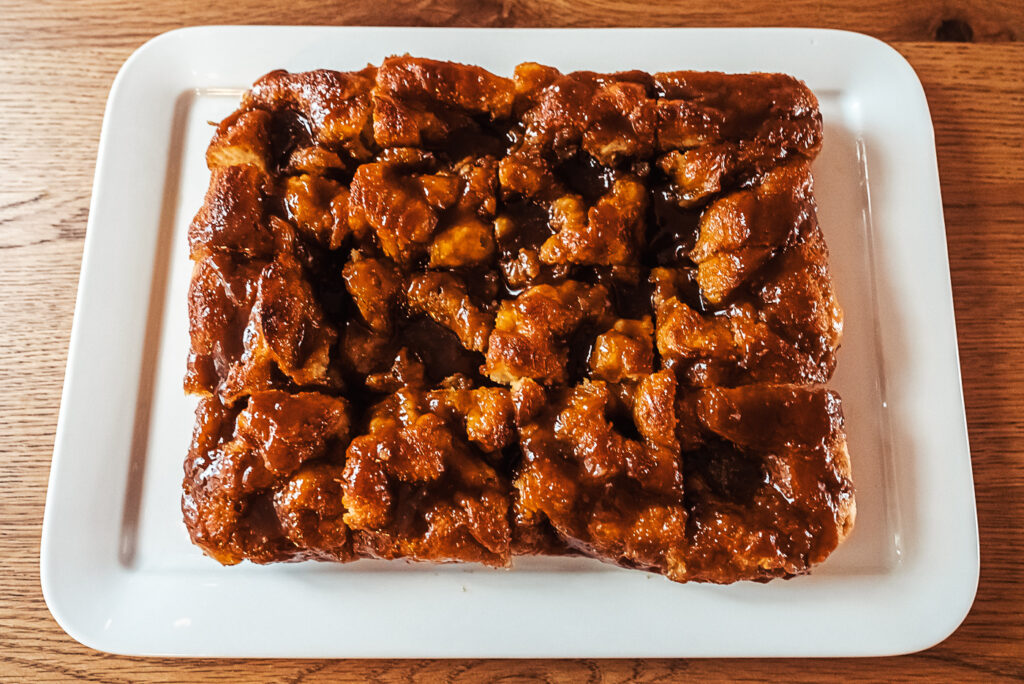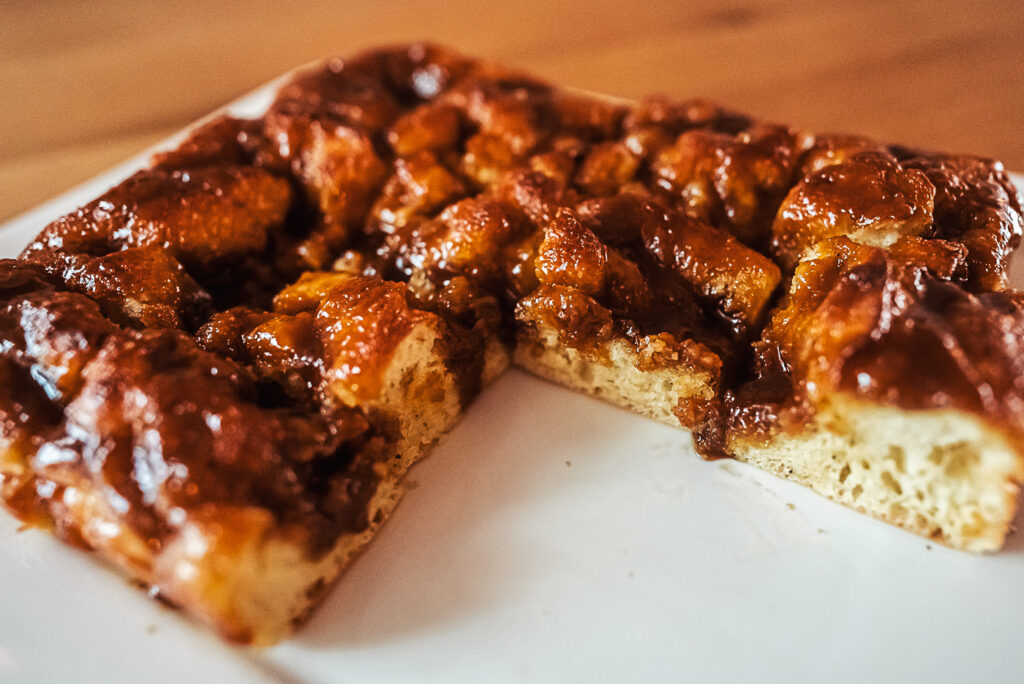 You can switch the recipe from US measurements to metric by clicking from "US Customary" to "Metric" under Ingredients.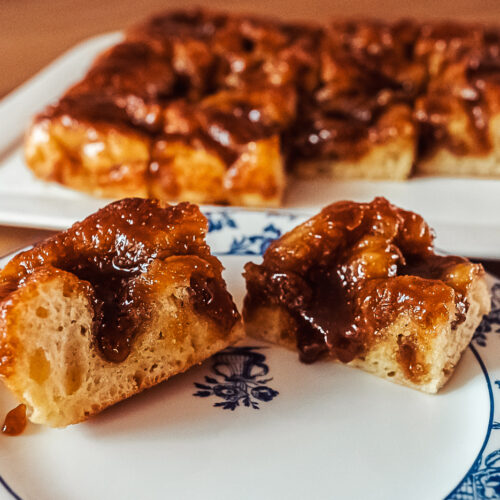 Brunsviger (Danish Coffee Cake)
Brunsviger is a yeast based coffee cake that's a bit of a cross between a cake and a Danish, topped with a gooey brown sugar and butter caramel.
Print
Pin
Rate
Ingredients
1/2

cup

milk

1

oz

fresh yeast

(or 1 tbsp instant yeast, 2 tbsp active dry yeast)

2

tbsp

granulated sugar

1/2

tsp

freshly ground cardamom

1

tsp

vanilla sugar

(or extract)

2

cups

all purpose flour

3

tbsp

butter

(room temperature)

1

egg
Topping
9

tbsp

butter

3/4

cup

brown sugar

2

tbsp

light syrup or maple syrup

(optional)
Instructions
Heat milk until it's lukewarm. Stir the milk and yeast together in a large mixing bowl. (If using dry yeast, follow instructions on packet – you might need to proof it).

Add the sugar, cardamom, vanilla, and flour, stirring well. Then cut the butter into small pieces and work it into the dough. Finally add the egg and knead the dough with your hands for about 5 minutes, either in the bowl or on a floured surface. The dough will be sticky, but you can add a bit more flour if it's too sticky to knead. Cover and let rise for 30 minutes.

Cover a 8 x 12 inch (20 x 30 cm) pan with baking paper. Spread the dough across the pan, cover with plastic wrap or a cloth and let rise again for 20 minutes.
Topping
While the dough rises again, melt the butter in a saucepan over medium heat. Add the brown sugar and syrup and bring to a boil, then remove from heat and continue to stir until the mixture stops bubbling. Let the mixture cool a bit while the dough finishes rising.

Preheat oven to 390°F (200°C).

Remove the plastic or cloth from the baking pan. Press holes in the dough with your fingers, pressing down to the bottom of the pan (but not through the bottom of the dough). Pour the topping mixture across the top of the dough.

Bake in the middle of the oven for 15 minutes. Let the brunsviger cool a bit before slicing.
Video